How many female world leaders are there?
Women's parliamentary presence has more than doubled since 1995 – yet parity is nearly unheard of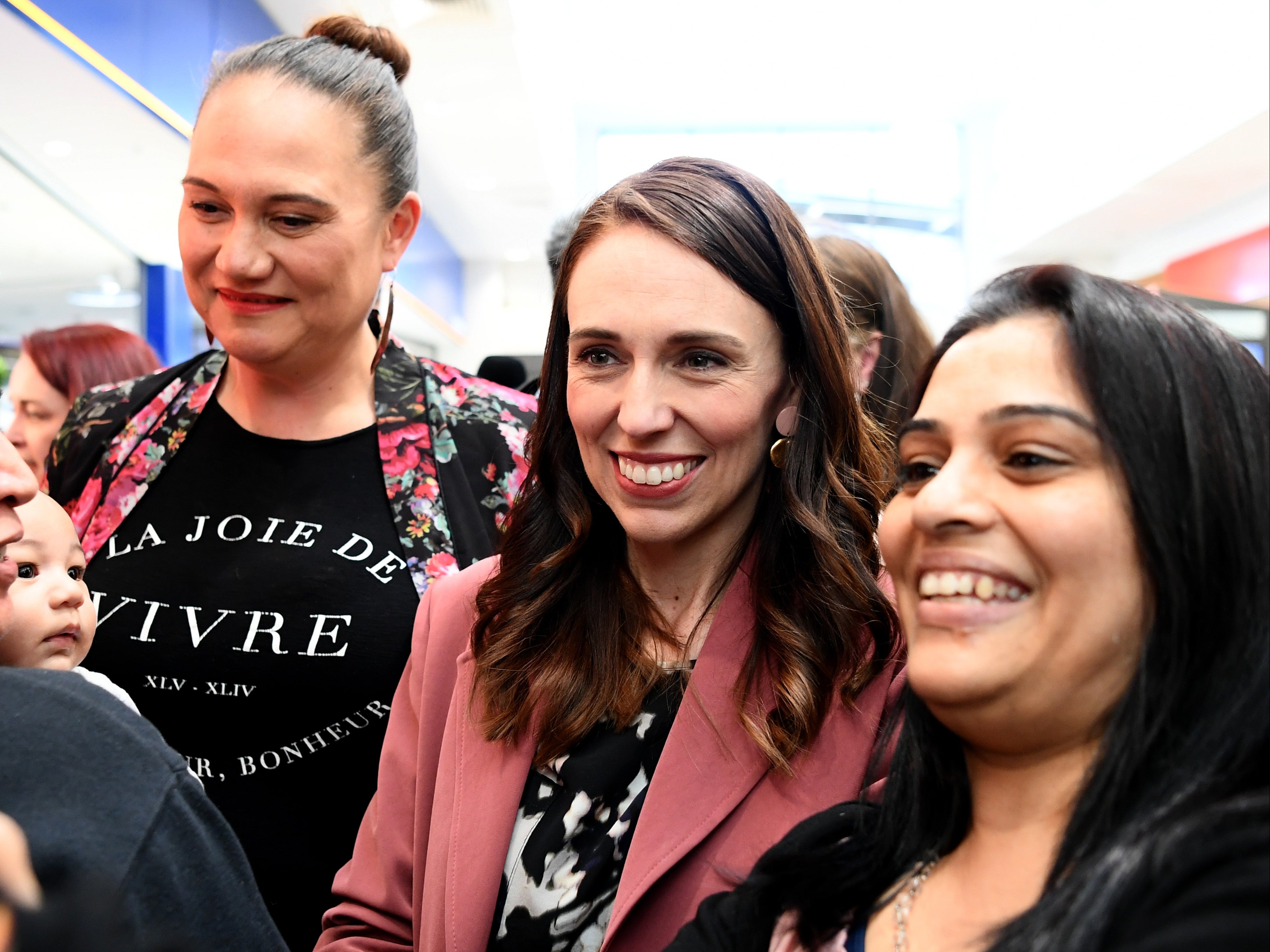 Incumbent prime minister Jacinda Ardern has won a historic victory after New Zealand headed to the ballot boxes.
Throughout the election, polling suggested that Ms Ardern's Labour Party would secure 45 per cent of the vote – enough for them to govern alone, in a first for any of the island nation's ruling parties since it introduced a proportional voting system in 1996.
The mandate means Ardern, 40, could form the first single-party government in decades, and could deliver on the progressive transformation she promised but failed to deliver in her first term, where her party shared office with a nationalist party.
Their main competition, the National Party – led by Judith Collins – trailed at around 30 per cent.
During her first term, Ms Ardern won plaudits worldwide, notably for her decisive and empathetic responses to the Christchurch terror attack and the coronavirus pandemic.
Ms Ardern was among the female leaders whose governance during the global health crisis led researchers to conclude that, of 192 nations, countries with women at the helm had fared "systematically and significantly better" than their patriarchal counterparts.
The study was merely the latest in a long line of research showing the benefits that generally tend to befall nations with greater political parity. And while it remains unclear whether the pandemic will have any long-term effect on gender equality in politics, women's share of power is finally on a sharp upwards trajectory. 
The world's first elected female leader is generally considered to be Sirimavo Bandaranaike, who came to power in Ceylon, now Sri Lanka, in 1960. Throughout the decade, just two other women assumed power – Indira Gandhi and Golda Meir, in India and Israel, respectively.
Since then, there have been a total of just over 90 elected female leaders around the world.
Currently, 21 women sit as the head of state or government in 193 countries around the world, according to the Council on Foreign Relations (CFR), a US-based think-tank.
While progress may be slow, more woman than ever are running for power, and winning, with the total having steadily increased in each of the past decades.
In the 1980s, 11 women were elected head of state. In the 1990s, that figure grew to 22. This upwards trend of continued with 25 in the following decade, and since 2010 there have been 56 women elected leader of their nations.
Meanwhile, a growing desire for more female leaders is increasingly making itself heard, as empowerment filters through from the streets and further into the corridors of power.
In Belarus, women have been at the forefront of protests against the country's disputed president  Alexander Lukashenko and his decades-long regime. 
World news in pictures
Show all 50
Hundreds of women were detained by riot police in Minsk in September as they marched to protest the allegedly fraudulent election, some carrying placards reading, "Our protest has a woman's face", in reference to Nobel Prize-winning Belurasian novelist and supporter Svetlana Alexievich.
Waiting in the wings to assume power is 37-year-old former teacher, Svetlana Tikhanovskaya, who also claimed victory in the election, in a win which would have made her Belarus's first female head of state.
And in the US, where hopes of the country's first female president were dashed by voter lines in 2016 – with Hillary Clinton winning the popular vote but losing to a Donald Trump, whose misogynistic brags of sexual assault loomed large in the campaign – Kamala Harris's vice presidential bid has taken on added significance in an election in which the age and lucidity of both her co-runner Joe Biden and his opponent Mr Trump have been frequently called into question.
In terms of political parity throughout government, both nations leave a lot to be desired.
According to the CFR's Women's Power Index, Belarus scores 37, while the US scores just 17, on a scale in which a score of 100 represents women having at least 50 per cent representation in all levels of government.
And with just four countries having achieved a base level of equality in parliament, the room at the top of the table is overwhelming.
Costa Rica occupies first place, with a rating of 74. Then follows Rwanda (70), Sweden (69), Finland (68), Iceland (68) and Nicaragua (67).
New Zealand, where both contenders for the top government job were women, scores a mere 51, while other nations touting themselves as champions of equality, such as Canada, Germany and the UK sit even lower still.
However, progress is being made, with female parliamentary participation having more than doubled since 1995 to reach a global average of 24.6 percent in 2019.
"There are several barriers to gender parity in political representation, including deeply ingrained gender biases, often fuelled by a pervasive belief that a woman cannot win due to the sexism of other voters," Rachel Vogelstein, director of the CFR's Women and Foreign Policy programme, told The Independent. 
"Women are more likely to rise to the pinnacle of political power in parliamentary systems in which heads of government are elected by party members who already have seen them lead, as compared to countries with popular elections. 
"Female candidates and leaders also face a disproportionate level of harassment and violence."
Ms Vogelstein added: "Politically motivated attacks on women have been on the rise in nearly every region of the world, reaching a record high in 2019.  Much of this violence is driven by misogyny, a deep-seated pathology in most societies that won't be eliminated anytime soon."
But governments, international organisations and technology companies can enact reforms that would help blunt this "corrosive" violence, Ms Vogelstein said.
Measures that Ms Vogelstein suggested these groups could take include passing laws to criminalise violence against women in politics, and training observers and authorities to monitor and report attacks against female voters and candidates.
Political parties should also be encouraged to adopt codes of conduct, she added, while tech firms should identify and remove intimidating content, including threats of rape, and provide resources to protect female candidates and leaders.
As more women continue to enter politics, increasing numbers of studies continue to shine a light on the impacts that increasing female representation, even in fractional amounts, can have.
Power systems with greater gender equality have previously been found to focus more on health and education, and even have a lasting impact upon the success of peace negotiations. 
While there are contradictory studies into whether US congresswomen have more success than men in reaching across party lines to progress legislation, a review of research by the Poynter Institute in 2018 concluded: "Studies show women sponsor more bills, secure more discretionary spending for their constituents, and under certain circumstances, reach across the aisle more. 
"In the Senate, women have been more successful than men at passing bills. Studies also show that when women are elected, they work harder than their male colleagues."
Furthermore, as the number of women in a parliament increases by five per cent, it is five times less likely to respond violently to an international crisis, one study published in the Journal of Conflict Resolution found.
However, the authors also suggested that negative stereotypes flung by male opponents, the necessity of navigating patriarchal power structures and a fear of appearing weak could sometimes lead to the opposite result. They counted 10 military crises in the 20th century with four women at the helm.
A larger sample was needed to truly assess women leaders' performances during crises, they noted in 2001, "which history cannot provide".
Ms Vogelstein said: "We still need more research – and more women in power to study in the first place – to fully understand the effect of gender parity in political representation; after all, this threshold has not been met in most countries across the globe.  
"That said, the studies we do have suggest that, in the aggregate, women's political participation promotes bipartisanship, equality, and stability – three values that are too often in short supply in today's world."
Join our commenting forum
Join thought-provoking conversations, follow other Independent readers and see their replies