German court set to issue landmark verdict in Syrian torture case
Two defendants accused of overseeing and cartrying out torture at notorious Damascus detention centre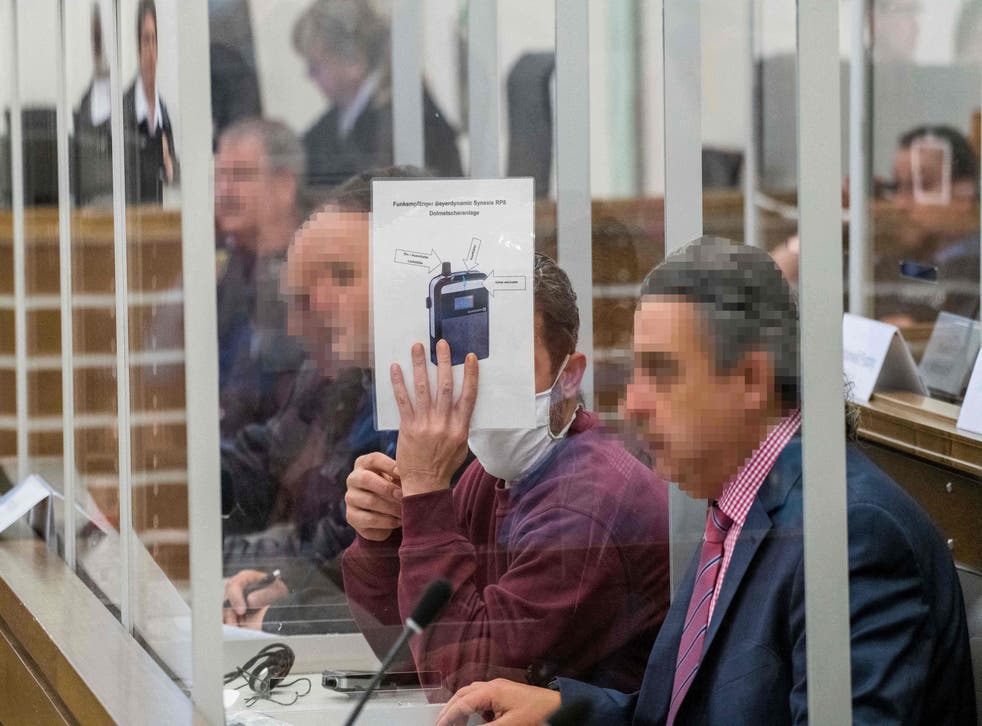 A decade after Bashar al-Assad launched his brutal war on the Syrian people, a court in Germany on Wednesday may bring a small but potentially groundbreaking measure of justice and accountability.
Over the last 10 months in the small riverside city of Koblenz, German prosecutors have pursued a case against Anwar al-Raslan, a former Syrian intelligence directorate colonel, and a lower ranked official named Eyad al-Gharib. Both allegedly oversaw or participated in the torture and murder of Assad regime opponents inside the notorious Branch 251 detention centre on al-Khatib Street in Damascus.
The verdict scheduled tomorrow is for the lower ranked Mr Gharib, who was born in 1976, and is scheduled to appear in court.
If convicted of crimes against humanity, it would mark the first time that a Syrian regime official has been held accountable for the jailing, torture, sexual assault and execution of tens of thousands of Syrians rounded up in the aftermath of the largely peaceful 2011 uprising against the Assad dictatorship.
Mr Raslan has denied the allegations of abuse against him, while Mr Gharib has insisted to investigators he was following the orders of senior officials who would have harmed him if he refused.
The case against Mr Raslan and Mr Gharib also marks the latest in a wave of attempts by international jurists to the concept of universal jurisdiction to prosecute human rights abusers outside countries where the crimes were allegedly committed.
The verdict scheduled Wednesday morning comes after months of testimony from former prisoners at al-Khatib and experts, and may provide a blueprint to prosecute other Assad regime operatives. A number of victims have testified in open court about goings on at Branch 251, though few journalists have been permitted to enter the courtroom because of strict coronavirus measures.
In testimony last year recounted by the European Center for Constitutional and Human Rights, Oscar-nominated filmmaker Feras Fayyad described his detention inside the Khatib Street facility, recounting beatings with hard cables and clubs on his feet and back and being hung by his hands, and sexual assaults. Conditions inside the dank, filthy cells were horrific with little food, water, and no medical care.
To this day, he testified that he continues to suffer from sleeping disorders and depression. Though he was mostly blindfolded, he said that he was 60 to 70 per cent certain that Mr Raslan was one of his tormentors.
Another former detainee described hearing "young men's screams and saw their emaciated bodies as they walked through the hallways".
She described "welcome parties" in which guards subjected new prisoners to brutal beatings.
In a report about sexual assault in Syrian prisons, another former detainee described how a notorious guard at the detention centre on Khatib Street stripped her naked "as an excuse that you might be hiding a mobile chip or anything else," she reportedly said. "He extends his hand and fingers everywhere, everywhere, everywhere."
Both the suspects reportedly fled from Syria and made their way abroad. Mr Gharib was originally summoned to testify as a potential witness to crimes committed in Syria until prosecutors turned the table and charged him as a perpetrator.
The Koblenz trial is being watched closely by international jurists and senior officials. "Impunity must end," German foreign minister Heiko Maas said in November, praising the Koblenz prosecution. "Perpetrators must be brought to justice."
Register for free to continue reading
Registration is a free and easy way to support our truly independent journalism
By registering, you will also enjoy limited access to Premium articles, exclusive newsletters, commenting, and virtual events with our leading journalists
Already have an account? sign in
Register for free to continue reading
Registration is a free and easy way to support our truly independent journalism
By registering, you will also enjoy limited access to Premium articles, exclusive newsletters, commenting, and virtual events with our leading journalists
Already have an account? sign in
Join our new commenting forum
Join thought-provoking conversations, follow other Independent readers and see their replies