Israel reopens goods crossing to Gaza amid renewed hope for truce talks
Fuel, construction material and goods passed through Kerem Shalom crossing, easing pressure on Gaza's 1.8 million population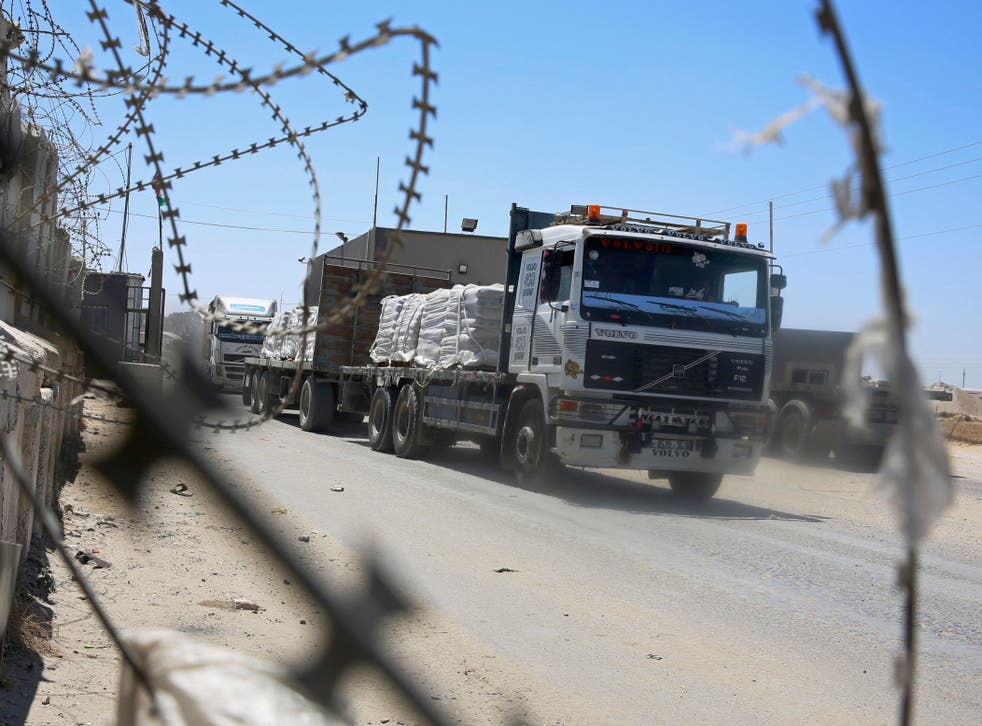 Israel has reopened its only goods crossing to Gaza and expanded the enclave's fishing zones, easing a crippling blockade on the besieged strip as truce talks press ahead.
Consignments of fruit and vegetables, fuel and construction material moved into Gaza on Wednesday morning through Kerem Shalom crossing, a lifeline for Gaza's 1.8 million residents. The Israeli army said Avigdor Lieberman, Israel's defence minister, had also decided to expand the fishing zones from three to nine nautical miles across most of Gaza's coastline.
Israel said it had originally implemented the devastating restrictions in response to Palestinian protesters launching burning kites, which torched swathes of agricultural land, into Israel – causing hundreds of thousands of dollars in damage.
Since then, food and medicine have been allowed through, but fuel and cooking gas has been intermittently blocked. All other goods were turned away, piling pressure on the impoverished enclave.
Mr Lieberman warned that the crossing would again be closed if there were further violence and called on Gazans to pressure Hamas, the militant group that has ruled Gaza since 2007.
"Our message is that you must put pressure on the Hamas leadership," he told Israeli public radio.
"It is all in your hands. If calm prevails, you benefit. If the violence resumes, you will lose."
Gaza's fisherman said they were desperate for a wider fishing zone after spending nearly a month attempting to fish in just three miles of water.
"We are hoping for a big catch at nine miles now," said Khader Baker, 25. "There had been almost no fish within three miles. We nearly starved."
Israel and Gaza have been on the cusp of a new war just four years on from the last devastating conflict, as tensions have reached boiling point at the border fences between the two territories.
Since March, hundreds of thousands of Palestinians have marched each week towards Israel in protests demanding the right to return to their ancestral lands they were forced or fled from during the 1948 conflict which surrounded the creation of Israel.
At least 169 Palestinians have been killed by Israeli fire during the rallies, and more than 15,000 injured, prompting fierce criticism abroad of the Israeli army's action. One Israeli soldier was shot dead by a Palestinian sniper in July.
Israel has defended its use of force, saying protesters turned violent, including flying burning kites and balloons carrying explosives into Israel, endangering the lives of its citizens in the south.
In response, Israel tightened a decade-long blockade on Gaza, whose desperate population is already struggling to survive with severe power shortages and the highest jobless rate in the world.
The deteriorating humanitarian situation sparked a flare up in cross-border fire, threatening to drag both sides to war.
Egypt and the United Nations have repeatedly intervened. They are trying to broker a comprehensive long-term truce and to ease economic hardship on Gaza.
This week Israeli ministers revealed that Benjamin Netanyahu, Israel's prime minister, made a rare and secret visit to Cairo in May to meet Egyptian president Abdel-Fattah al-Sisi and to discuss an urgent ceasefire.
However, Mr Netanyahu faces pressure from the far right back at home. Education minister Naftali Bennett of the ultraconservative Jewish Home party said on Tuesday that he would oppose a deal based on "a temporary calm".
"This 'quiet' will give Hamas total immunity so that it can rearm itself with tens of thousands of rockets," Mr Bennett said in a statement.
Join our new commenting forum
Join thought-provoking conversations, follow other Independent readers and see their replies