Afghanistan earthquake: One dead as strong 6.1 magnitude quake strikes near Pakistan border
Young girl killed in housing collapse as seismic shock felt in Kabul, New Dehli and Lahore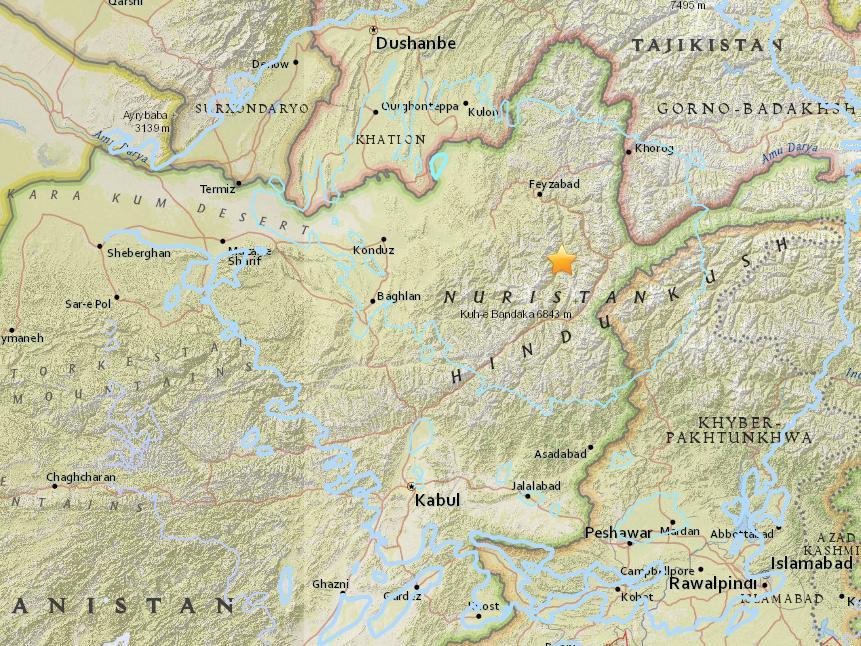 Afghanistan has been struck by a 6.1 magnitude earthquake close to its border with Pakistan, according to the US Geological Survey (USGS), killing one and leaving at least five injured.
Tremors from the quake were reported in Kabul and felt in a number of other densely-populated locations in the region including Islamabad, New Delhi, Lahore, Bahawalpur, Kashmir and Abotabbad.
A young girl was killed and five others wounded in the village of Lasbela in Pakistan's Baluchistan province when the roofs of mud-brick homes caved in, according to local government official Izat Nazir Baluch.
Three more people were hurt in Afghanistan's Badakhshan region as a result of the tremors, according to deputy governor Gul Mohammed Bedar.
The USGS located the epicentre of the quake 22 miles south of Jarm in the Hindu Kush mountains in the country's northeast at a depth of 119 miles below the surface.
In neighbouring Pakistan, local TV news footage showed school children and office workers fleeing buildings in a state of panic.
World news in pictures
Show all 50
Rana Hamid Ali, an employee at a private company, said the quake was so strong he ran down the stairs rather than using the elevator to escape the building as quickly as possible. Another resident, Azeem Chaudhry, said the walls of his home swayed during the initial impact.
This is the latest disaster to hit Afghanistan in recent weeks, following the killing of 11 soldiers in an Isis-claimed terror attack on an army base, the deaths of 103 in a Taliban suicide mission involving an ambulance packed with explosives and the bombing of Kabul's Intercontinental Hotel, in which 14 people died.
Join our commenting forum
Join thought-provoking conversations, follow other Independent readers and see their replies