Al Jazeera journalist Mohamed Fahmy sues network for $100m
Mohamed Fahmy has spent over 400 days in an Egyptian prison
Kashmira Gander
Tuesday 12 May 2015 19:15 Comments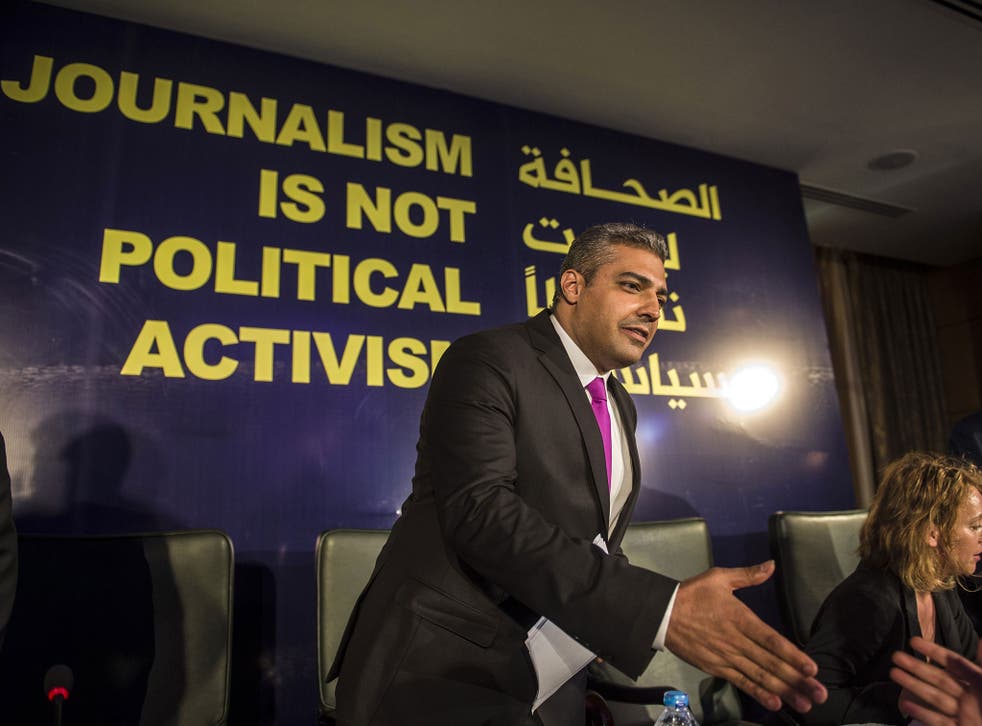 A Canadian-Egyptian journalist who is on trial in Egypt is suing his employer Al-Jazeera and seeking $100million (£64million) in compensation, over accusations of negligence.
Mohamed Fahmy spent over 400 days in a Cairo prison over charges that he aided the Muslim Brotherhood, who are considered a terrorist group by the Egyptian government. The TV broadcaster has suggested Al Jazeera's actions directly led to his incarceration.
The former Al Jazeera English acting bureau chief in Egypt said the Qatari-funded network endangered him and his colleagues, after a local affiliate gave station equipment to Muslim Brotherhood members and used the subsequent footage without alerting Fahmy's staff.
"Now, I will sue them at any cost, and I will win," Fahmy told a press conference, adding: "They don't seem to understand that they cannot continue to challenge the sovereignty of governments, put the story ahead of the safety of their employees, and assume that they will continue to get away with it."
Mr Fahmy and fellow Al Jazeera journalists Baher Mohamed and Peter Greste were initially sentenced to serve between seven to 10 years, over allegations they spread lies to aid the Muslim Brotherhood. The group was banned after its former backer President Mohamed Mursi was overthrown in a military coup.
All three men denied the claims and Mr Greste was freed earlier this year and returned to Australia, while Mr Fahmy and Mr Mohamed remained behind bars.
However, in January a court ordered a retrial for the three men, citing procedural flaws. Mr Fahmy and Mr Mohamed have been freed on bail ahead of their retrial.
Mr Greste faces further legal obstacles, as he cannot re-enter the country and is therefore being tried in absentia, which could lead to a conviction.
Mr Fahmy's lawyer, Joanna Gialason, told reporters that the lawsuit was launched with the aim of Al Jazeera admitting negligence in its conduct towards her client.
She demanded that the network pay $100 million in punitive and remedial damages for its role in Mr Fahmy's conviction and subsequent imprisonment.
But a spokesman for the broadcaster said it is "sad" that Mr Fahmy and his lawyer are repeating criticism made by the Egyptian authorities.
"It's what his captors want to hear at this stage of the retrial. All governments have news outlets they don't like, but they don't use spurious grounds to put journalists in jail. If Fahmy wants to seek monetary compensation from anyone, it should be from his jailers," he said.
Additional reporting by AP and Reuters
Register for free to continue reading
Registration is a free and easy way to support our truly independent journalism
By registering, you will also enjoy limited access to Premium articles, exclusive newsletters, commenting, and virtual events with our leading journalists
Already have an account? sign in
Join our new commenting forum
Join thought-provoking conversations, follow other Independent readers and see their replies