Aleppo: 'House-to-house murder' of civilians under way as Syrian city falls to Assad, warns David Miliband
'People are reporting, some of them, that the ceasefire is holding, others that there is no safety at all, and it's sheer terror'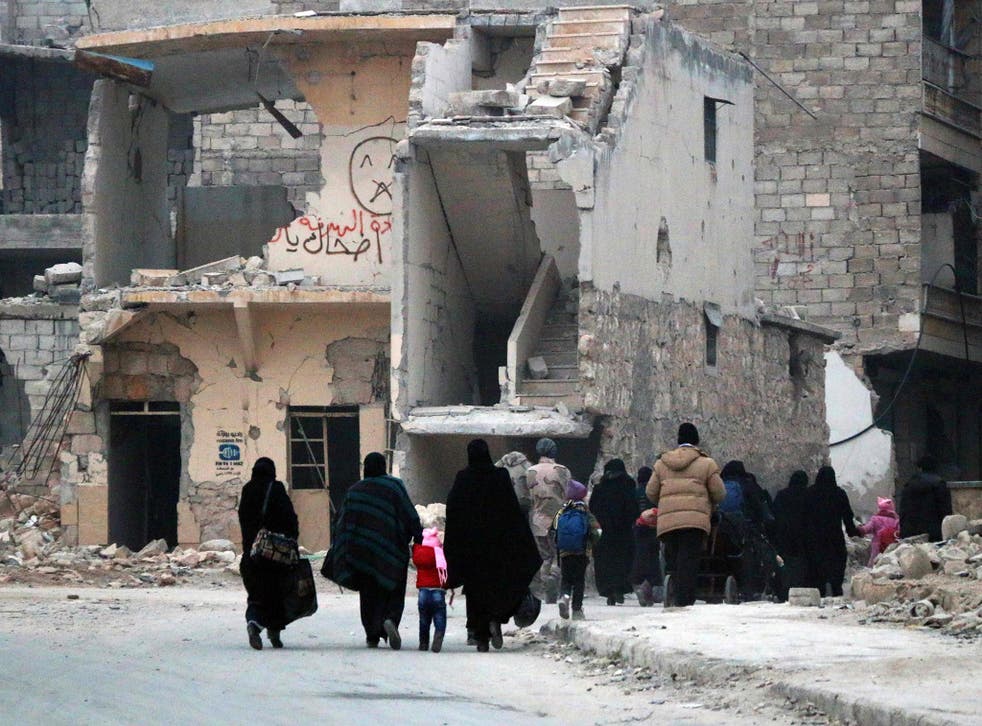 Former Foreign Secretary David Miliband has warned "house-to-house murder" is being carried out in the besieged Syrian city of Aleppo.
He also denounced the "appalling bombardment" of civilians and raised fears the fighting could spread to Idlib, the rebel-held province where people from Aleppo were being taken during the evacuation.
Some 8,000 civilians, including 2,700 children, have been allowed to leave besieged rebel-held areas in the city's east, but the evacuation was halted on Friday after reports a ceasefire, negotiated by Turkey and Russia, had broken down.
Journalists on the ground reported militias had been shooting at those trying to flee the city.
"Yesterday, they (pro-government forces) opened fire on the people who were trying to escape from this hell - they killed three people," White Helmet rescue worker, Ishmael al Abdullah, told Sky News.
"Assad mercenaries killed the three people in cold blood in front of the Red Crescent and all the guys who witnessed that crime… Now we are waiting for the new deal.
"Up to now we do not trust anyone. Up 'til now we haven't seen any deal and no one saw up to now the green buses (used to take civilians out of Aleppo)."
A new truce has now been agreed, with thousands more civilians and rebel fighters hoping to leave, however rebel forces have accused Iran of blocking evacuation efforts.
The country is reportedly insisting that Tehran-aligned groups in al-Foua and Kefraya, two Shia villages, be liberated before resuming Aleppo's evacuation.
The United Nations envoy to Syria, Staffan de Mistura, has put the number of people remaining in eastern Aleppo at 50,000.
Mr Miliband, president of US charity the International Rescue Committee, told BBC Radio 4: "The truth is there's chaos, people are looking to find their families, and people are reporting, some of them, that the ceasefire is holding, others that there is no safety at all, and it's sheer terror.
"And that is the only way to describe this because people are fleeing from appalling bombardment, and house-to-house murder that's being documented by the UN, and they don't know if it's going to follow them from Aleppo to Idlib."
Mr Miliband also claimed the 2013 Commons vote that prevented David Cameron from sending UK forces to support the US military intervention in Syria had created a "vacuum" in Western leadership and "sowed a great deal of confusion".
Opposition to UK intervention was spearheaded by his brother, then Labour leader Ed Miliband.
The new evacuation plan, confirmed by both rebel and Syrian government forces, will facilitate the safe passage of civilians and rebels from eastern Aleppo.
It will also allow for "humanitarian cases" from the rebel-held towns of Foua and Kefraya in Idlib province to be evacuated.
The new plan will also allow for the evacuation of wounded people from two towns near the Lebanese border, Madaya and Zabadani, which are under siege by government forces.
The British-based Syrian Observatory for Human Rights said the evacuation of about 4,000 people was expected to start soon.
UN Secretary-General Ban Ki-moon has said the West has failed the people of Syria.
"The carnage in Syria remains a gaping hole in the global conscience. Aleppo is now a synonym for hell," he said.
"As I told the Security Council... we have collectively failed the people of Syria. Peace will only prevail when it is accompanied by compassion, justice and accountability for the abominable crimes we have seen."
Aleppo before the Syrian Civil War

Show all 12
According to US envoy Samantha Power, the United Nations Security Council is set to vote on a French-drafted proposal to allow international observers in Aleppo and ensure urgent deliveries of aid.
It came after Barack Obama accused Syrian President Bashar al-Assad, along with his Russian and Iranian allies, of committing "atrocities" in the city.
"The world as we speak is united in horror at the savage assault by the Syrian regime and its Russian and Iranian allies on the city of Aleppo," he said.
"We all know what needs to happen, there needs to be an impartial, international observer force in Aleppo. They can help coordinate an orderly evacuation through safe quarters. There has to be full access for humanitarian aid."
Register for free to continue reading
Registration is a free and easy way to support our truly independent journalism
By registering, you will also enjoy limited access to Premium articles, exclusive newsletters, commenting, and virtual events with our leading journalists
Already have an account? sign in
Register for free to continue reading
Registration is a free and easy way to support our truly independent journalism
By registering, you will also enjoy limited access to Premium articles, exclusive newsletters, commenting, and virtual events with our leading journalists
Already have an account? sign in
Join our new commenting forum
Join thought-provoking conversations, follow other Independent readers and see their replies