Beyond Aleppo: The other besieged Syrian towns being evacuated
Kefraya and Foua, loyalist villages in the mostly rebel-held Idlib province, have been under siege by extremists for almost two years
Friday 16 December 2016 14:44 Comments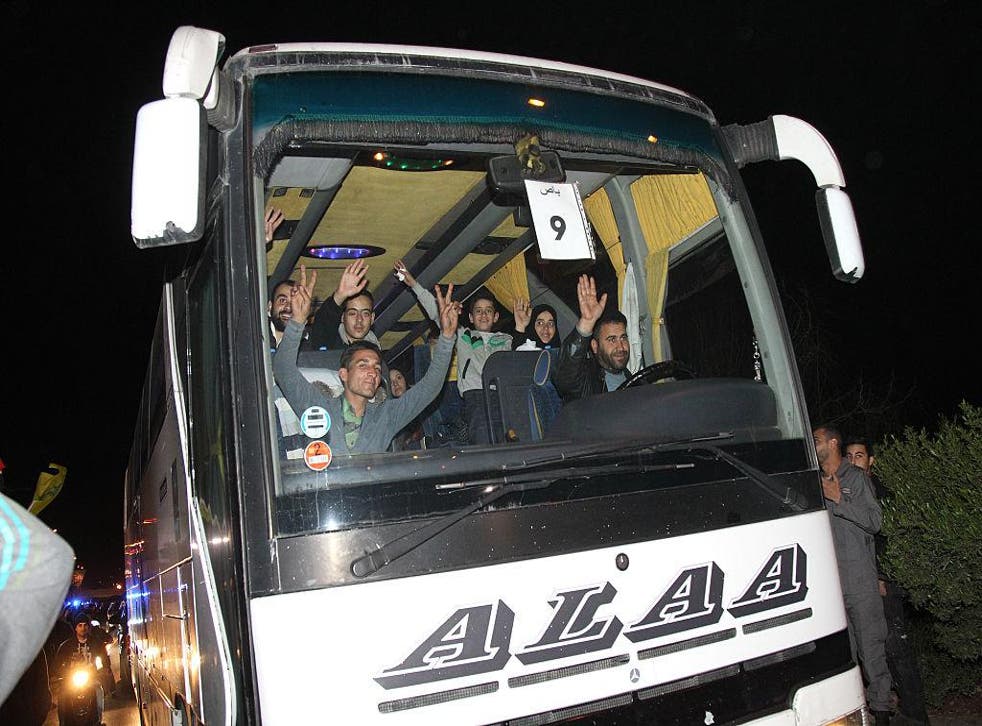 Evacuations of rebels and civilians out of the last pockets of resistance in east Aleppo have stalled following reports of both rebel and Syrian government violations of Wednesday's ceasefire.
Parallel evacuations of the wounded from Foua and Kefraya, two pro-government Shia villages less than a mile apart, which are under siege by rebels in Idlib province, were part of the deal's terms – the second to be struck this week as President Bashar al-Assad's forces close in on Aleppo's remaining opposition neighbourhoods.
The second truce appeared to be collapsing on Friday after Syrian and Hezbollah media channels reported that fighters from both Jabhat Fateh al-Sham and the Jaish al-Fatah coalition – which have ties to al-Qaeda - had blocked the agreed evacuation of the wounded from the villages.
Reports have emerged of government-allied Shia militias holding 20 cars of civilians leaving Aleppo en route to Idlib hostage in retaliation.
Rebel sources say Iran is now pushing for a full evacuation of the two villages, which Jabhat Fateh al-Sham (JFS) and other groups had not agreed to, further complicating efforts to resurrect the deal.
Several reports on Friday suggest that rebel groups were not in sync on how to proceed, with JFS in particular blocking the evacuations of the pro-government villages. Reports that the deal had been resurrected have not been confirmed.
Foua and Kefraya, home to around 20,000 people, have not received as much media attention as other places engulfed in the Syrian crisis, such as the much bigger town of Madaya.
In Pictures: The crisis unfolding in Syria

Show all 30
A series of suicide bombings, kidnappings and shelling had forced government troops to retreat from the area in March 2015, leaving the two villages surrounded by mostly Islamist forces.
The reciprocal 'four towns' agreement saw the sieges temporarily lifted on rebel-held Madaya and Zabadani and pro-government Foua and Kefraya in January, allowing the UN to deliver desperately-needed aid to the towns.
However, the deal broke down in October, and conditions in all four settlements have since deteriorated, with food, fuel and medicine stocks depleting as winter sets in.
Israeli man starts charity to get injured Syrians to Israel for medical treatment
Siege Watch's latest report states that the situation in Foua and Kefraya has managed to stay relatively stable thanks to government air drops.
In Madaya, some aid was allowed in in November, but no fuel for heating, leading to the death of six children from cold, activists inside the city say.
In the last week, Foua and Kefraya have been targeted by Islamist rockets and Madaya has been hit by Hezbollah shelling in a bloody tit-for-tat in which civilians continue to suffer.
Approximately one million people in Syria live under siege conditions, Siege Watch says. A proportion of that number are trapped in the northern city of Deir ez Zour by Isis, a handful by other rebels, and the majority live under regime blockades.
Register for free to continue reading
Registration is a free and easy way to support our truly independent journalism
By registering, you will also enjoy limited access to Premium articles, exclusive newsletters, commenting, and virtual events with our leading journalists
Already have an account? sign in
Join our new commenting forum
Join thought-provoking conversations, follow other Independent readers and see their replies