Donald Trump cancels visit to ancient Israel fortress because 'he cannot land his helicopter' on site
US President's aides reportedly refuse to go up hilltop site with cable car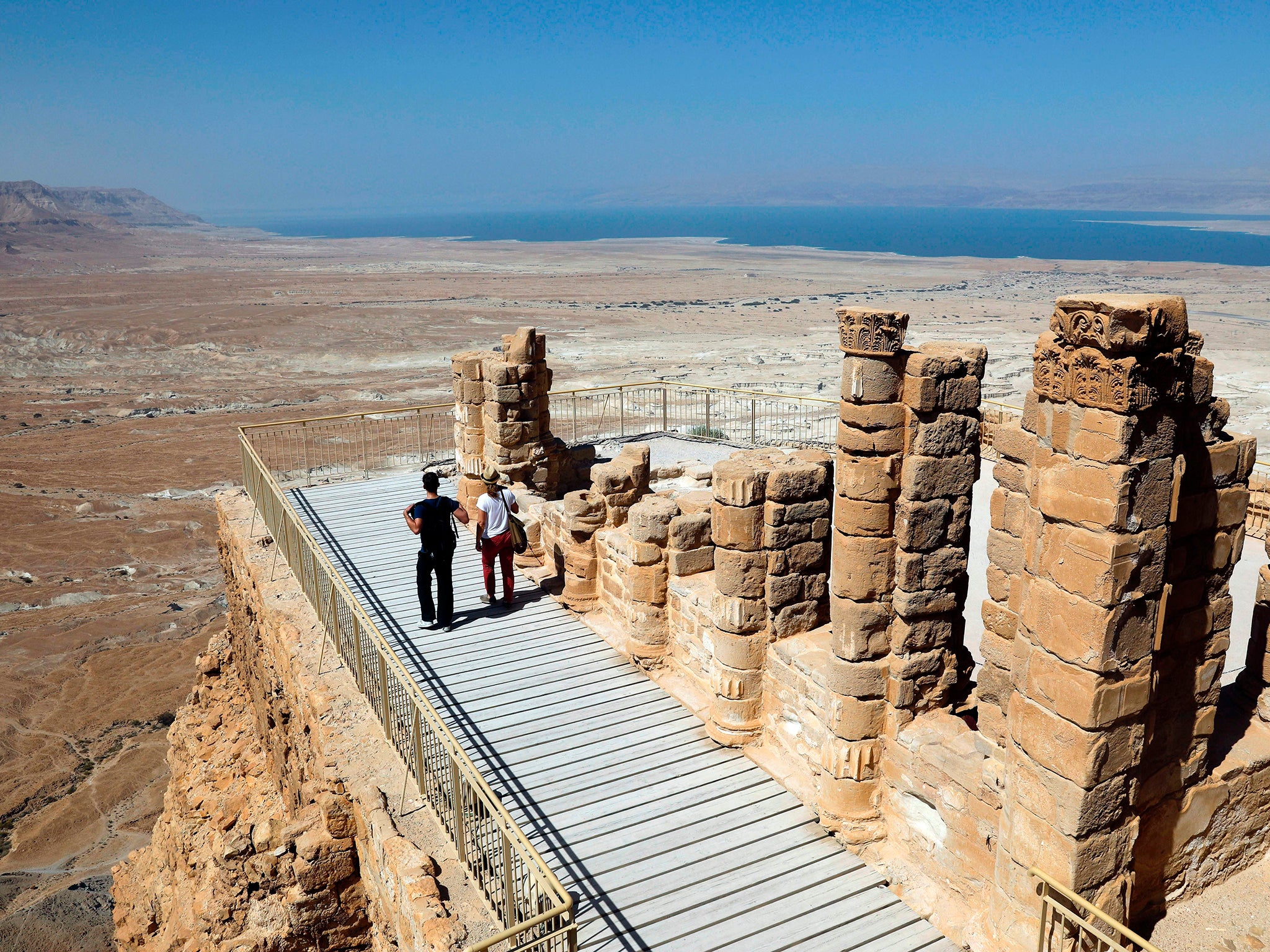 Donald Trump cancelled a planned visit to the ancient fortress of Masada in Israel after he was reportedly told he could not land his helicopter on top of the Unesco-listed site.
The US President was due to give a speech at the top of the rocky plateau in the Judaean Desert but instead will deliver his address at the Israel Museum in Jerusalem.
Initial reports said the cancellation of the trip to Masada was due to the hot weather but Israel's Channel 2 claimed the cancellation resulted from the fact helicopters are not allowed to land on the top of Masada, network Israel National News reports.
Mr Trump's aides were reportedly told landing a helicopter on the summit of the site, which is described by Unesco of "majestic beauty", could damage the archaeological artefacts due to the wind movement generated.
Earlier this week, Eitan Campbell, director of Masada National Park told The Jerusalem Post: "The Americans will land in the Bar Yehuda landing strip. They will go up to the mountain by cable car."
Previously both Presidents George W Bush and Bill Clinton took the cable car to visit the historic site, but Mr Trump's aides reportedly refused the invitation and cancelled the trip altogether.
The US Department of State told The Independent this was a matter for the White House, which has been approached for comment. The Israeli Foreign Ministry also declined to comment on Mr Trump's schedule.
According to The Jerusalem Post, helicopters were banned from landing at the top of the country's most famous archaeological park after some of the ruins were damaged when in 1997 an Israeli Air Force helicopter carrying then-US Air Force commander General Michael Ryan landed in the middle of Masada.
Mr Campbell said a helicopter landing would be allowed at the site only in the case of an emergency.
World news in pictures
Show all 50
Masada was built by the King of Judaea, Herod the Great, during his reign between 37 – 4 BC. Unesco describes it as a symbol of the ancient kingdom of Israel, when Jewish soldiers defended the fortress from the Roman army in 73 AD.
The camps, fortifications and attack ramp, which encircle the monument constitute the most complete Roman siege works surviving to the present day.
Mr Trump's visit to Israel on Monday has already turned into a diplomatic test after one of the President's staff questioned whether the Western Wall, one of the holiest Jewish sites, was part of the West Bank and of Israel.
Mr Trump's administration has reportedly refused to allow Israeli Prime Minister Benjamin Netanyahu to accompany him to the Western Wall, where Jewish worshippers pray.
The trip is also overshadowed by accusations that he shared classified information concerning an Isis plot with visiting Russian diplomats last week.
An Israeli official described the leak as the country's "worst fears".
Join our commenting forum
Join thought-provoking conversations, follow other Independent readers and see their replies