'Chlorine gas' used in attack in Eastern Ghouta as slaughter continues despite ceasefire, say medics
Reports emerge 36 hours after UN resolution demanding immediate cessation of hostilities in Syrian government assault that has killed over 500 people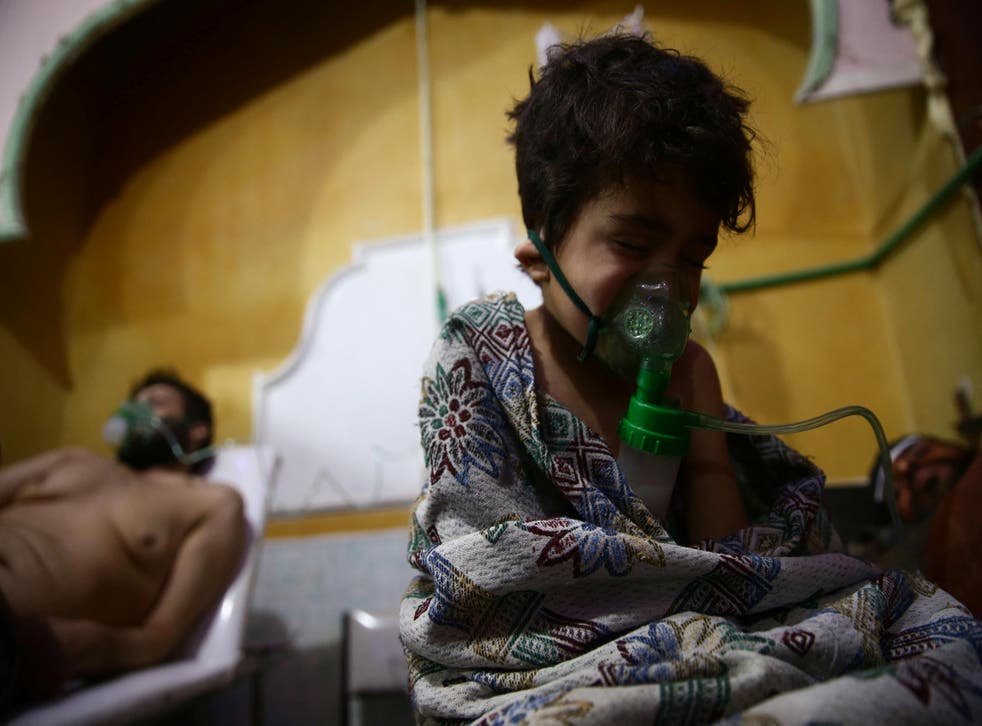 At least one child has died and 18 more people have been treated in hospital in a Syrian rebel-held suburb of Damascus after suffering symptoms medics said were consistent with exposure to chlorine gas.
A statement from besieged Eastern Ghouta's interim health ministry said victims in the town of al-Shifoniyeh had been admitted with convulsions, difficulty breathing and irritation of the eyes and mouth following an air strike on Sunday night.
On Saturday a unanimous United Nations vote ordered an immediate 30-day ceasefire in the Syrian government's week-old assault on the besieged rebel area to allow medical evacuations and aid shipments. Both Russian-assisted government bombing and rebel mortar fire have continued, killing at least 34 people.
Scenes of devastation in Syria after deadly shelling and airstrikes and eastern Ghouta
On Monday the Syrian government's key ally, Russian President Vladimir Putin, also ordered daily "humanitarian pauses" in the fighting and the implementation of civilian evacuation corridors.
Ambulance drivers and victims reported the smell of chlorine on Sunday. The effects of the gas have been familiar to Eastern Ghouta residents since the 2013 chlorine and sarin attack which killed up to 1,700 people there – widely agreed to be one of the worst chemical incidents in modern history.
A video of the aftermath of Sunday's attack showed a little boy killed by what health workers said was inhalation of the deadly gas, his mouth open and body contorted by rigor mortis.
The UK-based Syrian Observatory for Human Rights said in a statement that reports indicated a child in Eastern Ghouta had died by suffocation, but could not confirm if the cause of death was poison gas.
A statement from the Russian defence ministry accused the rebel forces in the area – among them factions linked to al Qaeda – of orchestrating the attack themselves in order to be able to blame Damascus.
Eastern Ghouta bombings: Syrian war in pictures

Show all 14
The Syrian army made no statement.
Syria's president, Bashar al Assad, has repeatedly denied claims his military has used poison gas on civilians throughout the war.
More than 500 people have been killed in the week-long offensive on Eastern Ghouta – one of the worst episodes of violence in the seven-year conflict.
On Monday the UN Secretary-General, António Guterres, called for all parties to respect the ceasefire agreement, arguing it is "high time to stop this hell on Earth".
Several previous UN-brokered ceasefire attempts in Syria have quickly fallen apart over the course of Syria's complex civil war.
More than 500,000 people have been killed in the conflict, and half the pre-war population of 22 million displaced from their homes.
Join our new commenting forum
Join thought-provoking conversations, follow other Independent readers and see their replies