Ebrahim Sharif: Wife of activist facing trial in Bahrain wants Britain to help free him
Farida Ghulam and her husband are key members of Waad, a secular left-wing party that has called for a constitutional monarchy and an elected prime minister in the tiny Gulf kingdom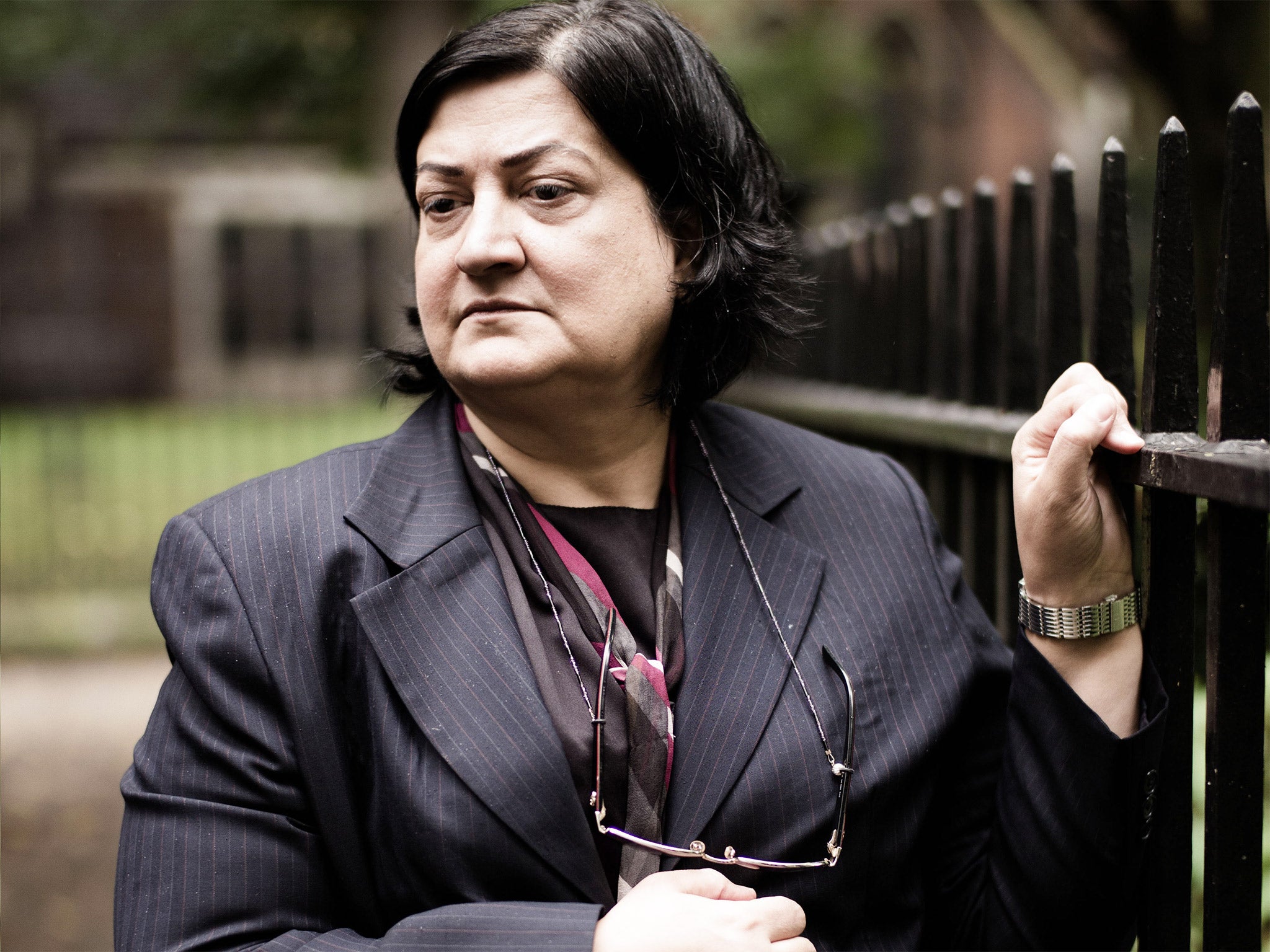 After he endured four years in jail where he was beaten with plastic pipes and held in solitary confinement Ebrahim Sharif spent just three short weeks with his wife and three children before he was arrested again in the middle of the night.
"His crime was a speech. It was just an idea, a sentence, but 30 agents with guns and video cameras burst into our home at 3am and took him away," said his wife Farida Ghulam. She and her husband are key members of Waad, a secular left-wing party of which he is general secretary that has called for a constitutional monarchy and an elected prime minister in the tiny Gulf kingdom.
She is a smartly dressed, formidably intelligent woman who is in London this week to call on the British Government - one of Bahrain's closest economic and military partners - to demand her husband's release ahead of his trial next week on what Amnesty International has described as "absurd" charges.
"Bahrain is a signatory to the Universal Declaration of Human Rights, but that's only ink on paper in Manama [the Bahraini capital]. The government has won the battle with an iron fist. We have no freedom of expression," she said.
Since 2011, nearly 100 people have been killed in clashes with the security forces in the kingdom, which is home to the US Fifth Fleet and a new Royal Navy base currently under construction.
The government has accused Iran of intervention and last week Bahraini police said they had had discovered 1.5 tons of explosives in a warehouse and underground bunker system south of the capital Manama, in one of the largest busts amid the on-going unrest.
However Ms Ghulam said the accusation the opposition was linked to Iran was a "broken record", while an independent report backed by Bahrain and the international community in 2011 found there was no link between sectarian unrest in the country and Iran.
Ms Ghulam's husband was first arrested for his role in the 2011 protests against the government and sentenced to five years for "attempted overthrow of the regime" alongside a group of opposition figures and activists called the "Bahrain 13", to the dismay of Amnesty International and Human Rights Watch.
Mr Sharif, who unlike most of the Shia-dominated opposition in Bahrain is a Sunni secularist, was beaten with plastic pipes while in captivity leaving him "slower and suffering from chronic leg pain," according to his wife.
His release in June after a royal pardon was welcomed by the UK and the US, but after just three weeks of freedom and the subsequence lifting of an American arms embargo on Bahrain, he was arrested again after giving a speech to commemorate the death of Hussam al-Haddad, a 16-year-old boy who was shot dead by riot police in 2012. He faces trial on Monday for "incitement to hatred and contempt of the regime" and "incitement to overthrow the regime by force and illegal means."
Said Haddadi, Bahrain researcher at Amnesty International in London, said: "Ebrahim Sharif is a prisoner of conscience because there was absolutely nothing in his speech which advocated or incited violence. This is purely a question of freedom of expression and the Bahraini government's very obvious intolerance of criticism."
Brian Dooley from Human Rights First in Washington, said: "Many of us who have followed Bahrain closely over the last few years see this case as a key test of the regime's intentions. His release would be a likely opening move if there was a real reform plan. His re-arrest so soon after his pardon in June crushed hopes that the government there is serious about finding a solution to its political crisis."
Ms Ghulam last saw her husband two weeks ago during a brief visit. "We don't know if he faces three months or up to ten years in prison. It's a political game, but we won't give up. He won't give up. He knows in the end that the pressure will pay off."
Mr Ghulam's visit to the UK comes just a week after the most senior Foreign Office official admitted for the first time that human rights are no longer a "top priority" for the Government.
This came days after Defence Secretary, Michael Fallon, visited the kingdom to observe a joint UK-Bahrain military exercise before travelling to Oman, where he announced the UK was considering a permanent military facility in the country.
"The UK talks about human rights, but it walks the path of economic profit and defence deals," said Ms Ghulam. "You know Bahrain the best as you gave us our administrative systems, the law and our hospitals under colonial rule, but today you fail to talk about human rights. Business comes first."
A spokesperson for the Bahraini government said that nobody in Bahrain is "detained for his or her political views" and that freedom of expression is "fully protected" by the country's constitution.
They said: "Ebrahim Sharif is awaiting trial on charges of inciting hatred and political violence, and is being afforded full legal rights."
The Bahraini government also says it has undertaken "comprehensive human rights and criminal justice reforms" since 2011, including a "preventative mechanism" against mistreatment and the creation of an independent Police Ombudsman – the first in the Middle East – to investigate any complaints of wrongdoing against police officers.
Corbyn on democracy in Bahrain
In recent weeks Bahraini exiles in London have taken heart from new Labour leader Jeremy Corbyn's support for democracy in Bahrain. He used his first newspaper article as leader and his conference speech to castigate the role of Britain in the Middle East and its "uncritical support" of regimes in Riyadh and Manama, prompting Bahraini diplomats in the hall in Brighton to storm out in anger.
Mr Corbyn has been a regular figure at demonstrations against arms sales to Saudi Arabia and Bahrain and has long spoken in support of exiled democracy activists. He is understood to have remained in text message contact with Bahraini dissidents in Britain since he became Labour leader last month.
"A credible human rights policy from London will have an immediate positive effect in Manama. That would mean restricting arms sales, condemning violations and publicly calling for the release of prisoners like Ebrahim Sharif. I welcome the prominence Corbyn gives to human rights, and hope that leads to a proper conversation on how the UK can promote them internationally." said Sayed Alwadaei, director of advocacy at the Bahrain Institute for Rights and Democracy.
A spokesperson for the Bahraini government told The Independent that Mr Corbyn's comments were "ill-informed and unconstructive".
They said: "Bahrain entirely rejects any contemptible suggestion that it would wilfully mistreat its citizens.
Join our commenting forum
Join thought-provoking conversations, follow other Independent readers and see their replies