Gaza-Israel conflict: What is happening and why does it matter?
United Nations has urged both sides to 'step back from the brink of war' – your questions answered about latest flare-up in violence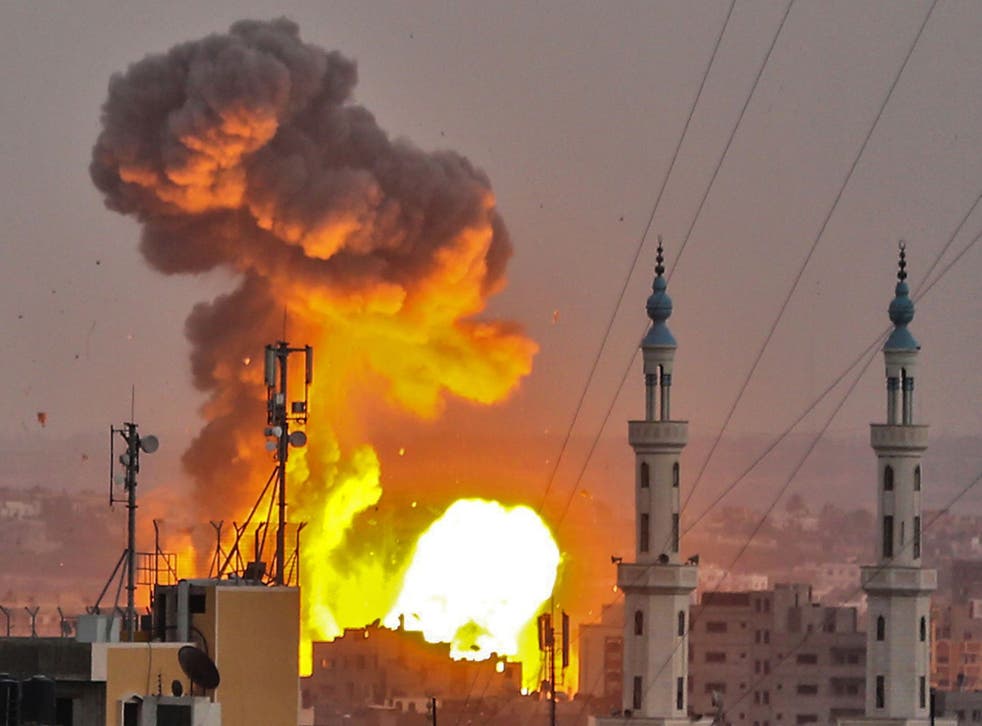 Q. Why has there been an upsurge in violence?
At the heart of the latest escalation is 16 weeks of Palestinian protests that have taken place at the border fence between Gaza and Israel.
Since 30 March, hundreds of thousands of Gazans have marched each week on the heavily fortified border demanding the right to return to lands they fled and were forced from after the 1948 war, which resulted in the formation of Israel.
Palestinians, who have suffered for over a decade under a crippling blockade, have said they are peacefully demonstrating during the Great March of Return marches, which is their right. But Israel has accused Hamas, the proscribed militant group that runs the enclave, of encouraging protesters to be violent towards their soldiers, to cut the border fence and to launch raids inside Israel.
The Israeli military has responded with live fire, leaving more than 140 Palestinians dead, and many more with life changing injuries, in moves described by the UN General Assembly as "excessive, disproportionate and indiscriminate".
At the same time, protesters say, in frustration, they have taken to launching burning kites and balloons laden with incendiary devices across the border, setting alight to over 2,600 hectares of Israeli farmland and causing hundreds of thousands of pounds of damage.
The Israeli army, that said its citizens near to Gaza are in danger, subsequently tightened an 11-year-old blockade on the strip, closing Kerem Shalom, the sole goods crossing between Israel and Gaza, and strangling Gaza's fishing zones to just three nautical miles, a third of what it was before the protests. Israel said earlier this week that it would allow fuel and gas to be transferred via Kerem Shalom, and widen the fishing lanes, partially lifting the restrictions, should a shaky ceasefire hold.
Neither side to date will back down, saying their respective responses are fair and legitimate. This has created a cycle of violence that has reached boiling in the last week, with warnings from the UN that a war could break out.
Q. Why is the UN fearful there could be another war?
On Friday, 20 July, Israeli Staff Sergeant Aviv Levi, 21, was killed by what the Israeli army called a "violent raid" during the protests. It marked the first time an Israeli soldier was killed by Palestinian gunfire near Gaza since the last war in 2014 and so crossed a definitive red line. Israel said that gunmen had shot at and lobbed grenades at its soldiers. It responded by bombarding Gaza with tank and air fire, and said its forces struck 60 "military sites" run by Hamas.
Four Palestinians were killed that day. Palestinian health officials said that at least one was a civilian. Earlier in the month, there was the most intense exchange of fire between Gaza militants and Israel since the 2014 war - largely due to the border protests.
Egypt has intervened several times enforcing ceasefires which keep being broken.
Gazans protest as US embassy moves to Jerusalem – in pictures

Show all 37
But after the severity of the activity at the borders, and the number of truces that have been violated, Antonio Guterres, the UN secretary-general, warned that they were on the "brink of a devastating conflict". He said it was "imperative" both Israelis and Palestinians abide by the ceasefire.
On Monday, Zeid Ra'ad Al Hussein, the UN's human rights chief, called for an investigation into Israel's actions at the border calling the most recent killings "shocking". He said it was also vital to address the root causes of the Gaza demonstrations which would continue, as living conditions under Israel's blockade are "grossly inadequate".
Q. Who is responsible?
Inevitably, both sides blame each other.
Palestinians in Gaza, including the armed factions, say the Israeli security forces have used live ammunition against peaceful protesters, and launched devastating airstrikes on the strip, killing dozens of people. They said that Israel has also exacerbated a humanitarian and economic crisis within the enclave by adding the new restrictions.
Israel maintains Hamas, that it regards as a terrorist group, has incited violence and endangered the lives of Israelis near the border. It says the fires caused by the burning kites have caused significant damage to farm land.
Q. Who are the protagonists?
The main protagonists are Israel and its army, and the myriad armed factions within Gaza, that answer to a central operations room that is ostensibly led by the militant arm of Hamas – called the Qassem Brigades. Within that are vastly different factions, with anything ranging from small far-left Marxist armed groups like the National Resistance Brigades to Islamic jihad's al-Quds Brigade.
Q. What is at stake?
For this region, everything. In the last war more than 2,200 Palestinians, and 73 Israelis, were killed. Gaza took several years to recover and still has not been fully rebuilt. More fundamentally is the moribund Middle East peace process, which is arguably dragging into its eighth decade. A new devastating war would only put another nail in its coffin.
Q. Why has a ceasefire been agreed?
Egypt, that has long held a position as mediator in the Israel-Palestine conflict, has reportedly intervened multiple times in the past few weeks to broker a ceasefire. Last week Hamas said it once again stepped in and brokered a truce but it keeps being broken. Most recently on Wednesday, Israel fired a barrage of tank and artillery shells at what it identified as military targets within Gaza, after one of its soldiers was injured during an earlier cross-border exchange of fire. Three Palestinians were killed during the tank fire, Hamas confirmed the dead were members of its group.
Q. What is going to happen now?
Both sides of the conflict, as well as civilians, have repeatedly expressed an interest in stopping the current escalation from tumbling into a full-blown war. Further deaths will only worsen the situation.
Q. But if neither side wants war why does the violence continue?
Hamas is in a tricky position. Gaza is experiencing one of the most severe economic crises in its recent history. There are many reasons, including the Israeli blockade, new sanctions from the Palestinian Authority which is dominated by Hamas' secular political rival Fatah and a massive shortfall in International aid funding.
In a bid to force Hamas to relinquish power over Gaza, last April the PA ordered early retirement for nearly a third of its 60,000 Gaza employees as well as restrictions on electricity access to Gaza. In May it slashed salaries to its civil servants in the enclave by at least 20 percent, piling on more pressure.
Cash-strapped Hamas, that once relied on taxing goods smuggled through tunnels to Egypt, has also been unable to pay its own 40,000 employees in full.
Gaza militant groups prepare for war amid tough new sanctions from Israel
Meanwhile the United Nation's refugee agency UNRWA said it is suffering from an "unprecedented" £164 million funding shortfall, after the US said it was slashing more than 80 percent of its funding to the agency. This has only exacerbated the problems. This week UNRWA announced it was getting rid of 250 jobs in the Palestinian Territories, including more than 100 in Gaza.
The 1.8 million residents of Gaza, who are already suffering from one of the highest jobless rates in the world, cannot sustain further devastation and many are increasingly frustrated with their own leaders.
Members of Hamas's Palestinian political rivals in Gaza have told The Independent that Hamas wants the focus of Gazans' anger to be directed towards Israel, which it regards as an occupier, rather than at local government and themselves. And therefore, the protests at the border cannot stop.
Israel, meanwhile, is facing a potential war at its northern border as well as its frontier with Gaza. Over the last months, Israel has been increasingly concerned by Iran's attempts to build permanent military infrastructure near Israel in Syria, where Tehran is backing Syrian President Assad and the rebels. Iran and its allied forces have fired into Israel.
Members of the Israeli army and government have told The Independent they have no interest in fighting a war on two fronts. But at the same time Israel is facing pressure from its own people to stop the burning kites and violence at the border.
It all depends on whether the Egyptian-brokered truces can hold.
Register for free to continue reading
Registration is a free and easy way to support our truly independent journalism
By registering, you will also enjoy limited access to Premium articles, exclusive newsletters, commenting, and virtual events with our leading journalists
Already have an account? sign in
Join our new commenting forum
Join thought-provoking conversations, follow other Independent readers and see their replies