UN urges Israel not to withhold aid from Gaza, as crisis deepens
A top United Nations official warns the besieged Gaza Strip is running out of fuel and medical supplies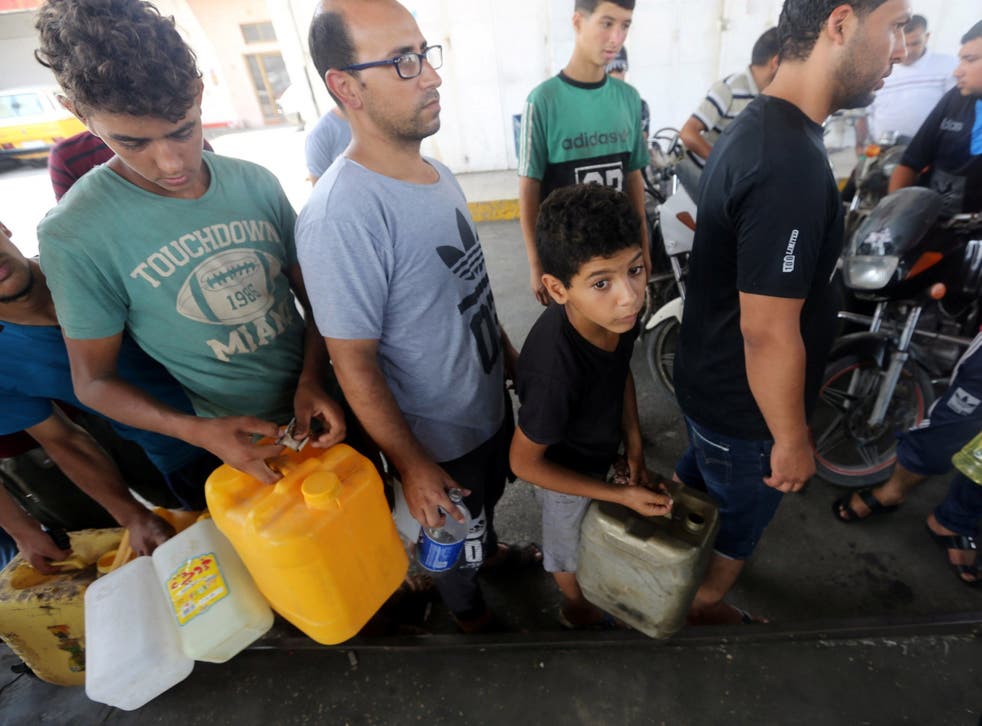 The UN's top official has called on Israel to urgently allow the delivery of humanitarian supplies into Gaza, and called on all parties not hold aid supplies "hostage to political and security developments".
Rosemary DiCarlo, the United Nations political chief, revealed the woeful humanitarian situation in the besieged enclave to the organisation's security council this week, warning fuel and medical supplies were running "dangerously" low. Ms DiCarlo said funding for the UN's emergency fuel support programme in Gaza had run out, a situation which could see hundreds of key facilities, including hospitals and water plants, close.
Gaza is already suffering under a decade long blockade imposed by Israel after the Hamas militant group violently swept to power in the Palestinian territory in 2007. This summer the humanitarian situation reached crisis point amid a flare-up in violence between the two sides which "threatened to plunge Gaza into war", Ms DiCarlo said.
"The humanitarian situation in Gaza had also deteriorated further, due in part to additional restrictions that Israel imposed on the movement of goods," Ms DiCarlo said.
"As we work towards the full lifting of the closing [of] Gaza ... I call on all parties to ensure that urgently needed humanitarian supplies reach the strip. These should not be held hostage to political and security developments," she added.
The top official also appealed to the UN security council for $4.5 million [£3.5 million] to urgently plug a funding shortfall needed for fuel support.
"[We are] deeply concerned that funding for UN emergency fuel, which sustains some 250 critical facilities in Gaza, has now run out," Ms DiCarlo said.
She added Gaza was also suffering a "dangerously short supply of essential medicines", after 40 per cent of stocks were depleted.
Israel and Egypt have both imposed blockades on Gaza's 1.8 million strong population, saying the measure is needed to contain Hamas militants.
Israel tightened its blockade this summer after angry Palestinian protesters took to launching incendiary kites and balloons at its territory, burning several thousand acres of Israeli forests and farmland.
The rallies started in March, when hundreds of thousands of Gaza's residents began marching towards Israel weekly, demanding the right to return to ancestral homes they were forced from or fled during the conflict which surrounded the creation of Israel in 1948. Since the spring, more than 160 Palestinians have been killed by Israeli fire, drawing international criticism of the Israeli army, which has defended its use of force. An Israeli soldier was killed by Palestinian snipers.
Since July, three rounds of heavy fighting between Israel and Hamas have erupted, with the latter firing dozens of rockets into Israel and the Israeli military carrying out a hundred air raids on Gaza.
Ms DiCarlo said, in recent weeks the humanitarian situation in Gaza had "deteriorated further", due in part to additional restrictions imposed by Israel, including temporarily closing Kerem Shalom, the sole goods crossing with Gaza and the primary avenue for food, fuel, construction materials and aid. The crossing was reopened on 15 August, when Israel also expanded the fishing zone off Gaza to nine nautical miles. However a pedestrian crossing point, Erez, has since been closed.
But Ms DiCarlo said she feared any further escalation could "plunge Gaza into war", and urged Israel to ensure humanitarian supplies for the enclave were swiftly delivered.
"While Israel has a duty to protect its citizens, it must exercise maximum restraint in the use of live fire and refrain from using lethal force, except as a last resort," Ms DiCarlo said. "I further call on Hamas to avoid violence at the fence and refrain from putting children in harm's way. Children should never be targeted or instrumentalised in any way."
The UN and Egypt have been attempting to broker a long term truce since the start of the summer. This week the Israeli authorities announced military police investigations will be held into the deaths of two Palestinians killed at the fence.
UNRWA, the UN's Palestinian refugee agency, meanwhile, has been struggling to support projects in Gaza and the West Bank, amid a $217 million shortfall in funding. The financial problem was in part sparked by the United States's decision to withhold half a planned $125 million package for the UNRWA this year.
Register for free to continue reading
Registration is a free and easy way to support our truly independent journalism
By registering, you will also enjoy limited access to Premium articles, exclusive newsletters, commenting, and virtual events with our leading journalists
Already have an account? sign in
Join our new commenting forum
Join thought-provoking conversations, follow other Independent readers and see their replies