Gaza, a year on from Operation Protective Edge: The traumatised kibbutz on Israel's front line, still recovering from last summer's war with Hamas
The 50-day bombardment of Gaza claimed thousands of lives and was supposed to make Israelis feel safer. But many living near the border with the Strip still feel vulnerable, and haunted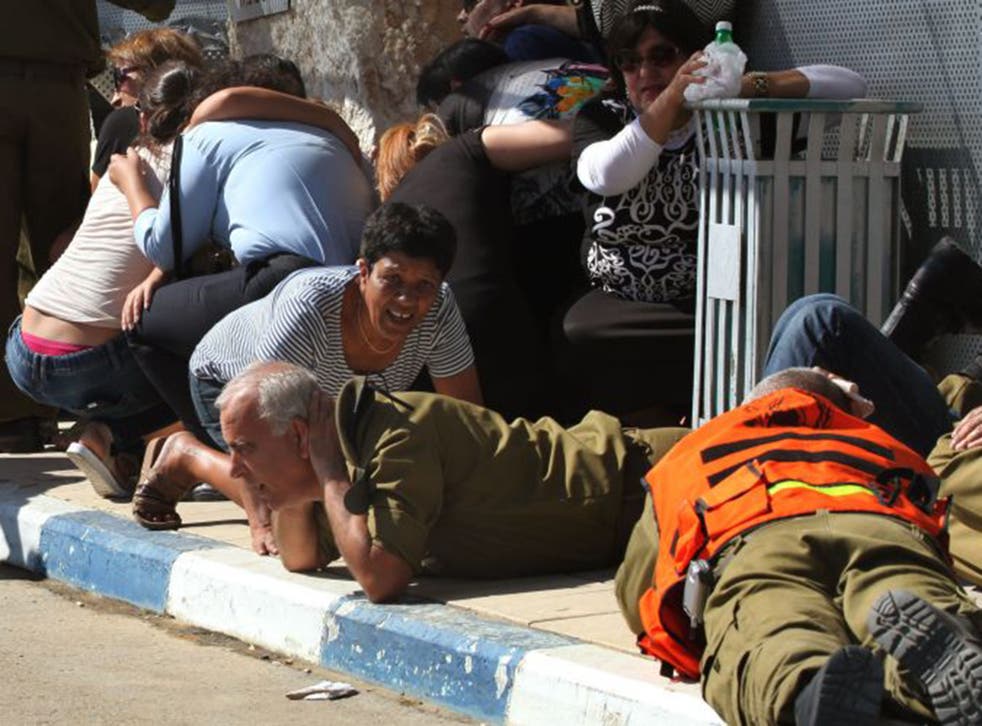 Just before a ceasefire ended the Gaza war last summer, Gadi Yarkoni lay severely wounded in the border kibbutz of Nirim after a Hamas mortar strike. A red alert blared its warning of more incoming fire, meaning he could not be rescued until the alert was over.
"I was left waiting and I said only, 'Let the fire not fall on me because I cannot move,'" he recalls.
Mr Yarkoni was eventually saved but his injuries were so terrible that what remained of his legs had to be amputated. After 13 days unconscious he awoke in hospital to his new reality.
After six months of rehabilitation, he walks on prosthetic legs and has a new career, recently gaining election as council head for Israel's Eshkol border region, which includes 34 communities.
Mr Yarkoni's ordeal is symbolic of the struggles of Israeli communities along the border with Gaza, still scarred a year after the war with Hamas which began on 8 July, 2014.
But not all the residents of Nirim, with its greenery and palm trees giving it a tranquil air despite it being a little over a mile from Gaza, have recovered as well as Mr Yarkoni.
The kibbutz, which grows wheat, sweet potatoes and avocados, is still traumatised by the war, a microcosm of larger Israeli wounds, especially in the southern region most vulnerable to cross-border rocket attacks.
The figure of six civilian Israeli deaths during the war is dwarfed by the 2,251 Palestinians killed in Gaza, most of them civilians including 551 children, and 18,000 homes destroyed, according to the UN.
But Israel's south also suffered. The area around Nirim was under threat even before last year's war began, as it was slowly bombarded with scores of rockets from Gaza. After Israel launched Operation Protective Edge, nearly 5,000 rockets and 1,751 mortar bombs were fired from Gaza into Israel, says the UN. That was a year ago this week.
Officially, Israel marked the run-up to the anniversary with a ceremony for fallen solders, and Israeli newspapers and broadcasters have offered extensive coverage of those wounded, of bereaved families and of army units that lost officers.
In pictures: Palestinian flotilla

Show all 7
Debate over the war continues: politicians on the right have depicted it as both justified and necessary, while those on the left have questioned the damage to Israel's international standing and its growing isolation – not least in the light of the re-election of Prime Minister Benjamin Netanyahu with more MPs than before, and an even more right-wing government.
Three-quarters of Nirim's 400 people fled because of the rocket fire, and the remainder endured an anxious existence punctuated by red alerts that gave them seconds to run for cover. Added to that were fears of cross-border raids by Hamas fighters, using tunnels to infiltrate into Israel.
"Compared to previous wars we had an increase in the number of people who turned to us," said Gila Sella, director of the helpline at Natal-Israel Trauma Centre for Victims of Terror and War. "We see among a great many children, mainly in the south, that they do not succeed in getting back into routine. They continue to attach themselves to their parents, their basic functioning is hurt, they don't want to be alone, they continue to sleep in their parents' bed and there is a regression including bed-wetting, inability to concentrate and a lot of crying." Parents "feel helpless and that their life is out of control", she added.
What makes things even harder is that there have been occasional rocket firings from Gaza even since the ceasefire – the work of extremist Salafists who are challenging Hamas's authority in the Strip.
"During a war you are on guard but these are a complete surprise, they catch people unprepared," Ms Sella said.
Mr Yarkoni, however, likes to look on the bright side. Even with the occasional firing, he says "the feeling definitely is that it's safer here". "Five hundred new residents have come to live in Eshkol over the last year and I'm hoping for another 500 this year. Our swimming pools are filled with children, in the afternoon the playgrounds are full." But he added that one lethal rocket will set everything back.
For some Nirim residents the gains cited by Mr Yarkoni ring hollow, especially given that nothing was settled by the war and that a new one could break out at any moment.
In the same mortar attack that wounded Mr Yarkoni, who was the kibbutz's economic coordinator, two other pillars of the community, Ze'ev Etzion, 55, a father of five children, and Shahar Melamed, 43, a father of three, were killed. This caused a shock in the community that still has not been absorbed. "The feeling is that there is going to be a catastrophe here but you have a denial mechanism that enables you to live and to remain," said Einav Golan, who has a six-year-old son.
Ms Golan said she stayed because her husband wants to, and that after Mr Etzion and Mr Melamed's deaths "we felt a need to remain". Her son is having a good time in summer camp but still has fears from the war. "We're all in post-trauma here, my son doesn't speak about it, but it expresses itself in that he plays a lot of war games," she said.
Galia Heller-Kramer, a teacher, added: "I thought of leaving but my parents live here and I won't leave them alone."
But Adele Raemer, 60, an English teacher originally from New York whose bedroom was damaged by shrapnel from a mortar, said the kibbutz had shown resilience. "I think we've recovered pretty well, there are a lot of strong and amazing people here," she said. However, she added that her own daughter, whose wedding last July had to be moved to another venue because of rocket fire, wants to leave.
"She had a baby two months ago and she wants to live any place but here because she's scared. Ever since she was a little kid she's been scared of infiltrations. I used to be able to tell her, 'Don't worry, there are guards and the army'. But now with tunnels that popped up so significantly into our awareness during the last war I can't tell her that it's an illogical fear. A tunnel can pop up into the middle of our community."
"I don't live in fear," Ms Raemer added. "I live in a state of heightened awareness. I'm not scared to go out at night or leave the door unlocked, but when there is any little noise, I'm alert. When people here hear the crackle that precedes a red alert or the sound of the tone of the PA system, they are immediately ready to run."
In Ms Raemer's view, the government is not doing all it should to prevent a recurrence. She wants to see Israel reach an agreement with the other side to ensure that there is not another round of the repeated wars with Gaza.
"Until there is a political solution, nothing will change," she said. "The government must sit and talk. This can't be solved with guns, planes and bombs. Nothing has changed since last year."
She added: "There is almost 50 per cent unemployment in Gaza, people there are starving and they just want to put food on their table. I'm sure most Gazans just want what I want: food on their table and safety for their kids. That's not going to happen until we have some sort of political agreement."
This article originally stated that last summer's war was Israel's second longest, after what Israelis call the 1947-49 War of Independence. In fact, it was also exceeded in length by the First Lebanon War (1982-85) and the War of Attrition (1967-70).
Tomorrow: Part Four - Need for water is outstripping supply as last year's war pushes services to breaking point
Join our new commenting forum
Join thought-provoking conversations, follow other Independent readers and see their replies