Iran protests: Two feared dead as anti-government demonstrations continue for third day
Internet access is disrupted in some areas as anti-regime protests spread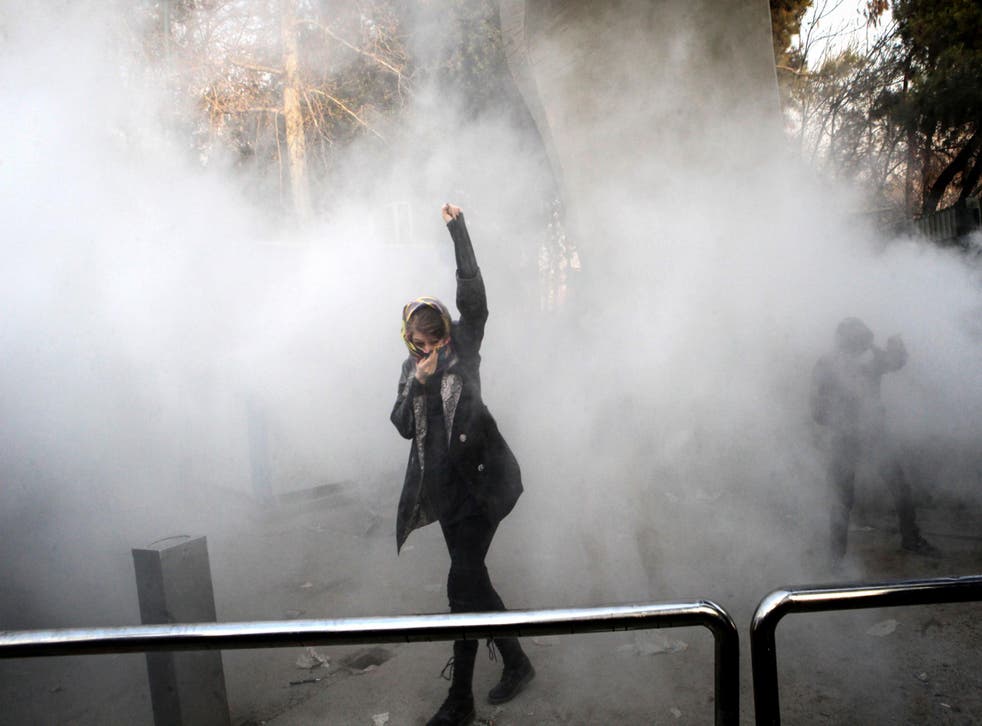 Violence has erupted during a third day of street protests in Iran, with crowds attacking state buildings in the capital Tehran and riot police reportedly shooting dead two demonstrators in a provincial town.
Iranian authorities appeared to move to cut off internet access to mobile phones as anti-government demonstrations spread despite government warnings against "unlawful gatherings".
The wave of protests, prompted in part by discontent over economic hardship and alleged corruption, are the most serious since months of unrest in 2009 that followed the disputed re-election of then-President Mahmoud Ahmadinejad.
Saturday's protests coincided with state-sponsored rallies staged across the Islamic Republic to mark the final suppression of the 2009 unrest by security forces, with mass pro-government events in Tehran and Mashhad, Iran's second city. Pro-government rallies were held in some 1,200 cities and towns, according to state television.
At the same time, anti-government demonstrations broke out anew in several cities and for the first time in Tehran, where protesters confronted and stoned riot police around the main university, with pro-government crowds nearby.
Videos posted on social media from the western town of Dorud appeared to show two young men lying motionless on the ground, covered with blood, it was reported, with a voiceover claiming they had been shot dead by riot police who were firing on protesters.
Other protesters in the video chanted: "I will kill whoever killed my brother!"
The footage, as with other videos posted during the current protest wave, could not be immediately authenticated.
In earlier footage, marchers in Dorud shouted "death to the dictator," referring to Supreme Leader Ayatollah Ali Khamenei.
Social media video from Mashhad showed protesters overturning a riot police car and police motorcycles set ablaze.
In Tehran, the semi-official news agency Fars said up to 70 students gathered in front of its main university and hurled rocks at police, also chanting "death to the dictator."
Social media footage showed riot police using clubs to disperse more protesters marching in nearby streets, and arresting some of them. The student news agency ISNA said police shut two metro stations to prevent more protesters arriving.
In Tehran and Karaj, west of the capital, protesters smashed windows on state buildings and set fires in the streets.
Images carried by the semi-official news agency Tasnim showed burning garbage bins and smashed-up bus shelters in the street lining the university after the protests subsided.
Brigadier-General Esmail Kowsari, the Revolutionary Guards' deputy security chief in Tehran, said the situation in the capital was under control and warned protesters would face "the nation's iron fist" if unrest persisted.
"If people came into the streets over high prices, they should not have chanted those [anti-government] slogans and burned public property and cars," Mr Kowsari told ISNA.
The United States condemned the scores of arrests of protesters reported by Iranian media since Thursday, with President Donald Trump warning: "The entire world understands that the good people of Iran want change, and, other than the vast military power of the United States, that Iran's people are what their leaders fear the most."
State media quoted Foreign Ministry spokesman Bahram Qassemi as saying in response to an earlier Trump tweet criticising the arrests: "The Iranian people see no value in the opportunistic claims by American officials and Mr Trump."
Iranian media also reported street protests in the cities of Kashan, Arak, Ahvaz, Zanjan, Bandar Abbas and Kerman.
The elite Revolutionary Guard and its Basij militia, which spearheaded the security crackdown that crushed the protests of 2009, said in a statement carried by state media: "The Iranian nation... will not allow the country to be hurt."
Openly political protests are rare in the Islamic Republic, where security services are omnipresent.
But there is considerable discontent over high unemployment, inflation and alleged graft. Some of the new protests have turned political over issues including Iran's costly involvement in regional conflicts such as those in Syria and Iraq.
Joblessness has risen and annual inflation is running at about eight per cent, with shortages of some foods contributing to higher prices and hardship for many families.
Interior Minister Abdolreza Rahmani-Fazli warned against attempts to promote protests via social media.
Authorities appeared to have attempted to cut internet access to mobile phones, with the main networks interrupted in Tehran, according to AFP.
"We ask people not to take part in unlawful gatherings. If they plan a gathering they should apply [for a permit,]" Mr Rahmani-Fazli told the Young Journalists Club news website.
On Thursday, hundreds of people took to the streets in Mashhad, one of the holiest places in Shi'ite Islam, to protest against high prices, shouting anti-government slogans. Police arrested 52 people, according to a judicial official.
An unnamed official quoted by state broadcaster IRIB's website said on Friday IRIB had not covered the protests so far "after being asked by relevant bodies that the issue should not be reflected on state radio and television".
Most of those arrested in the last two days had been released, state television said, without giving details.
"Enemy websites and foreign media continue to try to exploit economic hardships and the legitimate demands of the people in this respect to launch illegal gatherings and possible unrest," it added.
Though purely political protests are seldom seen in Iran, demonstrations are often held by workers over lay-offs or non-payment of salaries and by people who hold deposits in non-regulated, bankrupt financial institutions.
President Hassan Rouhani's leading achievement, a 2015 deal with world powers that curbed Iran's nuclear program in return for a lifting of most international sanctions, has yet to bring the broad economic benefits the government says are coming.
Unemployment has risen to 12.4 percent this fiscal year, according to the Statistical Centre of Iran, up 1.4 percentage points and leaving about 3.2 million Iranians jobless.
Additional reporting by agencies
Register for free to continue reading
Registration is a free and easy way to support our truly independent journalism
By registering, you will also enjoy limited access to Premium articles, exclusive newsletters, commenting, and virtual events with our leading journalists
Already have an account? sign in
Register for free to continue reading
Registration is a free and easy way to support our truly independent journalism
By registering, you will also enjoy limited access to Premium articles, exclusive newsletters, commenting, and virtual events with our leading journalists
Already have an account? sign in
Join our new commenting forum
Join thought-provoking conversations, follow other Independent readers and see their replies