Iraq vote: Ed Miliband calls for UN resolution on military action against Isis in Syria
David Cameron is setting out his case for strikes in Commons debate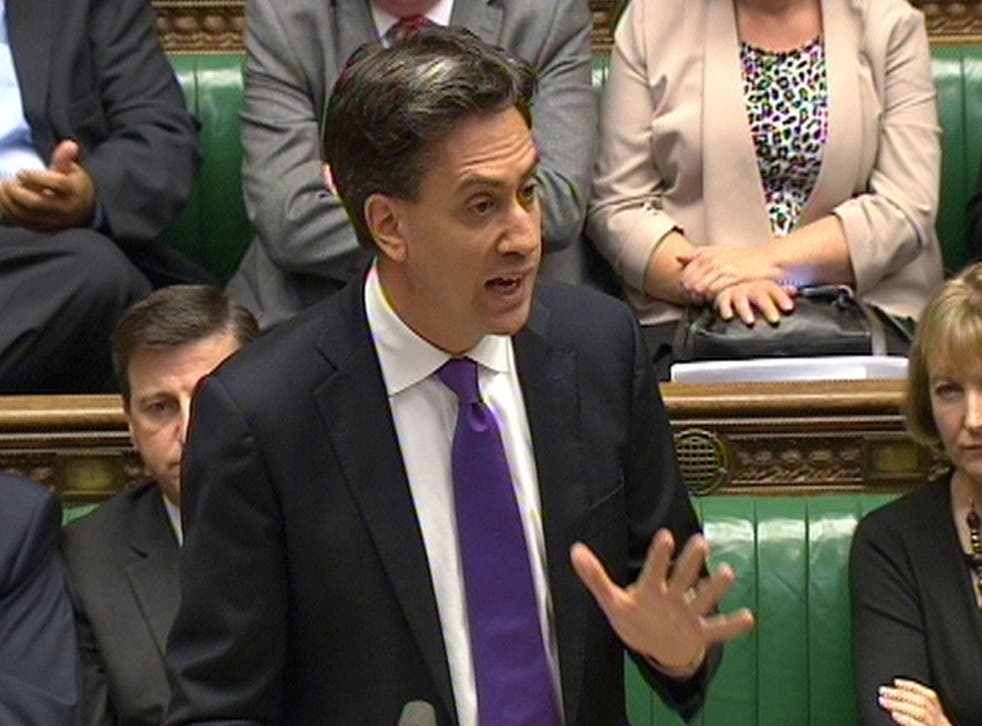 Ed Miliband has said the UK should seek a UN Security Council resolution before taking any action against Isis in Syria during a debate on Iraq air strikes.
The Prime Minister set out his case for strikes in the House of Commons this morning after recalling Parliament for an emergency debate about taking on the extremists' "network of death".
Mr Miliband also expressed his support for strikes, but called for a comprehensive strategy and action that is "proportionate".
Isis (also known as known as Islamic State) has advanced across swathes of Iraq and Syria in recent months, declaring a 'caliphate' across its strongholds.
Mr Miliband said there was a strong argument about the legal basis for action in Syria but added: "The point I have been making in the last few days is, in my view, when we are not talking about being invited in by a democratic state it would be better - I put it no higher than that - it would be better to seek a UN Security Council resolution.
"Why? This is the highest multilateral institution in the world and therefore it would be better to seek authorisation."
Today, Mr Cameron admitted air strikes alone would not be enough to "roll back" the threat posed by Isis, but insisted they were an indispensable part of a wider strategy.
Responding to an intervention from senior Tory Sir Edward Leigh, he rejected the allegation that the previous Iraq war led directly to the rise of Isis.
The PM said: "I am not claiming that by air strikes alone we can roll back this problem.
"What this problem requires is a comprehensive strategy, including a well-formed Iraqi government and well-formed Iraqi armed forces because they in the end will be the ones who have to defeat this on the ground.
"I think it's important to reserve the right that if there was a critical British national interest at stake or if there was the need to act to prevent humanitarian catastrophe then you could act immediately and explain to the House of Commons afterwards."
He said the world is dealing with a generational struggle caused by the "perversion of one of the world's great religions, Islam".
Ahead of the vote, a YouGov poll conducted for The Sun suggested the majority of the British public back RAF air strikes targeting Isis in Iraq and in Syria.
Over half (57 per cent) of UK residents surveyed said they supported bombing Isis in Iraq, while 51 per cent gave their backing to strikes on Isis positions in Syria.
Forty-three per cent backed the once hugely unpopular option of sending ground troops to Iraq, or considering sending them there.
This support comes despite the Defence Secretary Michael Fallon warning the campaign against Isis could be a "long haul", telling The House magazine he did not dissent from the "two to three years" estimated by John Kerry, the US Secretary of State.
The Tories, Liberal Democrats and Labour all support joining strikes against Isis, which the coalition says is legal because they have been requested by the Iraqi government.
On Thursday, the FBI claimed it has identified the British Isis militant known as Jihadi John who appeared to have beheaded British aid worker David Haines, and two US journalists Steven Sotloff and James Foley, in three brutal videos released by the group.
Register for free to continue reading
Registration is a free and easy way to support our truly independent journalism
By registering, you will also enjoy limited access to Premium articles, exclusive newsletters, commenting, and virtual events with our leading journalists
Already have an account? sign in
Register for free to continue reading
Registration is a free and easy way to support our truly independent journalism
By registering, you will also enjoy limited access to Premium articles, exclusive newsletters, commenting, and virtual events with our leading journalists
Already have an account? sign in