Isis bans fighters from using social media amid paranoia over spying and dissent
Group cracking down on careless posts while losing territory in Syria and Iraq
Lizzie Dearden
Thursday 22 June 2017 16:58 Comments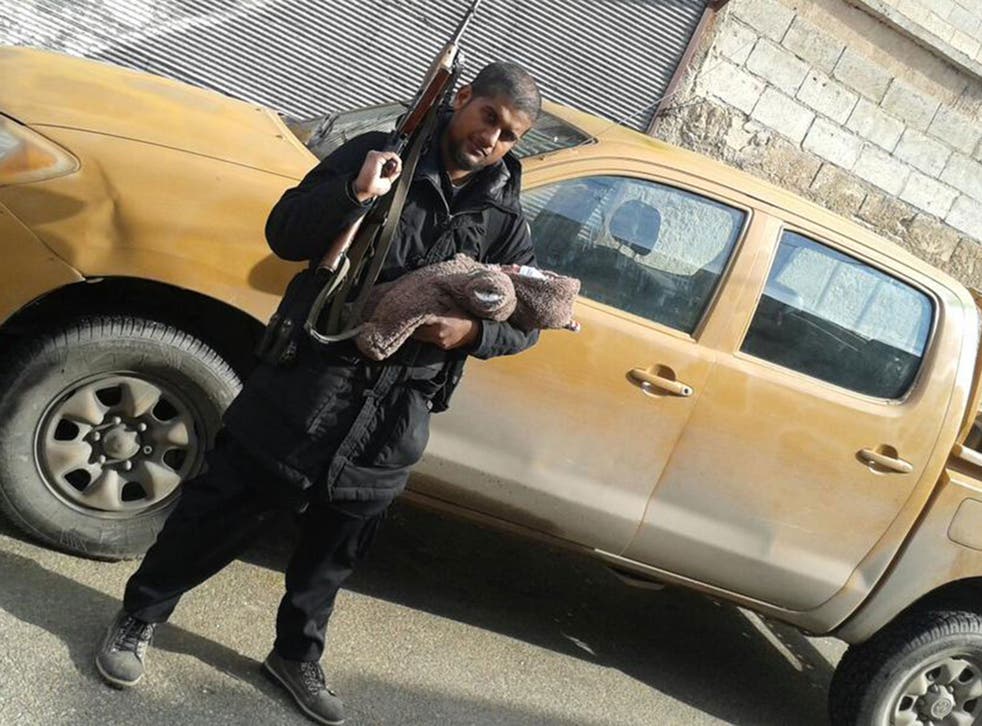 Isis has issued a decree banning its fighters from using social media amid rising paranoia over infiltration and tracking by foreign intelligence agencies.
A document from the group's administrative "Delegated Committee" claimed militants had been killed because of careless online activity, threatening "questioning and accountability" for anyone breaking the prohibition.
"The enemies of the religion have taken various means in order to penetrate the ranks of the muwahhidin [monotheists] and to learn their secrets," read the notice addressed to "all soldiers of the Islamic State".
"Of these means are the social networking sites, as their widespread use among the soldiers of the Islamic State bears a great harm."
Isis's document claimed the sites were "invented by the enemies of Allah … being monitored by them day and night," adding: "How many a mujahid has been killed because of this!
"How many a maqarr [headquarters] has been destroyed! As such, effective from the date of this notification, using social networking sites is entirely and completely forbidden."
The decree, published in Arabic and English, was dated 14 May and later distributed via the group's private channels on encrypted messaging apps.
Researchers at the Combating Terrorism Centre (CTC), based at the United States Military Academy in West Point, said Isis soldiers have unwittingly caused security breaches in several documented cases.
In June 2015, a militant posted a selfie online complete with geolocation data, causing his headquarters to be tracked by American intelligence and destroyed in an air strike.
Isis leaders have attempted to crack down on social media use by its rank-and-file members on several occasions dating back to September 2014, warning against updates and later prohibiting fighters from publishing statements on the terror group's behalf.
Combined with increased efforts by security services, social networks and internet providers to prevent the spread of extremist material, the internal crackdown appears to have largely destroyed Isis fighters' public presence on networks including Twitter and Facebook.
Profiles were previously widespread among foreign recruits in particular, with British members Abu Rumaysah and Aqsa Mahmood among prolific propagandists glorifying life in Syria and encouraging Muslims to join the so-called Islamic State online.
In pictures: Mosul offensive

Show all 40
Analysts said the latest and most forceful decree was "somewhat ironic" given the powerful role of social media in recruitment, credited with drawing tens of thousands of foreign fighters into Isis, and coordinating terror attacks.
But it appears that fears over enemy infiltration, tracking and careless information sharing now outweigh the benefits for commanders losing thousands of fighters and swathes of territory around Mosul and Raqqa.
In an article for the CTC, Bryan Price and Muhammad al-Ubaydi said that although operational security was a concern for Isis, keeping members "on message" and stifling dissent and discontent was a core aim of the ban.
Three days after it was issued, Isis followed up with a lengthy 12-page document addressed to all members of its so-called "caliphate", responding to the group's Muslim critics and defectors.
The jihadi treatise – "That Those Who Perish Would Perish Upon Proof and Those Who Live Would Live Upon Proof" – was also featured in Isis's weekly Arabic language online newspaper, al-Naba, on 25 May.
As Muslim scholars and political leaders around the world unite to condemn Isis, it defended itself against both those who find it too extreme and others who believe it is not extreme enough.
Ordering absolute obedience from fighters, the Delegated Committee stated that even if Isis authorities "command something that the soul dislikes, obeying them is obligatory", saying gossiping, insulting or criticising commanders in public or private only "leads to evil".
The CTC analysts said that combined with the social media ban, the document "suggests that the group is suffering from command and control and other related operational authority problems, and that the group views this issue not only as a strategic problem but potentially also a strategic vulnerability".
On Wednesday, an unofficial Isis media affiliate published a seven-page article full of conspiracy theories over alleged infiltration by outsiders attempting to divide supporters, while militants have been enraged by recent cyber attacks and the creation of fake propaganda magazines.
Isis's growing concern over fear and discontent within its ranks was evident in the latest issue of its Rumiyah propaganda magazine urging female supporters not to "demoralise" husbands and relatives.
It threatened "exile and execution" for anyone found to be "scaremongering", including a photo of a defector who was interviewed by The Independent last year.
Harry Sarfo, who grew up in the UK and joined Isis in Syria in 2015, spoke from prison to denounce the "un-Islamic" group's brutality.
"Don't let people brainwash your mind and destroy your soul," he said in a message to young people at risk of radicalisation.
"This is not the path to paradise, it is the path to hell."
The CTC said it remains to be seen whether Isis decrees on communications would be obeyed, as the group faces annihilation in Mosul and battles to defend its de facto Syrian capital Raqqa.
"Isis has long prided itself on its effective use of social media, and it has enjoyed the amplifying effects of thousands of its followers that extend the virtual reach of the group's message and image online," analysts concluded.
"Will Isis soldiers comply with the new edict, or will this ban, coupled with new and heightened concerns over obedience, lead to a backlash and further internal rifts?"
Register for free to continue reading
Registration is a free and easy way to support our truly independent journalism
By registering, you will also enjoy limited access to Premium articles, exclusive newsletters, commenting, and virtual events with our leading journalists
Already have an account? sign in
Register for free to continue reading
Registration is a free and easy way to support our truly independent journalism
By registering, you will also enjoy limited access to Premium articles, exclusive newsletters, commenting, and virtual events with our leading journalists
Already have an account? sign in
Join our new commenting forum
Join thought-provoking conversations, follow other Independent readers and see their replies