Isis claims to mint gold and silver coins for currency free from 'satanic' global economy
The idea of the dinar is based on an ancient Islamic caliphate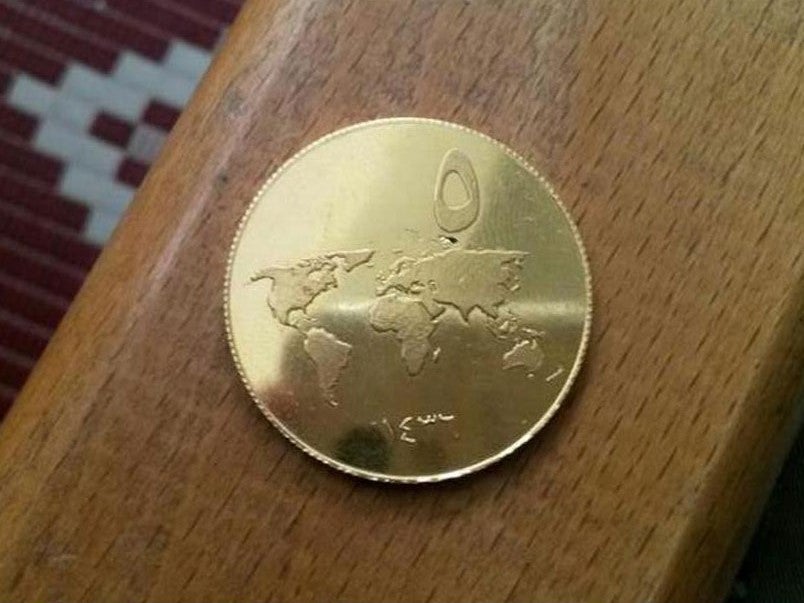 Isis claims it is ready to start issuing its own currency in the form of gold and silver coins for use in its "caliphate".
Supporters of the so-called Islamic State have released pictures of what they said were new gold dinars on social media, amid a propaganda drive by the group as it approaches its one-year anniversary.
Abu Ibrahim Raqqawi, an anti-Isis activist who reports on events in the extremists' Syrian stronghold for his website Raqqa Is Being Slaughtered Silently, shared photos of one and five dinar coins.
"Isis say soon they will deal with the new coins," he wrote on Twitter.
Both appear to be embossed with a message "The Islamic State – a caliphate based on the doctrine of the Prophet" in Arabic on one side with a world map on the five dinar coin, and seven wheat stalks referencing a Koran verse on the smaller denomination.
If the coins are real, they are unlikely to be much use. Accurate estimates of the value are impossible as the weight of the metal is unclear and there is no international exchange rate for an unrecognised currency.
It is also unclear how Isis would mint enough coins to replace national currencies in its strongholds and all photos so far appear to show the same two coins.
Gold, silver and copper are not mined in Iraq or Syria and experts believe any precious metals the group possesses have been purchased, stolen or looted in other forms and melted down.
Timeline: The emergence of Isis
Show all 40
Isis, thought to be one of the richest terrorist groups in history, makes its money from black market oil sales, aggressive taxation, robbery, extortion, wealthy donors, human trafficking and looting the properties and ancient monuments it has seized.
Plans for the currency were announced by Isis in November as a move to "emancipate itself from the satanic global economic system", with propaganda showing designs for a range of seven coins.
Isis is attempting to set its own exchange rates for one gold dinar at $139 (£88), a five dinar coin at $694 (£440), three silver dirhams ranging between $1 (64p) and $9 (6), and two copper coins at a few pennies each.
The Salafist group is believed to be basing the idea on the currency of the Caliphate of Uthman in 634 CE.
A modern form of the dinar is still in use in some countries but rarely uses precious metals.
Captive British journalist John Cantlie allegedly wrote about the plans in the sixth issue of Isis propaganda magazine Dabiq, claiming the US dollar's demise is "inevitable".
Images of the supposed dinars were being shared on the day Isis' media unit released gruesome footage claiming to show "spies" being drowned, decapitated by explosive and blown up with a rocket-propelled grenade.
The tide of propaganda comes after its fighters suffered losses in Syria and Iraq and continued to fight government troops, Kurds and opposition militias while under fire from the US-led international coalition.
Charlie Winter, a researcher at counter extremism think tank the Quilliam Foundation, said Isis is trying to mount a show of strength and legitimacy as the first anniversary of Abu Bakr al-Baghdadi's declaration of the "caliphate" approaches.
Join our commenting forum
Join thought-provoking conversations, follow other Independent readers and see their replies