Isis in Palmyra: Militants release first images showing destruction of Baalshamin Temple
Unesco has described the attack on Syria's cultural history, reported by activists on Sunday, as a 'war crime'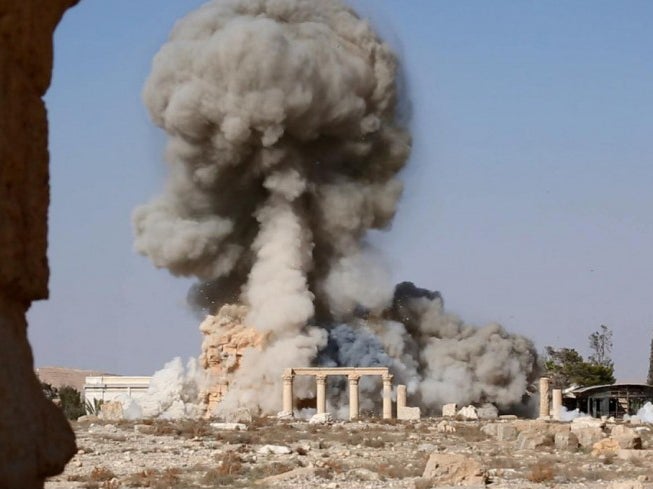 The Isis militant group has released a series of images purporting to show the destruction of the ancient Baalshamin Temple in Palmyra.
Images posted online and shared by Isis-affiliated social media accounts showed fighters, whose faces were cropped out of the photographs, lining the 2,000-year-old monument with explosives.
Explosives can be seen wired together both inside and outside the structure of the building, which experts said was one of the best-preserved and most completely intact examples of Greco-Roman architecture at the ancient site.
Other pictures appeared to show the moment of the detonation, followed by the rubble left behind.
Experts have condemned Isis's destruction of ancient relics in the Syrian city, which was designated a Unesco World Heritage site in 1980.
Unesco's Director-General, Irina Bokova, said the destruction of the Baalshamin Temple was "an immense loss for the Syrian people and for humanity".
She said Isis's practice of "cleansing" other cultures from the lands it occupies amounted to a "war crime".
Ancient monuments under Isis threat
Show all 8
Staff at the British Museum, who once worked with the now-executed antiquities chief of Palmyra Khaled Asaad, said they were "deeply distressed" by Isis's activities at the ancient site, once described as the Pearl of the Desert.
Syria's national antiquities chief, Maamoun Abdulkarim, said Isis blew up the Baalshamin Temple on Sunday. Activists from the Syrian Observatory for Human Rights said the explosives themselves may have been placed around the site as much as month beforehand.
Believed to date back to 17AD, the temple was 500 metres from Palmyra's famous amphitheatre, where Isis murdered more than 20 captive Syrian soldiers after they took the historic town in May.
The temple was dedicated to Baalshamin, the Phoenician sky god associated with storms and fertilising rains – sometimes equated to the ancient Greek god Zeus.
British writer and historian Tom Holland said: "I always feared Baalshamin's temple was doomed. He was paired with Allat, the only deity to be mentioned in both Herodotus and the Koran – and condemned by name in the latter."
Mr Abdulkarim said he and other experts had warned that Isis would not be satisfied with destroying just the statues it found in Palmyra.
He said: "We have said repeatedly the next phase would be one of terrorising people and when they have time they will begin destroying temples.
Join our commenting forum
Join thought-provoking conversations, follow other Independent readers and see their replies