Isis 'teaching children how to make bombs at school' and brainwashing pupils with jihadist ideology in Iraq
Parents who had fled the terrorist group's territories in Iraq said their children were being trained as bombers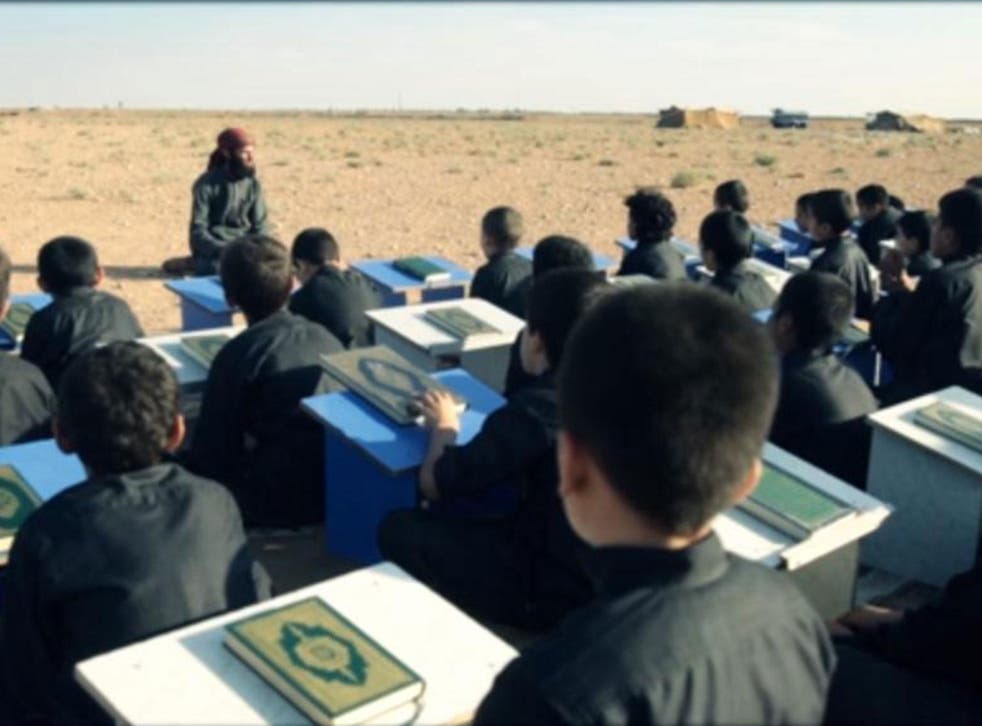 Isis is teaching children how to make bombs while "brainwashing" them with its jihadist ideology, according to parents fleeing its territories in Iraq.
"They replaced the schools with schools that taught boys how to fight, to make IEDs for example, how to make suicide attacks," one mother said.
Human Rights Watch (HRW) researchers who talked to her 12-year-old son said he described being given bomb-making lessons alongside religious teachings before the family fled Ramadi.
The Yazidi children of Isis' training camps
The city is one of the largest in Iraq and the capital of Anbar Province, making its capture by Isis in May 2015 a grave blow against the government.
Backed by air strikes by the US-led coalition, Iraqi forces succeeded in driving the so-called Islamic State back out in February but thousands of families remain displaced by fighting that decimated the city.
HRW met women and children who had escaped the terrorist group's rule, including girls used as sex slaves who were repeatedly raped by its militants.
Older women described their fears for their children, who were either unable to go to closed schools or found themselves forced to adhere to Isis' extremist curriculum.
Skye Wheeler, a women's rights emergencies researcher for HRW, told The Independent that male children were targeted for military training in the Hawija area.
Some families have stopped sending children to school, fearing that schools will be bombing targets because Isis fighters have used schools as bases, including a kindergarten in Riyadh and a school in the Shirqat area, she said.
"Before Isis there was a school primary for both girls and boys, but now there are no books, only Quran, nothing else," a 51-year-old woman told Ms Wheeler.
"At the beginning they let girls go to school, but after that they stopped, after the beginning of 2015 refused to let girls over 12 to go to school."
One 16-year-old girl from Hawija described the limited curriculum offered by Isis in her former hometown available as "brainwashing."
"There's no real school there they just teach their subjects an Islamic law, it's just brainwashing," she said.
She was permitted to attend the school but in other areas of Iraq girls are banned from even a religious education or told to adhere to strict dress codes, including wearing the niqab – a veil showing only the eyes – at all times.
The UN Security Council has called on all parties in the conflict to refrain from actions that impede children's access to education.
Timeline: The emergence of Isis

Show all 40
Isis is known to be using children as fighters and suicide bombers, as well as featuring children including a four-year-old British boy as executioners in its gory propaganda videos.
It has released footage of training camps for what it calls the "Cubs of the Caliphate" and parents have parents have previously reported their children being sent home with Caucasian dolls dressed in orange jumpsuits to behead as "homework".
Analysts fear the number of children being sent into battle could increase as the terrorist group comes under increased pressure from military operations against its territories, air strikes and financial losses.
A report for the Combating Terrorism Centre found that at least 89 child soldiers had died fighting for Isis in a year, mainly in Iraq and Syria.
Most were used to drive car and truck bombs into military positions and other security targets, while others were killed in battle or in suicide attacks against civilians.
The use of child soldiers has been seen in many conflicts, but other groups have been secretive, enlisting minors surreptitiously and deploying them as a last resort.
But Isis is using minors in much the same way as adults, while normalising child conscription under its rule and openly boasting about the "cubs" training camps and hailing teenagers' deaths on social media.
Raqqa is Being Slaughtered Silently, an activist group that documents Isis atrocities, describes the children as a "lost generation".
It has raised concern that even if the terrorist group is defeated, their young recruits could continue its bloody attempts to establish a brutal "caliphate".
Register for free to continue reading
Registration is a free and easy way to support our truly independent journalism
By registering, you will also enjoy limited access to Premium articles, exclusive newsletters, commenting, and virtual events with our leading journalists
Already have an account? sign in
Register for free to continue reading
Registration is a free and easy way to support our truly independent journalism
By registering, you will also enjoy limited access to Premium articles, exclusive newsletters, commenting, and virtual events with our leading journalists
Already have an account? sign in
Join our new commenting forum
Join thought-provoking conversations, follow other Independent readers and see their replies