Isis threatens to kill two Japanese hostages unless government pays $200m ransom
Militant warns the Japanese public had 72 hours to pressure their government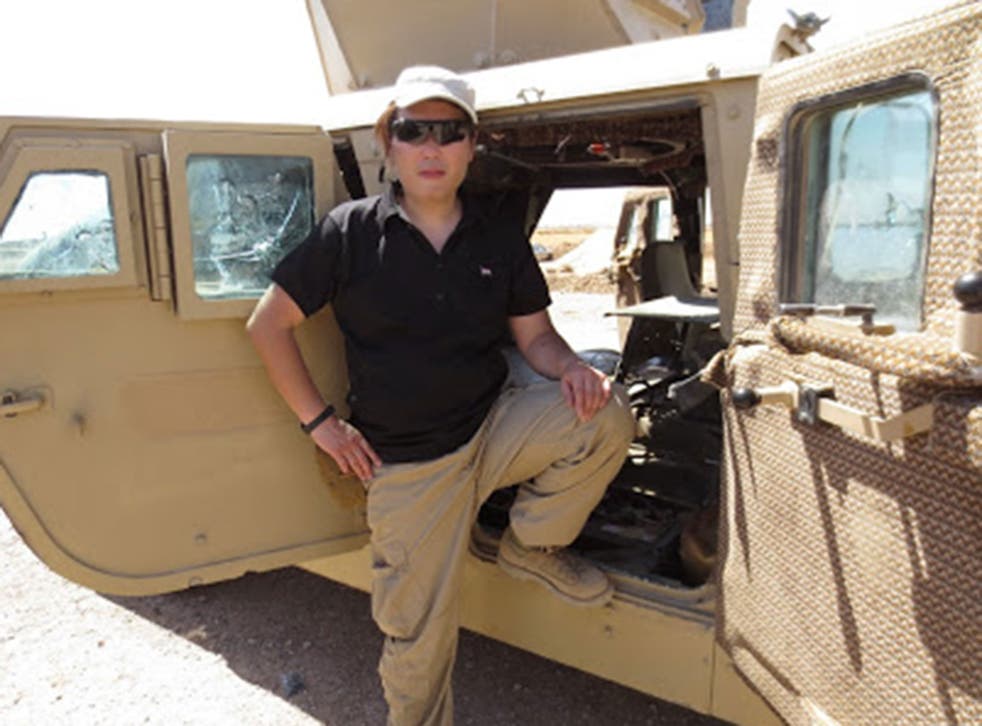 Isis appears to have uploaded a video purporting to show two Japanese hostages and demanding $200 million (£132m) from the Japanese government to save their lives.
A militant dressed in black appeared in the footage wielding a knife and standing behind the two kneeling men, who are wearing orange clothing.
The man is believed to be a Briton known as Jihadi John, who appeared in videos showing the beheadings of US and UK hostages.
The hostages are identified in the video as Kenji Goto Jogo and Haruna Yukawa.
The Japanese Prime Minister Shinzo Abe, who was speaking from Jerusalem, demanded Isis release the two men immediately.
Mr Abe had on Saturday pledged $2.5bn (£1.65m) in non-military assistance to the Middle East. He also promised $200m in non-military aid for countries tackling Isis.
Speaking in English and with a British accent, the militant said: "To the prime minister of Japan: Although you are more than 8,000 and 500 kilometers (5,280 miles) from Isis, you willingly have volunteered to take part in this crusade.
"You have proudly donated $100m (£66m) to kill our women and children, to destroy the homes of the Muslims."
He also warned the Japanese public had 72 hours to pressure their government to stop its "foolish" support for the US-led coalition waging a military campaign against Isis.
He added: "Otherwise this knife will become your nightmare," before demanding "200 million" dollars.
Goto is a freelance reporter who was based in Tokyo. He has written books on AIDS and children in war zones from Afghanistan to Africa and reported for news broadcasters in Japan.
Mr Goto met Mr Yukawa last year and helped him travel to Iraq in June, he told Reuters in August.
Mr Yukawa had reportedly undergone a difficult period in his life before his capture in Syria when his wife died of lung cancer and he lost his business and house to bankruptcy.
The video, entitled 'A message to the government and people of Japan' has similar elements to those uploaded showing Western hostages being threatened by Isis.
Militants had reportedly instead asked for ransom and the release of prisoners held by the US in exchange for photojournalist James Foley in emails to his family. The US and UK have a stated policy of not paying ransom to kidnappers.
In Tokyo, a Japan foreign ministry spokesman said it would, with other countries, make maximum efforts to free the two Japanese if they were in fact being held hostage, a foreign ministry spokesman said by telephone, but he made no comment on the ransom demand, according to Reuters.
Timeline: The emergence of Isis

Show all 40
The foreign ministry said it was checking whether the video is genuine.
Chief Cabinet Secretary Yoshihide Suga declined to say whether Japan would pay the ransom.
"If true, the act of threat in exchange of people's lives is unforgivable and we feel strong indignation," Mr Suga was quoted as saying by the Associated Press. "We will make our utmost effort to win their release as soon as possible."
Join our new commenting forum
Join thought-provoking conversations, follow other Independent readers and see their replies