Isis launches triple suicide bombing in Iraq as security forces advance towards stronghold of Mosul
Militants attack checkpoint and security forces as they continue to lose ground
Lizzie Dearden
Saturday 24 September 2016 17:05 Comments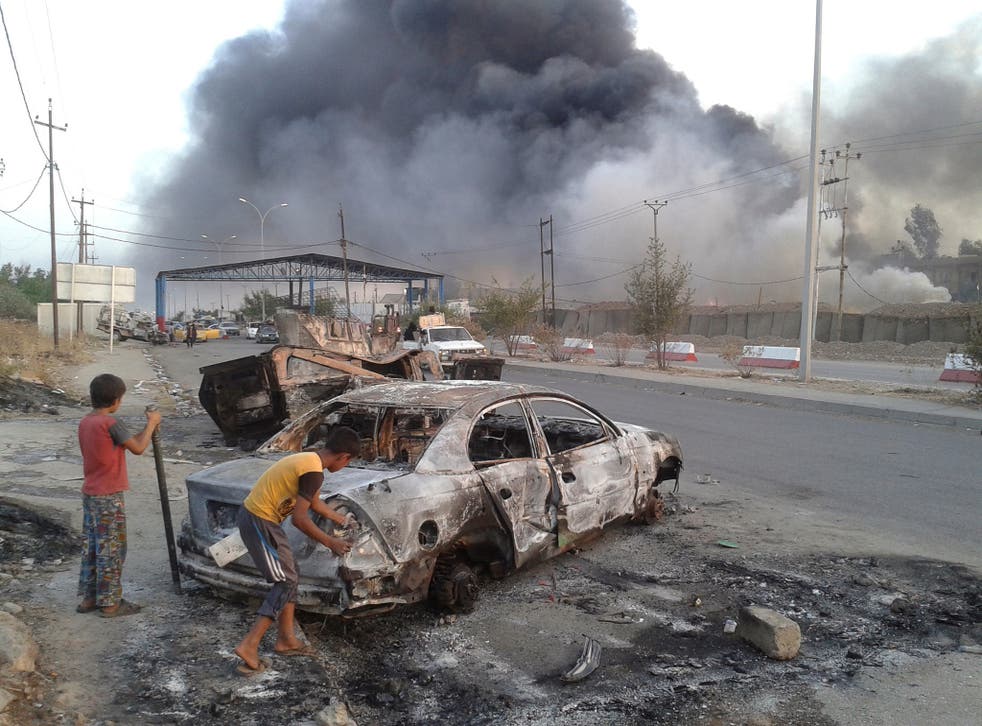 Isis has launched a triple suicide bombing attack at a checkpoint north of Baghdad, killing at least 11 members of the Iraqi security forces.
Three jihadists drove vehicles packed with explosives into a guard post near al-Salam, in Salahuddin province, early on Saturday morning.
Police spokesperson Mohammed al-Jabouri, said at least 11 security officers were killed and 34 wounded in the explosions.
The attack was launched as the local police chief and head of the provincial security committee - who were both unharmed - were visiting the site.
Another group of militants on foot attacked a checkpoint at the eastern edge of the province at around the same time, killing four policemen and wounding two others. One gunman was killed in the attack, while the others fled the scene.
In a statement via its Amaq propaganda agency, Isis claimed the attack had targeted members of the pro-governement Popular Mobilisation Forces.
The governor of Salahuddin province, Ahmed al-Jabouri, vowed to "retaliate for the martyrs by chopping off the heads of Daesh [Isis]" militants. He called on security forces to review their plans and on residents to cooperate with the authorities.
Isis extremists frequently launches attacks targeting Iraq's security forces and civilians in public areas, particularly Shia Muslims or those accused of supporting the Iraqi security forces.
In pictures: Baghdad hit by 24 hours of Isis bombings

Show all 11
The terrorist group has stepped up attacks while losing key strongholds in swathes of territory it captured across the country in 2014.
In April last year, Iraqi security forces drove out Isis militants from the city of Tikrit, the capital of Salahuddin province, and re-captured Fallujah earlier this year.
Government forces recently recaptured the town of Shirqat from Isis as part of a long-running push towards its last remaining city stronghold of Mosul.
A ground invasion is expected to launch next month and has been preceded by intensified bombing by the US-led coalition, seeing Isis fighters launch chemical weapons at enemy troops and attempt to take down RAF fighter jets with surface-to-air missiles.
The United Nations have warned of a looming humanitarian crisis provoked by the offensive, which could displace thousands of Iraq civilians.
Additional reporting by AP
Register for free to continue reading
Registration is a free and easy way to support our truly independent journalism
By registering, you will also enjoy limited access to Premium articles, exclusive newsletters, commenting, and virtual events with our leading journalists
Already have an account? sign in
Join our new commenting forum
Join thought-provoking conversations, follow other Independent readers and see their replies