Isis uses young boys to hunt down and kill prisoners in ruined Syrian castle for gory propaganda video
The footage is the latest in a series of gory Isis propaganda videos using children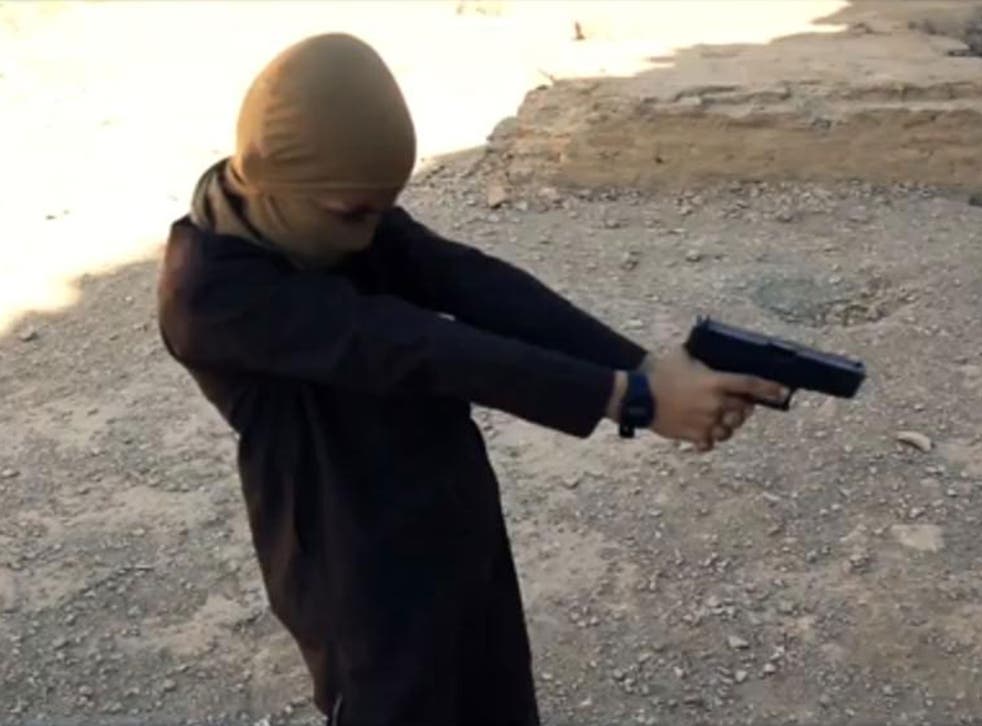 Isis has used child fighters to murder six prisoners in ruined castle in a twisted take on "hide and seek" for its latest gory propaganda video.
The film, called "To the Sons of Jews", opens showing a child on a computer bringing up photos of Israeli Prime Minister Benjamin Netanyahu before appearing to upload the video itself to Facebook.
Young boys are shown being taught jihadist doctrine by an armed militant sitting on a prayer mat, and being trained in combat in the Syrian desert.
Six children are then introduced, including a Yazidi boy from Sinjar. They appear to be aged between around eight and their early teens.
After being sent one by one into a ruin believed to be Qalaat al-Rahba castle, on the outskirts of the Isis-held city of Mayadin in Deir Ezzor, they are seen receiving instruction from an adult militant before putting on a balaclava, taking a handgun and starting to hunt the alleged "spies" hidden around the ruins.
Highly-stylised footage shows the prisoners from multiple angles as each boy finds them waiting with their hands bound. A pop-up clip of each hostage talking is played before they are murdered.
Five are shown being shot by the boys at close range, while the last and apparently youngest child beheads his captive with a knife.
Charlie Winter, a counter-terrorism expert and senior research associate at Georgia State University, told The Independent that the sickening video is a continuation of Isis' propaganda strategy.
"It's horrifying and abhorrent but it doesn't surprise me," he said. "They are perpetually exploring new depths of depravity in their efforts to shock."
Timeline: The emergence of Isis

Show all 40
Isis has used children several times to murder hostages in propaganda videos and has boasted of its "cubs" jihadist training camps in its territories.
The UK-based Syrian Observatory for Human Rights documented a series of executions at the castle on 26 November, although it was unclear whether they were those seen in the video.
Activists reported at the time that Isis vehicles were seen at the ruin before at least five bodies were buried in a mass grave with their faces "distorted with acid".
Qalaat al-Rahba was also reportedly used to murder three men by throwing them from a high wall in September.
Register for free to continue reading
Registration is a free and easy way to support our truly independent journalism
By registering, you will also enjoy limited access to Premium articles, exclusive newsletters, commenting, and virtual events with our leading journalists
Already have an account? sign in
Register for free to continue reading
Registration is a free and easy way to support our truly independent journalism
By registering, you will also enjoy limited access to Premium articles, exclusive newsletters, commenting, and virtual events with our leading journalists
Already have an account? sign in
Join our new commenting forum
Join thought-provoking conversations, follow other Independent readers and see their replies