Israel could join Isis in United Nations list of groups and states that harm children
If included in the blacklist, Israel could face harsh UN sanctions and international isolation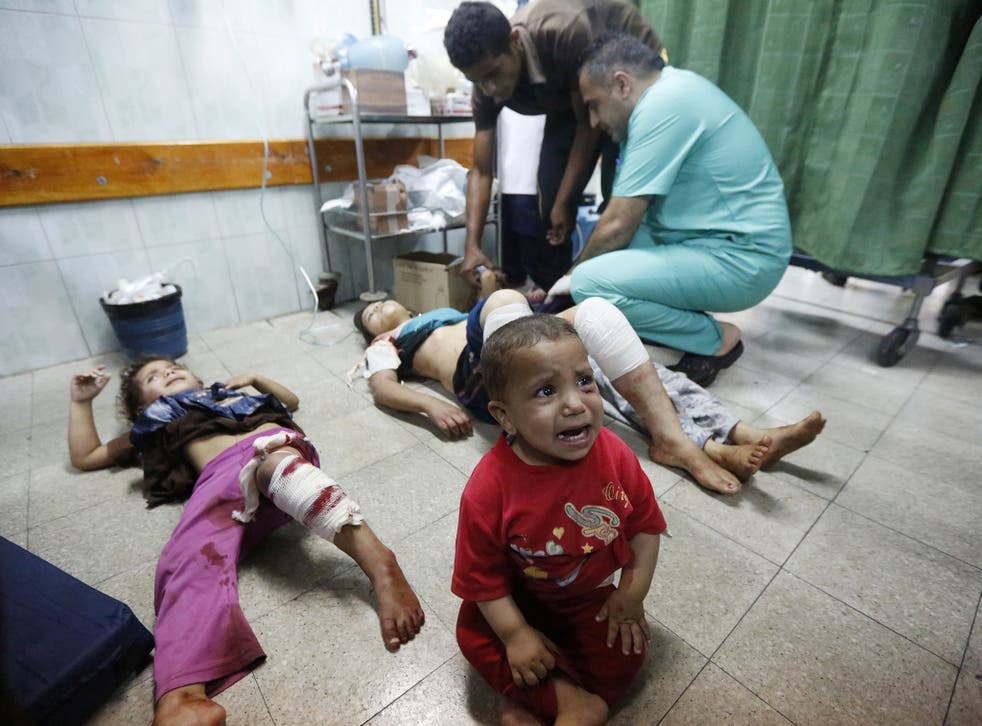 Israel may be included in a blacklist of states and organisations that cause harm to children, after a push by a top UN envoy to include the country alongside the likes of Islamic State (Isis) and al-Qaeda for its conduct during the 2014 attack on Gaza.
U.N Secretary-General Ban Ki-Moon's special envoy for children and armed conflict, Leila Zerrougui, included the Israel Defence Forces (IDF) on a draft annual list of states responsible for violating children's rights in armed conflict.
If included in the blacklist, Israel could join groups such as Isis, Boko Haram and the Taliban. It could also lead to harsh UN sanctions and international isolation.
Zerrougui's draft report cited IDF attacks on schools and hospitals during the 2014 war in the Gaza Strip, along with violations by the Palestinian group Hamas, who she is expected to include in the list.
U.N Secretary-General Ban Ki-Moon, however, is said to be leaning towards not including Israel in the list, amid what several diplomatic sources anonymously said was intense lobbying from Israel. The country's Foreign Ministry spokesman Emmanuel Nahshon has denied the claim, saying the pressure on the UN was coming from countries "who want to include Israel in the worst possible list."
However, U.N spokeswoman Stephane Dujarric has said he had not yet made a decision to include the country in the report, which is due in the coming weeks.
In pictures: Israel-Gaza conflict - summer 2014

Show all 18
Israel's 50-day war in Gaza, dubbed Operation Protective Edge, was launched in July 2014. Over 2,100 Palestinians, including hundreds of children were killed in the conflict, along with 67 Israeli soldiers and six civilians in Israel. The UN has estimated over 20,000 homes have been rendered uninhabitable following Israeli attacks.
The envoy's draft report criticises Israel's treatment of children, saying the 2014 attack on Gaza killed 500 children and left 3,300 wounded.
Elsewhere, the plight of Gaza's children has been well documented. Unicef reported earlier this year that 373,000 shell-shocked youths in Gaza were in need of psycho-social support following the conflict.
A UN inquiry in April cited an Israeli attack on seven UN schools during the war, which killed 44 Palestinians who were sheltering at the sites. Palestinian fighters, meanwhile, had hidden weapons and launched attacks from a number of empty UN schools.
In March, the Guardian reported that senior UN officials in Jerusalem had caved in to Israeli pressure to not include the country in Zerrougui's list following telephone calls from senior officials, though since then the UN is believed to have changed course.
In the US, which is Israel's closest ally, senator Lindsey Graham threatened to cut funds to the UN if Israel was blacklisted, claiming it was an attempt to marginalise the country.
"There's a report that may come out any day now where the United Nations is considering the State of Israel in the same category as Boko Haram when it comes to crimes against children," he said.
"If that ever happened, if the United Nations embraced a report putting the State of Israel in the same categories with terrorist organizations in terms of the way they treat innocent people, particularly children, that would be an outrage that would not go unanswered."
In response to the report, a senior Foreign Minister official in Israel said: "Israel-haters are threatening the United Nations and no one is complaining about them. It's a scandal and it's hypocrisy.
"There are unfortunately a lot of situations in which children are killed in zones of conflict and yet no one dares put them on the list. Do you know how many kids the Saudis have killed while bombing Yemen? I want to see the UN secretary-general's Algerian envoy dare to include Saudi Arabia on the list."
Israel has denied that they have pressured the UN into excluding the country from the list. Israel's Foreign Ministry spokesman Emmanuel Nahshon said, "There is absolutely no Israeli pressure on the U.N. secretary-general. The pressure comes from those countries who want to include Israel in the worst possible list."
"Those countries are motivated by hatred and totally blind to their own failings," he said. "This is a heinous and hypocritical attempt to besmirch the image of Israel and it is doomed to fail."
Additional reporting by Reuters