Israel-Gaza Crisis: Reconstruction of flattened Gaza will cost £5billion, Palestinian officials say
Large-scale reconstruction needed for services and infrastructure, amid concern that Israel is only allowing Israeli-made materials across the border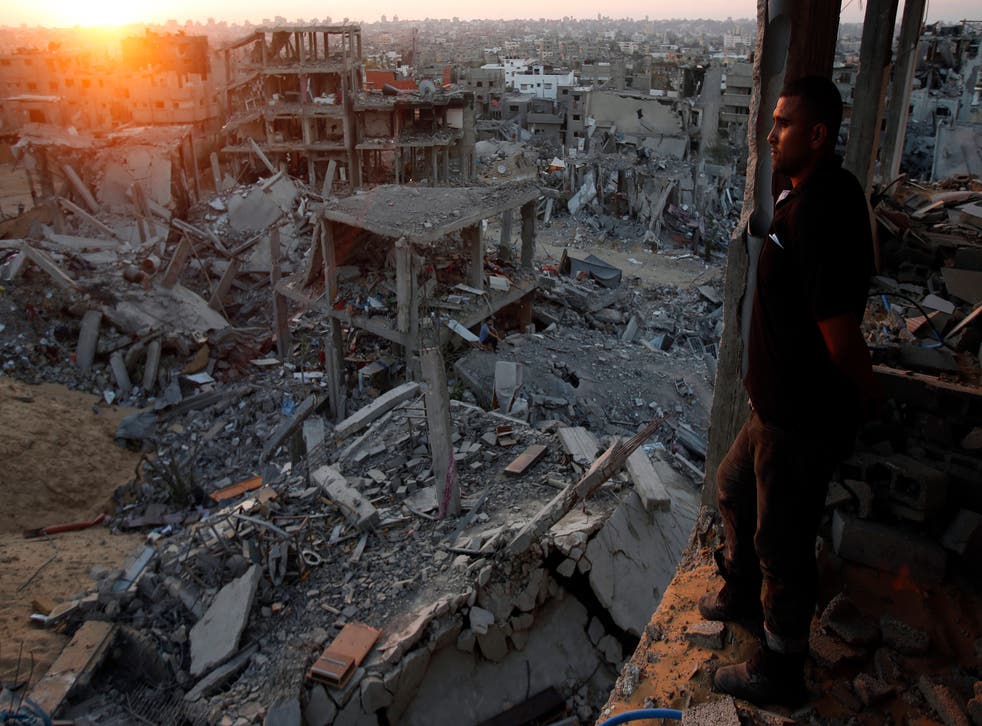 It will cost $7.8billion (£4.8billion) to rebuild the devastated Gaza Strip, the Palestinian Authority (PA) has said.
The almost two month-long conflict – which ended with a ceasefire that has so far been maintained since 26 August – saw Israeli bombing destroy sprawling neighbourhoods, 20,000 homes and the Strip's sole power plant.
According to Reuters, the PA said that reconstructing people's flattened houses will cost $2.5billion (£1.5billion), while $250million (£153million) will be needed to replace energy infrastructure.
"The attack on Gaza this time had no precedent, Gaza has been hit with a catastrophe and it needs immediate help because many things can't wait long," Mohammed Shtayyeh, an official with West Bank's Fatah party, said.
Mr Shtayyeh, who is also an economist, said Gaza would be relying on international aid for the reconstruction project, in addition the eradication of Palestinian rivalry and the opening of Israel-Palestine border crossings.
In pictures: Israel-Gaza conflict - summer 2014

Show all 18
The reconstruction assessment by the PA had also allocated $670million (£410million) to Gazan air and sea ports, which are currently denied by Israel, as well as $143million (£87million) to help schools get back up and running.
Gaza's gross domestic product (GDP) stood at $2.438billion in 2011, according to the Palestinian Central Bureau of Statistics, the same as the African nation of Lesotho.
This amount includes the economic value in its agriculture, construction and education industries as well as the net VAT on all imports, and is an amount far lower than that of the other occupied Palestinian territory - the West Bank, whose GDP was $7.336billion in 2011.
On its own, it would take Gaza a number of years to accumulate the money it needs to pay for reconstruction.
For comparison, the UK's GDP in the same year was $2.462trillion, according to the World Bank.
According to the United Nations Relief and Works Agency (UNRWA), 2,101 Palestinian people lost their lives in the 50-day conflict, most of whom were civilians, with thousands more injured and as many as half a million displaced.
Sixty-four Israeli soldiers are understood to have died in addition to six civilians.
Minor repairs to shelters and the homes of refugees, using materials available on the local market such as with windows and doors, will be conducted by UNRWA as soon as its assessment of the damage is completed.
UNRWA added: "For the uninhabitable homes, it remains unclear how shelter construction is to start under the current access regime imposed by the Government of Israel, which does not allow construction material on the local market."
Another recent UN report has revealed the crushing impact Israel's last few assaults have had on the Palestinian economy, pushing it to near collapse.
The UN Conference on Trade and Development (UNCTAD) said the seven-year blockade and ground incursions have resulted in the deterioration of Gaza's economy to the point of forced dependency on Israel, as well as "mass employment, wider and deeper poverty, and greater food insecurity".
Join our new commenting forum
Join thought-provoking conversations, follow other Independent readers and see their replies