UN condemns Israel over 'grave breach' of international law after biggest demolition of Palestinian homes in decade
Around 80 people, including 41 children, were made homeless
Daisy Lester
Monday 09 November 2020 11:58 Comments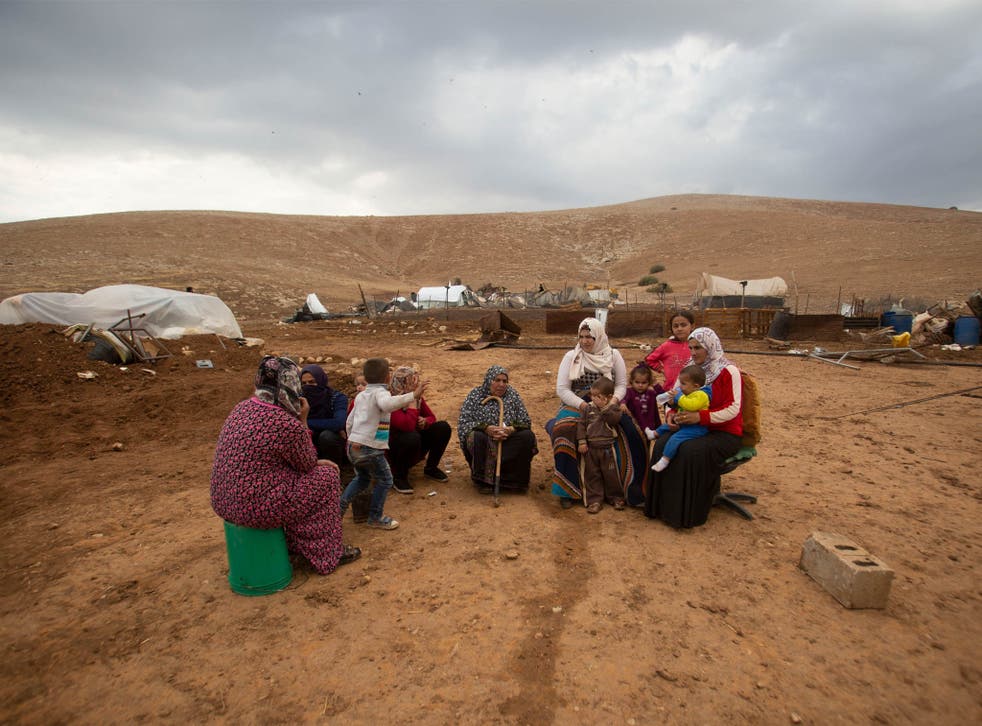 Israel has been rebuked by the United Nations for carrying out widespread demolition of Palestinian homes, the largest in the occupied West Bank for more than a decade.
Around 80 people, including 41 children, were made homeless.
The destroyed Bedouin settlement of Khirbet Humsa is located in the Jordan Valley.
In a statement, the Israeli military said the structures had been "built illegally in a firing zone", or military training area.
However, the security council are calling the demolition a "grave breach" of the Fourth Geneva Convention – international law that protects civilian populations in occupied territories.
In a statement, the UN said such demolitions constitute "an impediment to the two-state solution".
Israeli bulldozers moved into the area late on Tuesday before destroying 76 structures, including homes, animal shelters, toilets and solar panels.
Israeli authorities put this figure from the UN Office for the Co-ordination of Humanitarian Affairs (Ocha) considerably lower, claiming that an "enforcement activity" had been carried out involving seven tents and eight animal pens.
Israeli authorities usually defend demolishing Palestinian homes in the occupied West Bank by claiming that the structures have been built without permits, which are nearly impossible to obtain by inhabitants.
"This is a great injustice," one resident said to the Israeli newspaper Haaretz. "We didn't know they were coming and we didn't prepare and now we are facing rain."
Palestinian Prime Minister Mohammad Shtayyeh said the destruction is "the largest of its kind against our people in the Jordan Valley".
Shtayyeh urged that international partners intervene to help prevent the repeated displacement of inhabitants in similar communities, and to protect Palestinian people from human rights violations against them.
He also alleged that Israel acted on Tuesday 3 November when world attention was focused on the US election, so as to cover up its crime.
Meanwhile, a spokesperson for the Jordanian Ministry of Foreign Affairs has called on the international community to take decisive measures to stop flagrant violations of human rights laws by Israel.
The area including and surrounding Khirbet Humsa is one of 38 communities fully or partially located within Israeli-designated "firing zones", according to Ocha.
The council said the area homes "some of the most vulnerable communities in the West Bank."
Egypt's foreign ministry have also condemned the demolition and said in a statement: "This act is a clear violation of international legitimacy and the decisions of international humanitarian law."
Israel occupied the West Bank during the 1967 Middle East war but after subsequent agreements, Palestinians now exercise limited self-rule in parts of the West Bank while Israel is in wider control.
The demolished area is situated in one of these areas outside of Palestinian control.
Ocha warned there has been a sharp increase in the number of Palestinian homes in the occupied West Bank destroyed during the coronavirus pandemic.
UN Humanitarian Coordinator for the Palestinan territories, Jamie McGoldrick, said the trend could make Palestinians more vulnerable to health risks.
Register for free to continue reading
Registration is a free and easy way to support our truly independent journalism
By registering, you will also enjoy limited access to Premium articles, exclusive newsletters, commenting, and virtual events with our leading journalists
Already have an account? sign in
Join our new commenting forum
Join thought-provoking conversations, follow other Independent readers and see their replies