Israel-Gaza conflict: Video captures moment one of Gaza's tallest buildings destroyed by Israeli air strikes
The 15-storey Basha Tower was reduced to rubble in the overnight attack
Lizzie Dearden
Tuesday 26 August 2014 15:31 Comments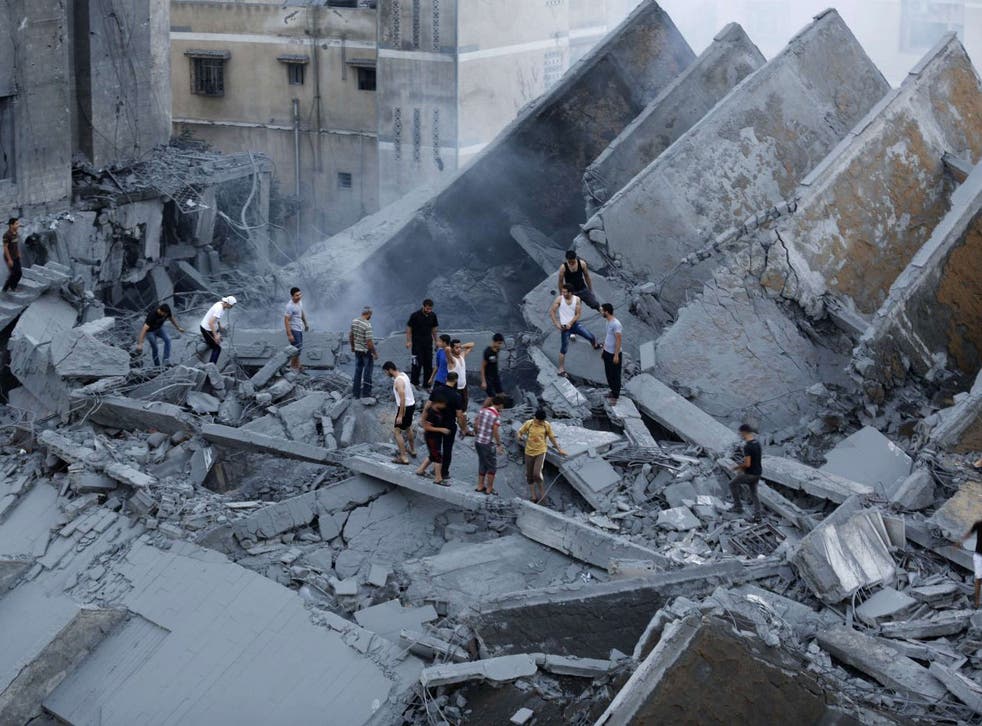 One of the tallest buildings in Gaza has collapsed after Israeli rockets hit two residential and office complexes on Tuesday.
The 15-storey Basha Tower, which had been full of apartments and offices, was levelled to the ground and the Italian Complex, built by a businessman from Italy in the 1990s to house shops and businesses, was severely damaged.
A video of the late-night attack appeared to show three rockets hitting the area, with huge fireballs and burning debris rising hundreds of feet into the air.
Both buildings were evacuated after being warned of the impending strikes and officials in Gaza said no one was killed but 25 people were wounded.
The Israeli Defence Forces (IDF) have previously hit high-rises in pinpoint strikes seeming to target specific apartments, leaving the buildings standing, but since Saturday the military has toppled or destroyed five towers and shopping complexes in an apparent tactic aimed at increasing pressure on Hamas.
The IDF said it targeted sites linked to militants on Tuesday but did not refer specifically to the two buildings or give reasons why the Basha Tower was completely destroyed.
Two people were killed in an air strike on a house in Gaza City, police said, and 15 air strikes have been carried out in the Strip today.
Eight rockets were launched into Israeli territory, according to authorities, including one that caused extensive damage to a home in the southern city of Ashkelon and injured more than a dozen people.
The latest strikes came as Egypt urged Israel and Hamas to resume talks on a permanent ceasefire, based on an Egyptian proposals to ease Israel's blockade of the territory.
The Egyptian offer calls for a gradual easing of restrictions on trade and movement in and out of Gaza and would give Hamas' Palestinian rival, President Mahmoud Abbas, a foothold after his administration was overthrown by Hamas in 2007.
Israel-Gaza conflict: One of Gaza's tallest buildings destroyed in Israeli air strike

Show all 12
Neither Israel nor Hamas has responded to Egypt's latest recommendations.
Talks in Cairo were suspended last week after a ceasefire was shattered hours before it was due to end by reported rocket fire from the Gaza Strip.
At least 2,133 Palestinians have been killed and more than 11,000 wounded in the latest conflict, according to Palestinian health officials.
The UN estimates more than 17,000 homes have been destroyed, leaving 100,000 people homeless.
On the Israeli side 68 people have been killed, including four civilians.
Additional reporting by AP
Register for free to continue reading
Registration is a free and easy way to support our truly independent journalism
By registering, you will also enjoy limited access to Premium articles, exclusive newsletters, commenting, and virtual events with our leading journalists
Already have an account? sign in
Join our new commenting forum
Join thought-provoking conversations, follow other Independent readers and see their replies