Jerusalem back on the brink: Israeli-Palestinian tensions high after knife attack leaves two dead
Israel has reacted angrily to the stabbing to death of two Jewish men, banning Arabs from entering the Old City and threatening a 'harsh offensive on Palestinian Islamic terror'. Ben Lynfield reports on an increasingly tense situation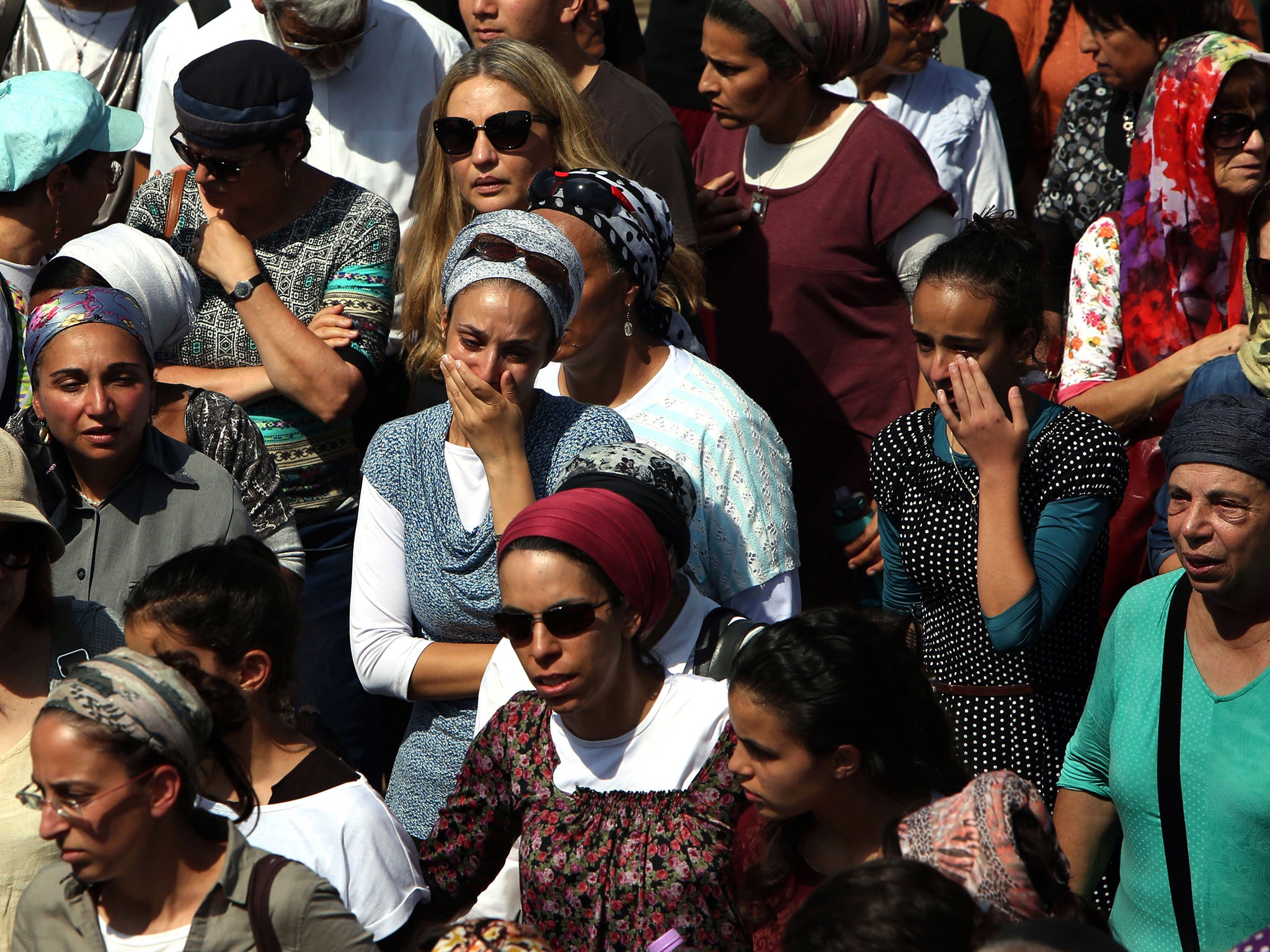 Fears of a wider conflagration in Jerusalem and the West Bank are growing after stabbing attacks by Palestinians left two Israelis dead and Israel took the unprecedented step of banning Palestinians from entering the walled Old City in occupied East Jerusalem.
Prime Minister Benjamin Netanyahu pledged to take "additional steps to prevent terrorism" including "expediting the demolition of terrorists' homes" and widening the use of administrative detentions without trial. He vowed on Facebook to open a "harsh offensive on Palestinian Islamic terror".
Another three Israelis, one a two-year-old child, were wounded in the two separate attacks. Both assailants were shot dead and relatives of a Palestinian teenager identified one of the attackers as Fadi Alloun, 19, from Arab East Jerusalem. He had written on his Facebook page: "Either martyrdom or victory."
One of those killed, Rabbi Nehemia Lavi, an educator at the Ateret Cohanim religious seminary who had rushed from his flat to aid other stabbing victims, was laid to rest in an emotional funeral attended by thousands. It was punctuated by vows that Jews intent on "building Jerusalem" would prevail over Arab enemies.
"You died for your land and your country," President Reuven Rivlin declared by the stretcher on which the rabbi's body lay, wrapped in a prayer shawl. The rabbi's brother, Eitan, eulogised the father of seven, saying: "You had two big loves: your wife and family, and Jerusalem."
The crowd later recited the traditional kadish prayer to raise souls of the deceased to heaven. Rabbi Lavi lived in Jerusalem's Muslim quarter, in keeping with Ateret Cohanim's view that Jews should transform Arab districts of the city into Jewish ones. They see this as a prelude to a messianic era when the ancient Jewish temple would be re-established in the area of Islam's third holiest site.
A 21-year-old Israeli, Aharon Benita, was killed in the same stabbing attack and his wife Adele and two-year-old son injured. His wife said she felt something in her back and then saw the Palestinian assailant stabbing her husband before he turned to stab her again. "There were lots of Arabs around looking … laughing and smiling," she said. Palestinian onlookers "spat at me and slapped me in the face," she said. "While the knife was still stuck in me they slapped me and laughed at me."
The attacks follow a shooting ambush of a car on Thursday in the northern West Bank that left a settler couple, Eitam and Naama Henkin, dead.
Tensions have been high in recent weeks with Palestinians saying that Israel is threatening the Muslim shrines on what is known to Jews as the Temple Mount and to Muslims as Haram al-Sharif, the Noble Sanctuary. Israel denies making changes at the site and says the allegations, echoed by Palestinian leaders, are "incitement" that is fuelling the violence.
Police said that for a 48-hour period entry to the Old City area that contains sites sacred to Judaism, Islam and Christianity would be allowed only for Old City residents, business owners, Israeli citizens and tourists – meaning that most of the approximately 300,000 Jerusalem Palestinians are excluded. The temporary ban, the first of its kind since Israel captured and annexed East Jerusalem in 1967, was instituted to coincide with today's Simhat Torah Jewish holiday.
Jerusalem Mayor Nir Barkat said it was aimed at enabling Jews to pray safely during the holiday, when thousands traditionally come to the Old City. But Palestinian shopkeepers closed their stores in protest and a Palestinian Legislative Council member, Bernard Sabella, warned that the Israeli move would fuel more anger.
"All these things become like an avalanche where you get people angry and mad," he told The Independent. He voiced fears that an intifada, or uprising, that would cost both sides dearly would break out, fuelled by Israel's allowing "extremist messianic Jews" on to the Haram al-Sharif compound.
President Rivlin, speaking at the rabbi's funeral, said the problem was on the Arab side. "We are in a hard struggle, the pains are severe. Our enemies know how to cause us pain but they will not defeat us," he said. "We will reach the inciters and deal a blow to them."
Rabbi Shlomo Aviner, who heads the Ateret Cohanim academy, said Rabbi Lavi was its fourth member to "fall on behalf of settling Jerusalem". He added: ''In this world you don't get anything for free. There isn't a lump of earth that isn't soaked in blood.
''We promise you we will continue learning the Torah (bible) in the heart of Jerusalem. Nothing will frighten us."
Join our commenting forum
Join thought-provoking conversations, follow other Independent readers and see their replies