Jerusalem bus stabbings: Two Israelis killed and Palestinian attacker 'neutralised' after gun and knife attack
Authorities say three Israelis and one Palestinian have been killed in multiple attacks, with at least 20 others wounded in a 'Day of Rage'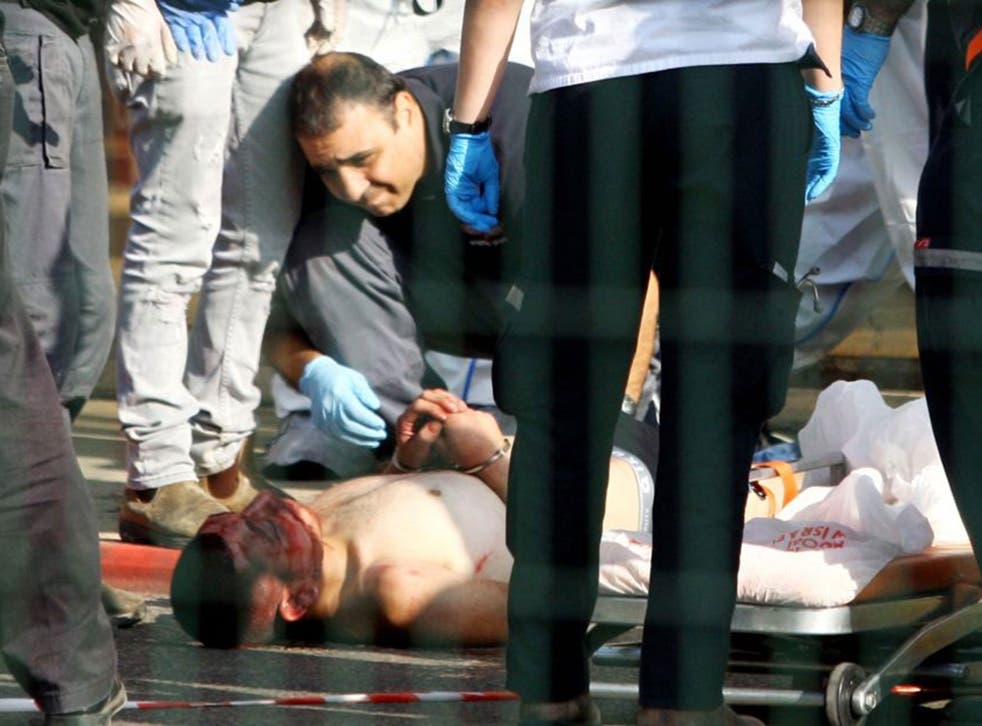 Two Israelis have been killed and more than a dozen left injured after two Palestinian attackers launched a gun and knife attack on a bus in Jerusalem in what has been labelled a "day of rage".
Police spokesman Micky Rosenfeld said two attackers stabbed and shot people on the Egged line 78 bus in Jerusalem's Armon HaNatziv neighbourhood, before being captured at the scene. Two Israeli passengers were killed, with one of the attackers now also confirmed as dead.
Almost simultaneously, there was another stabbing attack in a different part of the city. Here an attacker rammed his car into a bus stop in central Jerusalem, then began stabbing pedestrians, killing at least one and wounding others.
Meanwhile, in the centeal Israeli city of Ra'anana, a Palestinian attacker stabbed and lightly wounded an Israeli on a shopping street, before being apprehended and beaten by locals. He was arrested and taken to hospital.
The Israeli–Palestinian conflict intensifies

Show all 10
Another knife-wielding attacker also struck in Ra'anana a few hours later, wounding four people.
Israeli Prime Minister Benjamin Netanyahu held an emergency session of his security cabinet in Jerusalem after the wave of attacks.
In Raanana, a shopkeeper said he heard shouting, grabbed a heavy wooden umbrella, and ran outside to confront the assailant.
"He started stabbing the guy. I hit him a couple of times and kicked him and the knife flew out of his hand," the store owner said. "I wish I had had a gun - I would have shot him."
As of this morning, at least 26 Palestinians been killed by Israeli fire in the last month, mostly in clashes between stone-throwing Palestinian protestors and Israeli troop.
Of those killed, 10 have been identified by Israeli security forces as "attackers". Hundreds of Palestinians have been wounded in such confrontations. The now-daily stabbings have raised speculation that Palestinians could be embarking on another uprising or intifada, reflecting a new generation's frustrations over their veteran leadership's failure to achieve statehood.
The main Palestinian factions, including the Western-backed Fatah movement and the militant Hamas group, declared a "Day of Rage" on Tuesday across the West Bank, Gaza and East Jerusalem. The leaders of Israel's Arab community have called for a commercial strike in their towns and villages.
Since the Jewish New Year last month, six Israelis have been killed and dozens wounded in a shooting, a stoning and a series of stabbings, as unrest continues to mount.