Mosul offensive: Isis abducts 550 families from villages to use as human shields as Iraqi forces continue advance
UN voices concern for minorities militants could 'kill rather than see them liberated'
Lizzie Dearden
Friday 21 October 2016 13:39 Comments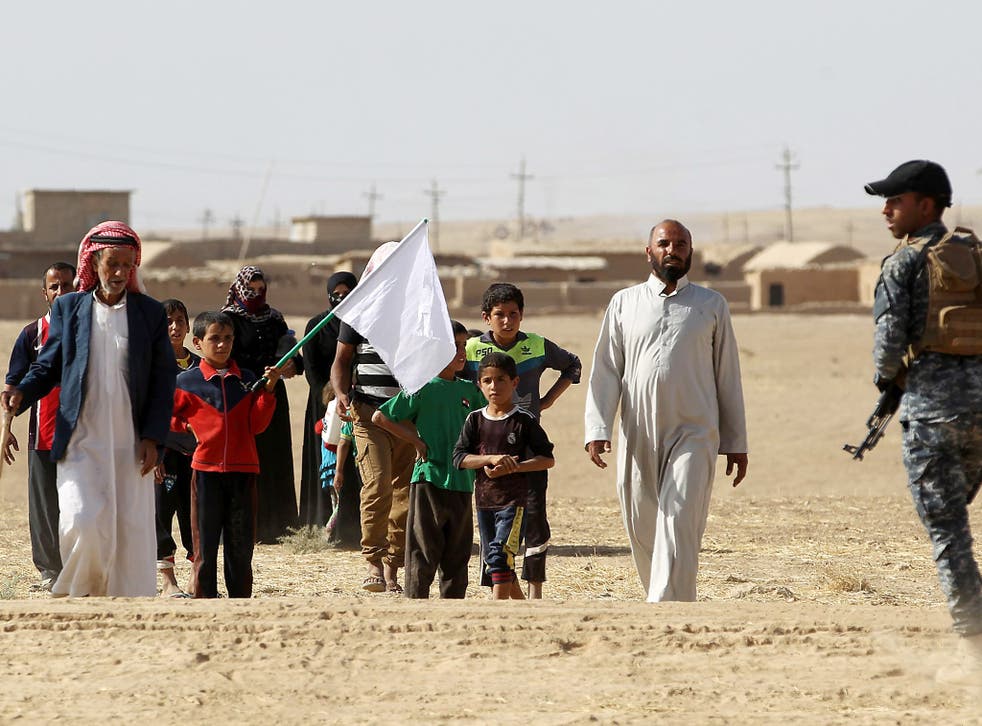 Isis has abducted at least 550 families from villages around Mosul to use them as human shields as Iraqi and Kurdish forces continue their advance on the city.
The United Nations said it was "gravely worried" for civilians who have been forced to leave their homes and enter Mosul, which is surrounded from three sides and under bombardment from the US-led coalition.
Zeid Ra'ad al-Hussein, the UN High Commissioner for Human Rights, said Isis fighters were keeping families close to their headquarters or bases, putting them at risk from air strikes and advancing troops.
Mosul battle: Civilians flee ahead of fighting
He said there was particular concern for men, women and children minority groups, adding: "There is a grave danger that Isil (Isis) fighters will not only use such vulnerable people as human shields but may opt to kill them rather than see them liberated."
On Monday, militants forced about 200 families to leave the village of Samalia to walk towards Mosul, while on the same day another 350 families were moved from Najafia village.
The UN is also attempting to verify reports that at least 40 civilians were shot dead by Isis in one of the villages for attempting to rise up against the extremists or being suspected of "disloyalty".
Mr al-Hussein said the terrorist group was attempting to prevent people escaping to areas controlled by enemy forces.
"The killings and abuses committed by Isil fighters when they captured Mosul in 2014, and the horrors they have subjected its inhabitants to ever since, should leave us in no doubt as to the risk civilians face as the fighting for control of Mosul and surrounding areas continues," he added.
"We know Isil has no regard for human life, which is why it is incumbent upon the Iraqi government to do its utmost to protect civilians.
"We are also concerned at reports that some civilians have no choice but to flee west – that is further into Isil-controlled territory – where Shia militia are also believed to be operating."
In pictures: Mosul offensive

Show all 40
There have been concerns over the treatment of civilians by Iraqi troops and militias following allegations of abuse as Isis was driven out of Fallujah, where Amnesty International said hundreds of Sunni Arab civilians were detained, tortured and killed while trying to flee.
The International Rescue Committee said all men and boys over the age of 14 displaced by the Mosul offensive were to undergo security screening monitored by charities.
Shia militia leaders have attempted to calm fears of sectarian tensions by announcing they would focus on Tal Afar, a town to the west of Mosul, rather than on the predominantly Sunni Muslim city itself.
Mr al-Hussein called on all parties in the conflict to abide by international law and observe the principles of "distinction, proportionality and precaution" to minimise damage and casualties.
"Isil fighters who have been be captured or have surrendered should be held accountable in accordance with the law for any crimes they have committed," he added.
"We are urging the Iraqi authorities to take all possible steps to prevent armed groups operating alongside the Iraqi security forces from any form of revenge attack on civilians fleeing Isil."
The Commissioner said child soldiers who had been indoctrinated and "exploited to carry out attacks" by Isis must be treated as children, rather than combatants.
About 1.5 million residents are still believed to be inside Mosul, with more than 5,600 displaced from their homes outside the city by the offensive so far, according to the International Organisation for Migration.
Humanitarian organisations have raised concern over inadequate provision for civilians displaced by the operation, which is expected to become the biggest battle in Iraq since the 2003 invasion.
Iraqi security forces, Kurdish Peshmerga fighters and Shia militias captured several villages as they continued their advance overnight on Thursday, with Isis killing 18 people in a terror attack on a power station in Kirkuk as retaliation.
A member of the American military also died on Thursday from wounds sustained in an improvised explosive device blast near Mosul.
Prime Minister Haider al-Abadi, addressing anti-Isis coalition allies meeting in Paris via video link, said the offensive was advancing more quickly than planned but there were warnings progress could slow as troops hit networks of defensive trenches, tunnels and booby traps.
Register for free to continue reading
Registration is a free and easy way to support our truly independent journalism
By registering, you will also enjoy limited access to Premium articles, exclusive newsletters, commenting, and virtual events with our leading journalists
Already have an account? sign in
Join our new commenting forum
Join thought-provoking conversations, follow other Independent readers and see their replies