Journalist attempting to sue over CIA drone strike that killed son and brother in Pakistan says he will 'never let go'
Kareem Khan is fighting a civil case attempting to secure murder charges against American officials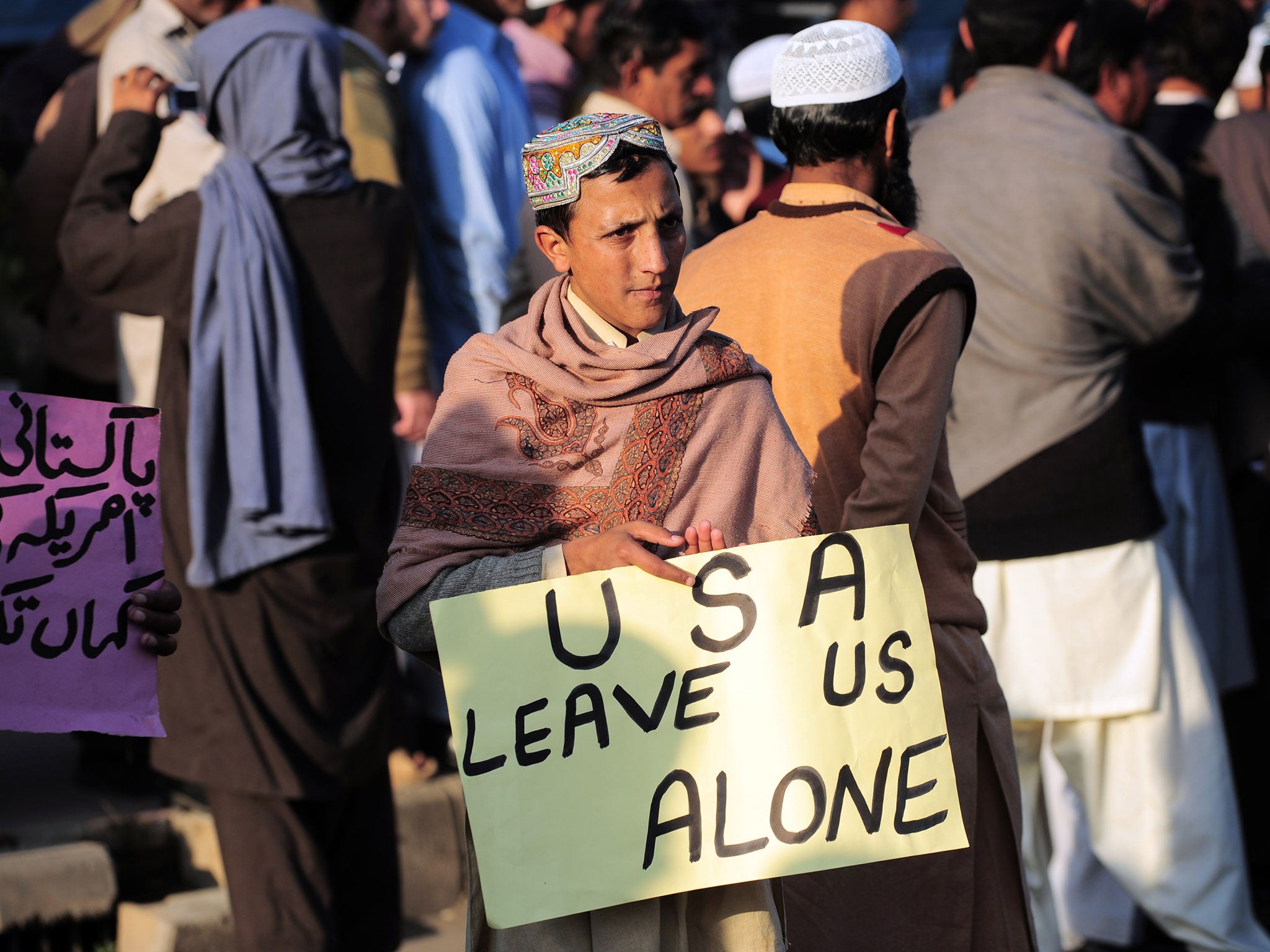 A journalist suing over the CIA's alleged killing of his son and brother in a drone strike has said he will "never let go" of his battle for justice.
Kareem Khan has been fighting for almost seven years to see the officials who ordered the attack on his home in Pakistan's North Waziristan province face criminal charges.
A missile struck on New Year's Eve 2009, killing his brother and teenage son in what was locally reported to be a mistake by US forces targeting a Taliban commander.
"They tell the world that they're killing terrorists [but] they're killing innocents," Mr Khan told Al Jazeera.
"My brother and my son were completely innocent. For as long as I can go on, I won't let this go."
His brother, Asif Iqbal, was a school teacher with a master's degree in modern languages, while his teenage son Zahinullah was preparing to enter Year 10.
They are two of many reported civilian casualties of American drone strikes, which have killed between more than 400 civilians in Pakistan since the CIA campaign began in 2004 according to the Bureau of Investigative Journalism, although the US' own total is far lower.
In a rare glimmer of hope earlier this year, the family of an Italian aid worker killed in one such bombing was paid $1.2 million (£900,000) by the US government.
There was no admission of guilt by authorities, who said the payment to Giovanni Lo Porto's relatives was a "donation", not compensation.
The 37-year-old died when a US drone struck an al-Qaeda base on the Pakistan-Afghanistan border where he was being held captive in January 2015, also killing American aid worker Warren Weinstein.
Four months after their deaths, Barack Obama publicly confirmed the strike and apologised, claiming the US is "committed to openness".
"I profoundly regret what happened," he said. "On behalf of the United States government, I offer our deepest apologies to the families."
Saying the operation was "fully consistent" with American guidelines for counter-terror operations in the region, the President said that in "our fight against terrorists specifically, mistakes - sometimes deadly mistakes - can occur".
Mr Obama added: "We will continue to do everything we can to prevent the loss of innocent lives - not just innocent Americans, but all innocent lives in our counterterrorism operations."
But campaigners say no such changes have been evident in Pakistan, where the US continues drone strikes against al-Qaeda, Taliban and Isis militants.
Officials claim they work with the Pakistani government's approval but politicians have publicly denied the claims, calling the attacks a "violation of our sovereignty as well as international law".
Mr Khan is fighting a civil case in Pakistan's courts attempting to see two former employees of the CIA branch in Islamabad charged with murder for allegedly ordering the strike that killed his family members.
Under fire from afar: Harrowing exhibition reveals damage done by drones in Pakistan
Show all 6
Shahzad Akbar, from the Pakistani Foundation for Fundamental Rights, said it took six years of campaigning to obtain a ruling in the Islamabad High Court ordering police to open a criminal investigation into the deaths.
The probe into former CIA station chief Jonathan Banks and legal counsel John A Rizzo over alleged, murder, conspiracy and terrorism was launched in April last year.
But the pair have returned to the US and police swiftly attempted to transfer the investigation to the authorities in the semi-autonomous Federally Administered Tribal Areas, who do not have the resources to continue.
Jennifer Gibson, a lawyer specialising in drone strikes with the legal charity Reprieve, told The Independent Mr Khan is now battling in the courts to force Pakistan's central police force to carry on the probe.
"There's always hope," she said. "The ultimate aim is for an international arrest warrant to be issued and pursued by Interpol.
"This case is effectively murder being carried out on Pakistani soil by US forces. It is right that it can be called what it is and investigated."
When Mr Khan launched his case in 2010, he sought $500 million (£380 million) in compensation but all damage claims have since been dropped.
Since his brother and son were killed, he has become a prolific anti-drone campaigner in the face of significant personal risk, being abducted and beaten shortly before he was due to visit the European Parliament in 2014.
Earlier this year, another Pakistani man met with MPs in London to call for the British Government to intervene with its American allies on the issue.
Malik Jalal told The Independent he had survived four drone strikes, believing he is being mistakenly targeted because of his work with the North Waziristan Peace Committee, which mediates between local tribes, government agencies and the Taliban.
He argued that the CIA's programme is "counter-productive" and makes terror attacks more likely by fuelling anti-Western sentiment in the volatile region.
"They're not getting rid of militants - for every two militants hit, 10 more will spring up in their place because their families and friends have been killed," he added.
Ms Gibson said the payment to Mr Lo Porto's family was a step forward but was little consolation to other civilian victims of drone strikes.
"There are hundreds of Pakistanis who have never had any acknowledgement, let alone any compensation," she added.
The US Department of Defence has not responded to The Independent's request for comment.
Join our commenting forum
Join thought-provoking conversations, follow other Independent readers and see their replies