Palestinians increasingly support war with Israel as confidence in peace process fails - survey
A Palestinian think-tank found that confidence in the Palestinian Authority and President Mahmoud Abbas was plummeting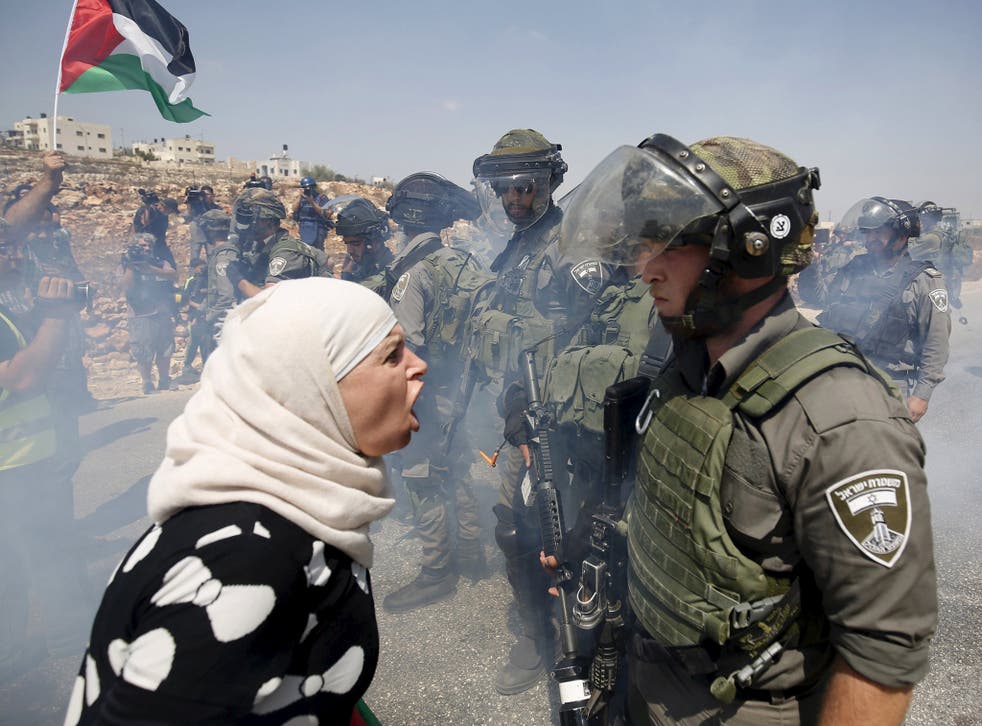 Support for a new war with Israel is growing among Palestinians as they lose confidence in politicians and the peace process, a survey has found.
The Palestinian Centre for Policy and Survey Research (PSR), an independent think-tank based in Ramallah, said the death of a toddler who burned to death in a suspected arson attack by settlers, and last summer's Gaza conflict had contributed to rising anger.
Fewer than half of people surveyed supported the proposed two-state solution that would see an independent state of Palestine next to Israel, while 51 per cent opposed it.
Of those wanting a new state, 42 per cent said they thought "armed action" would be the most effective way of establishing it, followed by almost a third of people supporting negotiations and a quarter calling for popular non-violent resistance.
When the same question was asked just three months ago, only a third of people called for armed action.
While two-thirds of respondents supported indirect negotiations between Hamas and Israel over a long term Hudna, or truce, in return for ending blockages and restrictions in the Gaza Strip, most believe believes the peace talks will not succeed.
The majority of respondents raised concerns that the two-state solution is no longer practical due to the construction of Israeli settlements in the West Bank, but few Palestinians questioned wanted a single state where Arabs and Jews would enjoy equal rights.
Overall, optimism for the creation of a Palestinian state was low, with almost eight in 10 people saying the chances in the next five years are "slim to none" and the same amount of people believing they would be harmed or see their land confiscated and homes demolished by Israeli authorities.
In the absence of peace negotiations, 83 per cent of respondents supported increasing influence joining more international organisations, 63 per cent advocated supported a popular non-violent resistance and 57 per cent called for the return to an armed intifada.
Deep suspicion directed at Benjamin Netanyahu's government was evident, with the overwhelming majority believing Israel's long-term aim is to annex territories occupied in 1967 and "expel the population or deny them their rights".
At the same time, confidence in the Palestinian Authority and President Mahmoud Abbas is plummeting, with the overwhelming majority of people believing Palestinian institutions are corrupt.
The findings came after an 18-year-old Palestinian woman was shot by an IDF soldier at a checkpoint in Hebron - a city divided between Palestinian and Israeli control.
Hadeel al-Hashlamon, a university student, was photographed appearing to confront soldiers minutes before she was shot on Tuesday morning. She died later in hospital of her injuries.
A spokesperson for the IDF said she had tried to stab a soldier and had been given medical care, but unverified footage appeared to show her lying unattended on the ground for several minutes. A weapon could not be seen in the images.
Earlier on Tuesday, the military said a Palestinian man was found dead in a village near Hebron after an explosive device he was allegedly handling went off.
Tensions have been rising in Israel and the Occupied Palestinian Territories in the run-up to Yom Kippur and the Muslim holiday of Eid-ul-Edha on Thursday, which commemorates Ibrahim's willingness to sacrifice his son to God.
Jerusalem's Al-Aqsa Mosque compound, known to Jews as the Temple Mount and to Muslims as the Noble Sanctuary, has been a flashpoint for violence in recent days.
On the eve of the Jewish new year holiday of Rosh Hashanah, Muslim protesters barricaded themselves inside the mosque and threw rocks and firecrackers in clashes with police.
An Israeli man also died in Jerusalem after Palestinians pelted his car with rocks.
The PSR's survey showed that the majority of Palestinians feel that the Noble Sanctuary (Haram al-Sharif) is in grave danger, with half believing that Israel intends to destroy the mosque and Dome of the Rock and replace them with a Jewish temple, and more fearing the prospect of the holy site being divided to allow the construction of a synagogue.
Hamas in pictures

Show all 10
While support for Hamas remained steady, more than nine in 10 Palestinians questioned opposed Isis, saying the jihadist group "does not represent true Islam" and backing the international coalition fighting against it in Iraq and Syria.
Several rockets have recently been fired from the Gaza Strip, prompting Israel to deploy its Iron Dome rocket defence system, and more than two thirds of Palestinians said they supported the continuing launching of rockets if the blockade does not end.
Speaking in Paris on Tuesday, Palestinian President Mahmoud Abbas called for an end to the violence.
"It's extremely dangerous," he said. "We don't want to see this continue."
Researchers from the PSR conducted face-to-face interviews with almost 1,300 people for the survey, in 120 different locations in the West Bank and Gaza Strip between 17 and 19 September.
Join our new commenting forum
Join thought-provoking conversations, follow other Independent readers and see their replies