'Peace' President? How Obama came to bomb seven countries in six years
US has engaged in conflict in Iraq, Afghanistan, Pakistan, Somalia, Yemen, Libya and now Syria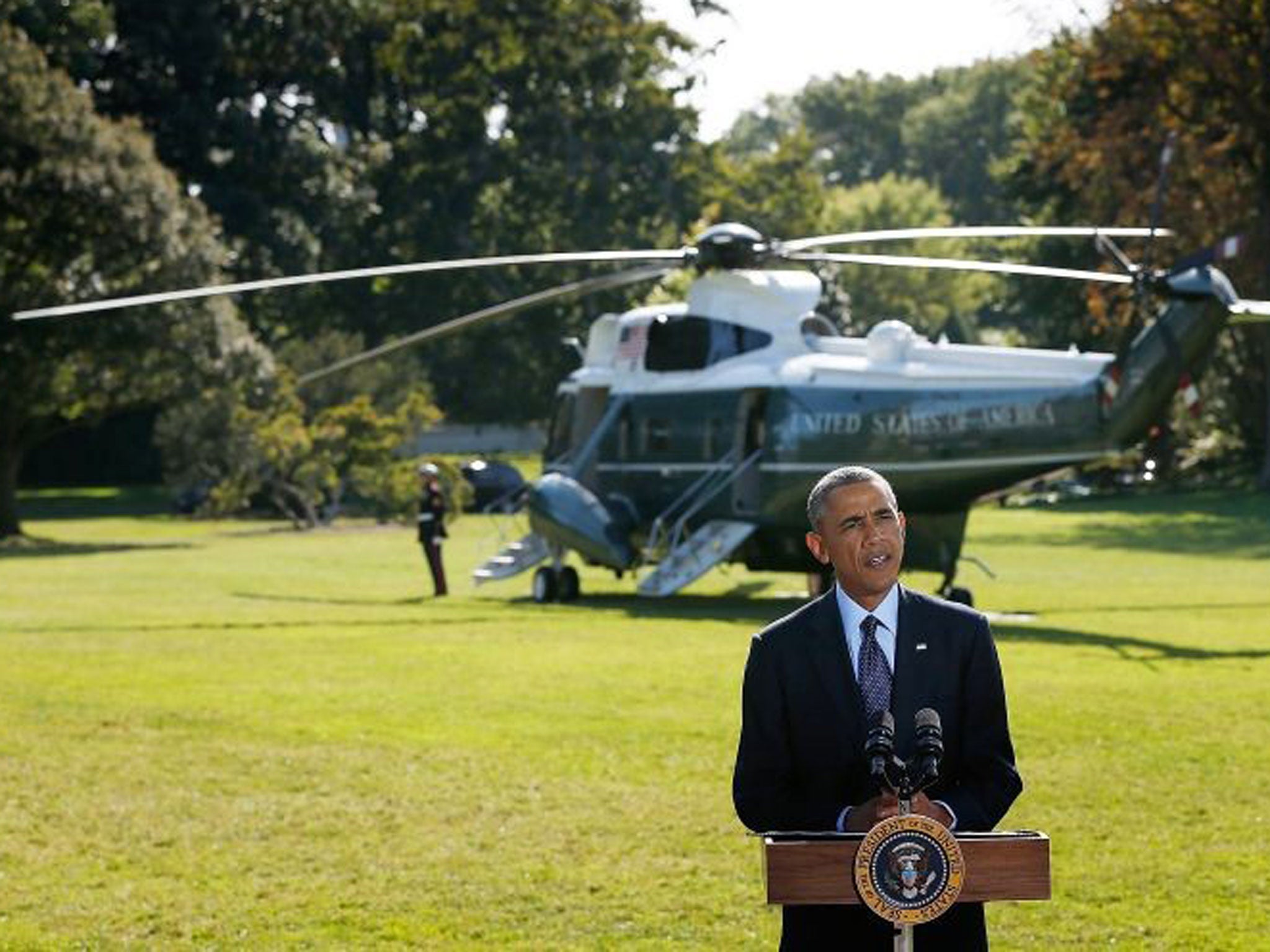 Barack Obama, the man many hoped would be the 'peace President' when he was elected, has bombed seven countries during his six years in office.
The US President oversaw the first US air strikes launched in Syria this week, in a huge escalation of America's military campaign against Isis (also known as Islamic State).
Mr Obama was elected in 2009 partly of his opposition to the Iraq war and was awarded the Nobel Peace Prize after he assumed office.
The arguably optimistic decision taken by the Norwegian Nobel Committee was taken just nine months into his Presidency and came as he was trying to manage the war in Afghanistan.
His famous 'A New Beginning' speech in Cairo saw the President declare he was seeking a fresh start "between the United States and Muslims around the world", increasing hopes he would be the antidote to George W. Bush's controversial term.
Almost six years later, Mr Obama has approved military operations in Iraq, Afghanistan, Pakistan, Somalia, Yemen, Libya and now Syria.
The Bureau of Investigative Journalism (BIJ) estimates the Obama administration has launched more than 390 drone strikes in five years across Pakistan, Yemen and Somalia – eight times as many approved during the entire Bush Presidency.
Afghanistan
Mr Obama was at the forefront of a major withdrawal of troops in Afghanistan following America's ten-year conflict with the Taliban, which is due to finish at the end of 2014.
But in August, Afghan officials said an air strike by the American-led coalition killed at least four civilians, including two women.
Recently, Afghan President Hamid Karzai used his farewell speech to rally against US strikes one last time.
Mr Karzai, the only president Afghanistan had had since the US-led invasion in 2001, said Washington had wanted war in Afghanistan "because of its own interests".
"The war in Afghanistan is to the benefit of foreigners," he said in his address. "But Afghans on both sides are the sacrificial lambs and victims."
Yemen
Drone strikes have had some success in tackling al Qaeda in the Arabian Peninsula (AQAP), with both the Pentagon and CIA operating drones over the country - at the expensive of civilian life.
Last year, Human Rights Watch released a 102-page report on US drone attacks and air strikes in Yemen against al- Qaeda militants which found six air strikes had killed 82 people - at least 57 of them civilians - between 2009 and 2013.
In April 2014, an intensive bombing campaign carried out jointly by US drones and Yemeni government forces left a reported 68 people dead, three of them believed to be civilians.
Pakistan
The US has targeted al-Qaeda and Taliban fighters in controversial drone "precision strikes" in Pakistan's tribal areas for over a decade.
Mr Obama first admitted their use in 2012, saying: "For the most part, they've been very precise precision strikes against al-Qaeda and their affiliates, and we're very careful in terms of how it's been applied."
But while the US claim strikes are an important tool for defeating anti-American targets, many in Pakistan say they undermine the country's sovereignty and often hit innocent civilians.
The BIJ says that since Mr Obama's inauguration in 2009, the CIA has launched 330 strikes on Pakistan. In comparison, his predecessor Mr Bush conducted 51 strikes in four years.
Somalia
Mr Obama unveiled his "degrade and destroy" strategy against Isis on the anniversary of the 9/11 bombings. As he vowed to take out militants "wherever they exist", he assured the conference: "This strategy of taking out terrorists who threaten us, while supporting partners on the front lines, is one that we have successfully pursued in Yemen and Somalia for years."
The US has carried out several air strikes in Somalia recent years, killing a high-ranking al-Shabaab intelligence officer and its top explosives expert last year.
Libya
In 2011, a multi-state coalition was created in response to the Libyan civil war that saw American and British naval forces firing over 110 Tomahawk cruise missiles on Libyan leader Moammar Gadhafi's air defences.
President Obama was forced to defend his decision to intervene in the Libya conflict with air strikes after being accused of not properly consulting Congress.
Iraq
On 10 September this year and after ending the US combat presence in Iraq, Mr Obama became the fourth US President in a row to announce air strikes in the country in a televised address. As he made this announcement, the President warned: "I will not hesitate to take action against Isil in Syria as well as Iraq".
The air strikes came at the request of the Iraqi government, which was struggling to battle Isis militants advancing across swathes of the country.
Syria
Then, on the 22 September, the President lived up to his warning and the Pentagon announced the US had launched air strikes on the Isis stronghold Raqqa and on the Khorasan Group in Aleppo.
The Pentagon spokesman Rear Adm John Kirby said fighter jets, bombers and Tomahawk cruise missiles were fired from ships in the region during the strikes.
In a statement, the US military said it had "destroyed or damaged multiple (Isis) targets" around the cities of Raqqa, Deir al-Zor, Hasakah and the border town of Albu Kamal.
Join our commenting forum
Join thought-provoking conversations, follow other Independent readers and see their replies