Police evictions of illegal West Bank settlers met with violent protests from Israelis
The Supreme Court ruling that Amona is built on private Palestinian land and must be demolished has outraged pro-settlement politicians and members of the public 
Wednesday 01 February 2017 12:17
Comments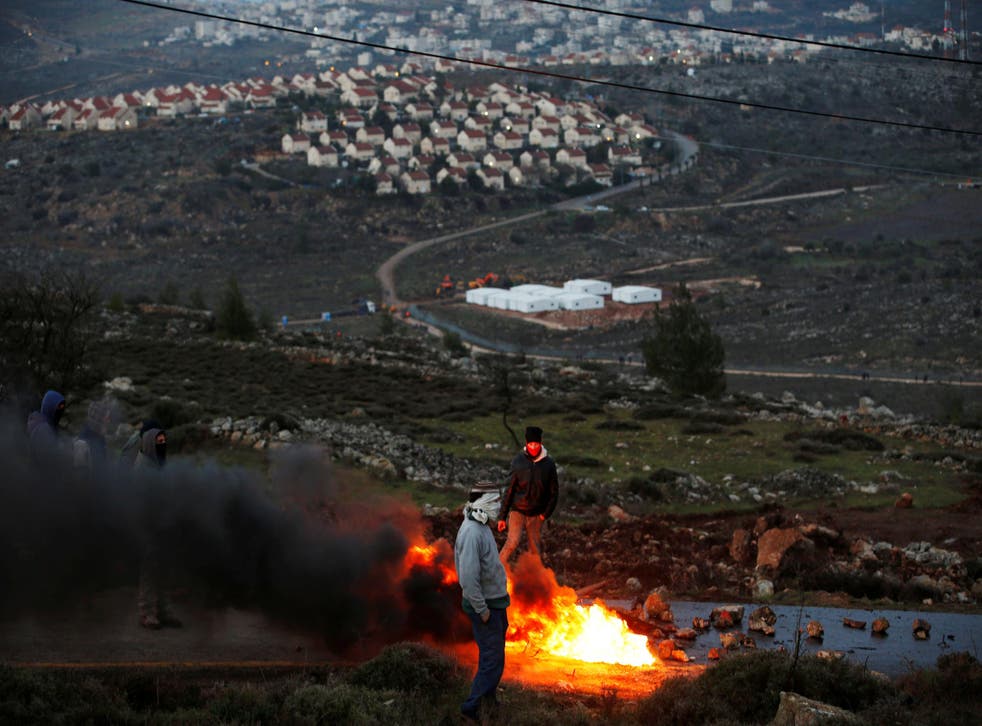 Israel has begun the evacuation of settlers from the outpost of Amona, which the Israeli Supreme Court ruled is illegally built on private Palestinian land.
Groups of young protesters borrowed the Palestinian tactic of setting fire to tires to block unarmed police and erecting makeshift barricades while throwing stones at officers and bulldozers as they advanced on Wednesday.
Other members of the 50 or so families and their supporters in the "wildcat" settlement, built without government permission, resisted peacefully, singing religious songs or chaining themselves to large objects. Some packed up their belongings and carried their children out of their homes towards cars.
One protester who chained himself to the foundations of a house told Channel 2 TV that the demonstrators would not use violence, but "we will hold on to the ground and not give up because this is our land that God promised to the people of Israel".
Bilha Schwarts, 24, came along with her husband and nine-month-old daughter to support the residents. "If they want it they can take it, we will not fight. We will leave but we will come back," she told The Associated Press.
Amona, constructed in the 1990s northeast of Ramallah, is the largest of around 100 so-called "outpost" settlements built in the West Bank without Israeli government approval.
The international community views all Israeli building over the 1967 Green Line as illegal.
Barack Obama uses final interview as President to slam Israeli policy on settlements
In 2014, the Supreme Court ruled Amona must be demolished, but evacuations have been delayed several times. The final date for the settlement to be vacated is February 8.
The decision has caused fury in Israel, where Prime Minister Benjamin Netanyahu has struggled to appease politicians in his coalition government as well as voters in favour of settlements while respecting the Supreme Court.
While Amona is being emptied of settlers, the Israeli government has boldly announced the creation of thousands of new Israeli homes in the West Bank since US President Donald Trump took office last month. Mr Trump is far more sympathetic to Israeli interests than his predecessor Barack Obama.
While the move comes too late for Amona, on Tuesday, the Knesset began debating a bill which would legalise 3,900 homes in 54 other wildcat outposts. The legislation – which is expected to pass – promises generous financial compensation for Palestinian owners, or land elsewhere.
The Associated Press contributed to this report
Register for free to continue reading
Registration is a free and easy way to support our truly independent journalism
By registering, you will also enjoy limited access to Premium articles, exclusive newsletters, commenting, and virtual events with our leading journalists
Already have an account? sign in
Register for free to continue reading
Registration is a free and easy way to support our truly independent journalism
By registering, you will also enjoy limited access to Premium articles, exclusive newsletters, commenting, and virtual events with our leading journalists
Already have an account? sign in
Join our new commenting forum
Join thought-provoking conversations, follow other Independent readers and see their replies