Raif Badawi Exclusive: Nobel Laureates urge Saudi academics to condemn flogging of writer jailed for daring to criticise clerics
In their letter, passed to The Independent, the 18 Nobel Laureates urge their Saudi peers to be 'heard arguing for the freedom to dissent' by standing up for Mr Badawi, whose case they say has 'sent a shock around the world'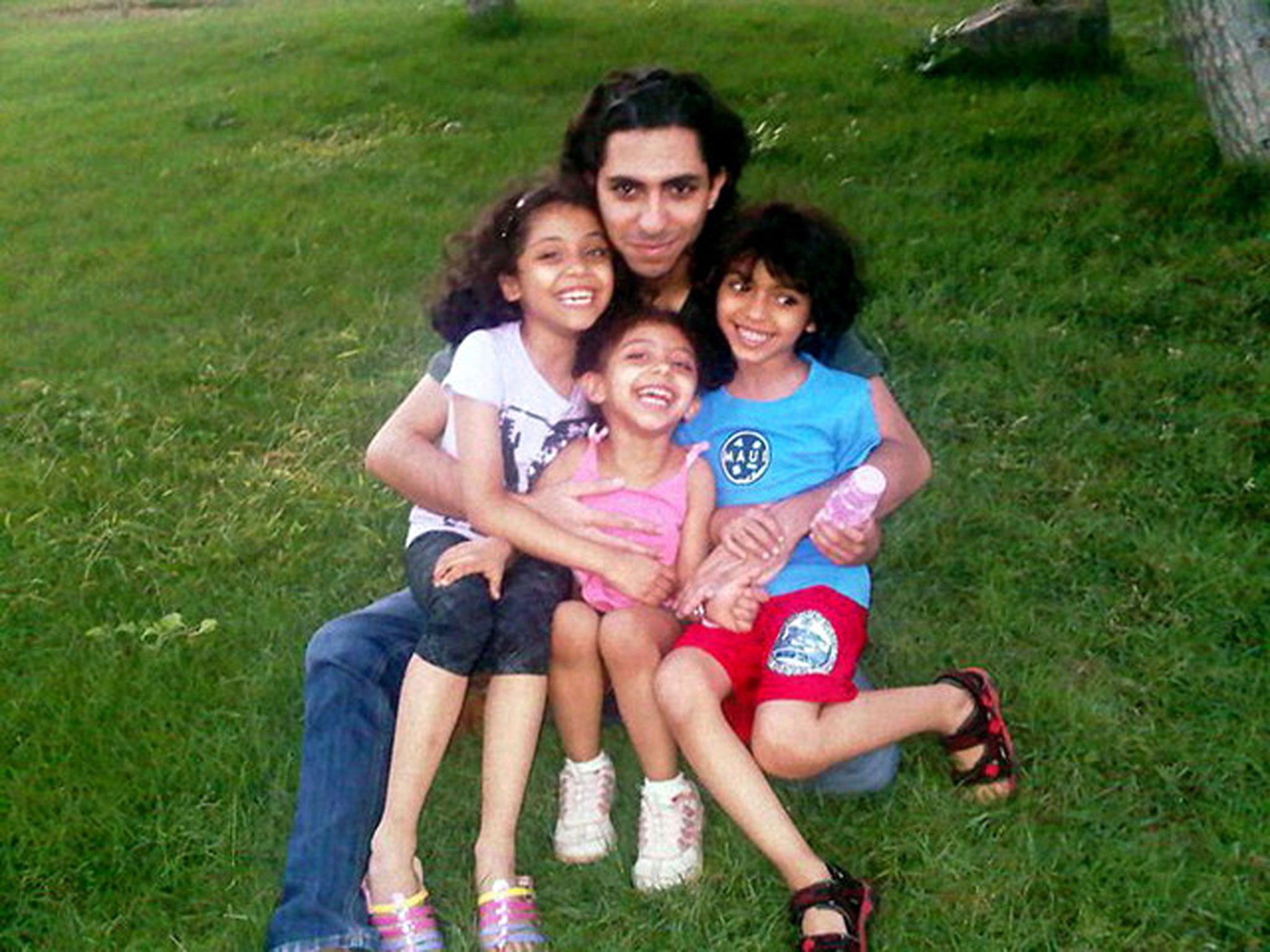 The international outcry over restrictions on freedom of speech in Saudi Arabia escalated last night as an array of Nobel prizewinners published an open letter calling on the country's academics to condemn the public flogging of the blogger Raif Badawi.
In their letter, passed to The Independent, the 18 Nobel Laureates urge their Saudi peers to be "heard arguing for the freedom to dissent" by standing up for Mr Badawi, whose case they say has "sent a shock around the world".
They also hint that if the country's academics are unable to stand up for free speech they risk being internationally marginalised – a veiled threat that will be of serious concern to the Saudi authorities, who have been keen to market the country as a burgeoning research hub.
The letter – signed by a collection of Nobel Laureates including the novelist J M Coetzee – is addressed to Professor Jean-Lou Chameau, president of the King Abdullah University of Science and Technology (KAUST). A multibillion-dollar graduate research institution, it opened to great fanfare in 2009. It warns: "The fabric of international co-operation may be torn apart by dismay at the severe restrictions on freedom of thought and expression still being applied to Saudi Arabian society.
In pictures: Raif Badawi release protests
Show all 15
"We have no doubt that members of KAUST share that concern, aware that the cruel sentence passed for example on Mr Raif Badawi, who established a forum for open discussion, sent a shock around the world."
In May last year Mr Badawi was sentenced to 10 years in prison and 1,000 lashes – to be administered at the rate of 50 per week – for using his liberal blog to criticise Saudi Arabia's clerics. His case was referred to the country's Supreme Court at the end of last week, shortly after his second round of flogging was delayed on medical grounds.
"We are confident that influential voices in KAUST will be heard arguing for the freedom to dissent, without which no institution of higher learning can be viable," the letter continues.
"The time is ripe for new thinking after millions in Paris, supported by the government of Saudi Arabia, demonstrated on behalf of minority views."
The targeting of KAUST is significant because one of its key aims was to enable Saudi Arabia to compete internationally in science and technology. The Independent understands that many prominent Western scientists are already uncomfortable collaborating with the university due to the country's disastrous record on human rights – and may begin refusing to co-operate altogether if the letter is ignored.
The university is named after the King of Saudi Arabia, Abdullah bin Abdulaziz al-Saud, who said he hoped it would become "a beacon for peace, hope, and reconciliation" when he spoke at its inauguration ceremony five years ago. An increasingly well-regarded research institution, its campus is mixed-gender – making it unique in Saudi Arabia – with female students permitted to drive, mix freely with their male colleagues and remove their veils during classes.
One of the letter's signatories is the British biologist Sir John Sulston, who was jointly awarded the Nobel Prize in Physiology or Medicine in 2002. He told The Independent that Mr Badawi's case carried important implications for the "importance of free speech and of academic freedom in particular" – not just in Saudi Arabia but across the world.
"We think it's right to point out that the environment of a good university has to be one of openness, of discourse," he said. "This guy, as far as one can understand, has been an entirely peaceful blogger proposing things which are at odds with current Saudi Arabian methods – but nevertheless absolutely consonant with academic freedoms. So we think it's right to support him in this way."
He said that while Western governments might condemn Saudi Arabia's punishment of Mr Badawi in public, any action they might take was often constrained by "commercial interests" which made it even more important for academics to take action. "We all have to work all the time for freedom of speech," he added.
Amnesty International, which is campaigning for Mr Badawi's release, welcomed the letter. "It's long overdue that the Saudi government comes under sustained international pressure from all quarters to open up and allow its population peacefully to express their views without fear of arrest, jail or a public flogging," said Kate Allen, the human rights group's UK director.
"Freedom of speech ought to be defended and celebrated in Riyadh just as much as anywhere else in the world, and we'd like to see KAUST issuing a statement in support of Raif Badawi. Meanwhile, the Saudi authorities should call off the remaining 950 lashes for Mr Badawi and release him immediately. Raif is a free-speech activist and a prisoner of conscience, not a criminal."
At the weekend Mr Badawi's wife Ensaf Haidar, who fled to Canada with the couple's children in 2011, called on governments across the world to put pressure on Saudi Arabia to release him. In Britain, Amnesty has accused the Government of "wearing the Saudi muzzle" over the issue.
A spokesperson for the Foreign Office said: "We remain seriously concerned by Raif Badawi's case. The UK condemns the use of cruel, inhuman or degrading punishment in all circumstances. We have raised Mr Badawi's case at a senior level with the Saudi authorities.
"The UK is a strong supporter of freedom of expression around the world. We believe that people must be allowed freely to speak out against violations of human rights wherever they occur."
The signatories
Martin Chalfie, Nobel Laureate Chemistry (US)
J M Coetzee, Nobel Laureate Literature (Australia/South Africa)
Claude Cohen-Tannoudji, Nobel Laureate Physics (France)
Richard Ernst, Nobel Laureate Chemistry (Switzerland)
Gerhard Ertl, Nobel Laureate Chemistry (Germany)
Sheldon Lee Glashow, Nobel Laureate Physics (US)
Dudley Herschbach, Nobel Laureate Chemistry (US)
Roald Hoffmann, Nobel Laureate Chemistry (US)
Brian Josephson, Nobel Laureate Physics (UK)
Martin Karplus, Nobel Laureate Chemistry (US)
Harold Kroto, Nobel Laureate Chemistry (UK/US)
Yuan Lee, Nobel Laureate Chemistry (Taiwan/US)
Rudolph Marcus, Nobel Laureate Chemistry (Canada/US)
John Polanyi, Nobel Laureate Chemistry (Canada)
Richard Roberts, Nobel Laureate Physiology or Medicine (US)
John Sulston, Nobel Laureate Physiology or Medicine (UK)
Jack Szostak, Nobel Laureate Physiology or Medicine (US)
Eric Wieschaus, Nobel Laureate Physiology or Medicine (US)
Join our commenting forum
Join thought-provoking conversations, follow other Independent readers and see their replies