Turkey's President Erdogan attacks US-led plans to work with Syrian Kurds to clear Raqqa of Isis
Turkish diplomats look to hold Washington to promises that the Kurdish-led Syrian Democratic Forces will not try to control the town once Isis is defeated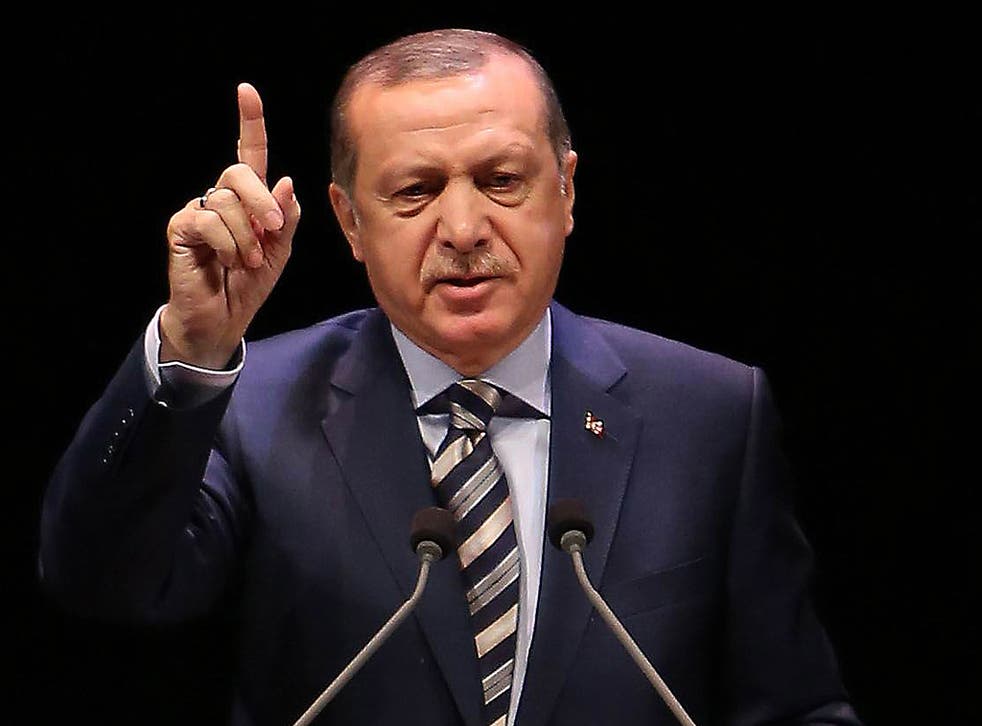 The Turkish president has reiterated his opposition to US-backed Syrian Kurdish forces taking a lead role in the battle to drive Isis from their de facto capital of Raqqa in northern Syria, even as the US tries to assuage Ankara's fears of growing Kurdish influence in the region.
Speaking to reporters, Recip Tayyip Erdogan did not directly refer to the new Operation Euphrates Wrath to encircle Isis fighters in Raqqa, announced over the weekend by the Kurdish-led Syrian Democratic Forces (SDF), a Kurdish led coalition of Kurdish and Arab militias, but did say "no one in the world will buy this naive attitude [attacking Isis] with another terror organisation."
The SDF is made up of units from the Kurdish People's Protection Units, or YPG, which Turkey views as an extension of the outlawed Kurdistan Workers' Party (PKK), which has been fighting an insurgency war against the Turkish state since the 1980s.
Nato member Turkey's recent military intervention in northern Syria has been as much about about preventing the self-declared autonomous Kurdish administration in Rojava from expanding its territory as it has been about ousting Isis from the border region.
Erdogan spoke at almost exactly the same time that the US Defence Department released a statement saying that hastily arranged meetings between Chairman of the US Joint Chiefs of Staff Mar Gen Joseph Dunford and his Turkish counterpart Army Gen Hulusi Akar had been successful in agreeing on how to recapture the Sunni-majority city once Isis has been defeated.
"The coalition and Turkey will work together on the long-term plan for seizing, holding and governing Raqqa," Gen. Dunford said after the Sunday talks.
"We always knew the SDF wasn't the solution for holding and governing Raqqa," Dunford said.
"What we are working on right now is to find the right mix of forces for the operation."
In pictures: Civilians freed from Isis in Manbij

Show all 11
Other sources quoted by Reuters said that a sufficient number of Arab fighters have not yet been recruited or are still in training for the Raqqa offensive.
"There is no available force capable of taking Raqqa in the near future," one US official said on Monday the condition of anonymity.
On Tuesday Turkish diplomats reiterated that Washington has promised that the SDF itself - the only consistently successful ground force in driving back Isis and a major US ally - will not enter the city limits during fighting, pointing out that similar protestations were made before the assault to free the town of Manbij in August.
Before such plans can be executed, however, troops face what is likely to be a long and bloody battle to take back the city of approximately 220,000 people.
Both Kurdish and US officials have warned that fighting on the ground - backed by US, UK and French air strikes - is likely to be slow going, and the offensive could take months.
Women secretly capture life inside Raqqa
Small advances to the north of the city have been reported since Sunday, in the face of Isis car bombs and missile fire. Activist group Raqqa is Being Slaughtered Silently said that militants had blown up several bridges in an attempt to slow the coalition forces and had prevented the villagers of Tweila'a from leaving during coalition strikes.
US Central Command said that 21 air strikes on Isis targets were carried out on Sunday and Monday.
US-backed forces are also currently engaged in a campaign to retake the Iraqi city of Mosul, the largest city under Isis control in its so-called caliphate.
Officials hope that the dovetailing of the two operations will prevent Isis from being able to regroup, ending their ability to operate as a land-holding force in the complex Syrian civil war.
Join our new commenting forum
Join thought-provoking conversations, follow other Independent readers and see their replies