Refugee crisis: Conditions in Syria are getting worse, warns UN humanitarian chief
Stephen O'Brien urges Europe to be 'generous and supportive' to refugees reaching its shores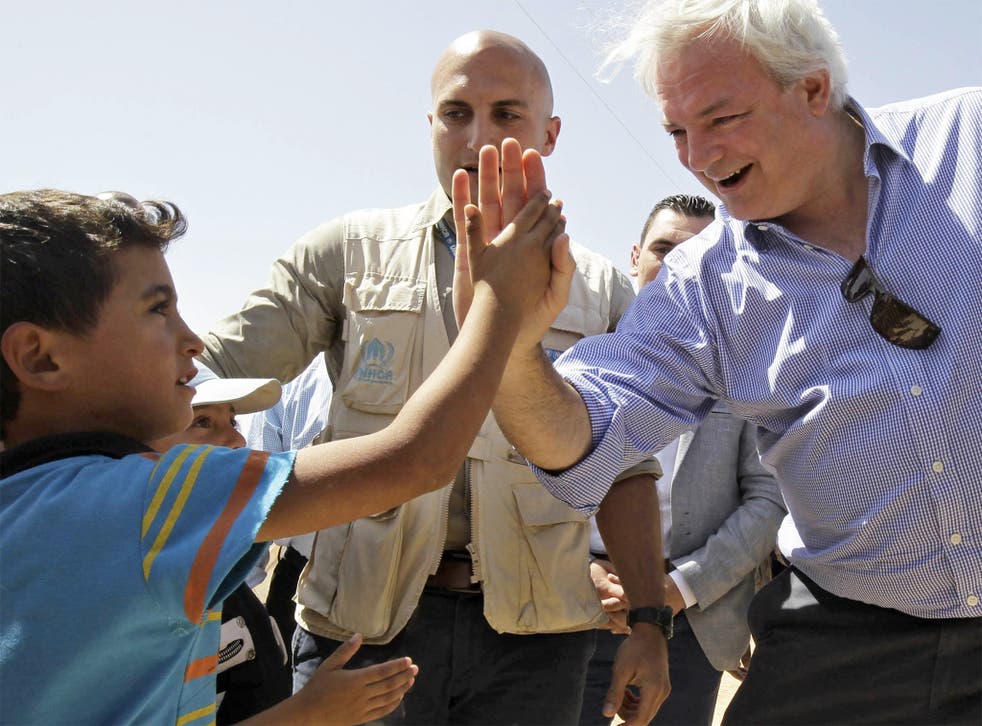 Conditions in Syria are getting worse, not better, the United Nation's humanitarian chief has warned as he urged Europe to be "generous and supportive" to refugees reaching its shores.
Speaking after a three-day visit to the war-torn country, Stephen O'Brien told The Independent that, although the number of refugees in Europe was "very significant", it "pales" in comparison to those displaced within Syria and in neighbouring states.
The former Conservative minister, who took the helm at the UN aid body in March, implored EU leaders meeting in Brussels today to "show our generosity" to refugees and to treat them "with respect". The summit will include a meeting between eight EU countries and Turkey as part of a continuing drive to reduce the numbers setting sail for Europe.
The Syrian refugee crisis in numbers
While stressing the importance of helping to grant the wish of most Syrians to stay as close to home as possible by improving their living conditions, Mr O'Brien said that Europe must also be open-hearted to those who arrived at its door.
"We have to work with where people want to be naturally, either in their own homes or – when they have fled – to be generous and supportive in accommodating them when they've made very perilous journeys," he said.
The former MP for Eddisbury, who was nominated for his UN post by David Cameron, painted a vivid picture of the devastation in the Old City in the central Syrian city of Homs, which he visited earlier this year.
"All the buildings are basically collapsed or collapsing," he said. "It's a horrible sort of mosaic of that light grey, intensely dusty-feeling atmosphere of collapsed angles. It looks horrible.
"But what really brings it home to you is what you imagine when you look through the dark holes in the grey, destroyed landscape. That's where the windows were. And behind those windows were people. They aren't there any more.
"They have either fled or, very sadly, they lost their lives and they were part of the destruction. That's what really brings home to you the terrible price of this long protracted conflict in terms of human lives."
On Saturday he visited al-Waer, a district to the north west of Homs where the early stages of a local truce were implemented last week. The deal enabled the first deliveries of aid in almost a year.
Mr O'Brien said that the ceasefire was "very important" and voiced hope that other similar local truces could follow, though he warned that the delivery of basic food, shelter and medical supplies should not be dependent on such deals. "We need to have access and compliance with international humanitarian law at all times and in all places," he said.
He cautioned that the picture across Syria as a whole was getting worse. "I think it's fair to say … that it is deteriorating," he said "All the parties to the conflict are to blame. They are all still fighting."
He described being woken up in his Damascus hotel by the sound of shelling at daybreak from rebel-held areas into the centre of the capital.
"I could hear the loud bang of shells landing some yards away from where I was," he said. "Subsequently I learnt that a baby and children and mothers and grandmothers as well as men had died in what I could see from the plumes of smoke coming up from parts of the city."
The conflict in Syria shows no sign of ending after more than four years of fighting that has killed at least 250,000 people and created millions of refugees.
The UN projects that it will need $8bn (£5.3bn) next year alone to meet the humanitarian needs of 13.5 million people inside the country and 4.7 million in Turkey, Lebanon and Jordan.
Mr O'Brien said that he was aware of claims that Russia had attacked aid convoys in the north of Syria in recent weeks and called for the allegations to be investigated.
"Were that the case, then it needs to stop," he said. "It's very important that everybody – and this applies to all parties in the whole of the conflict – respect and comply with international humanitarian law."
Join our new commenting forum
Join thought-provoking conversations, follow other Independent readers and see their replies