Russian air strikes in Syria: US-led coalition urges Vladimir Putin's forces to 'immediately cease attacks on opposition and civilians'
Russian officials dismissed reports of civilian casualties as 'information warfare' and insisted strikes are targeting extremists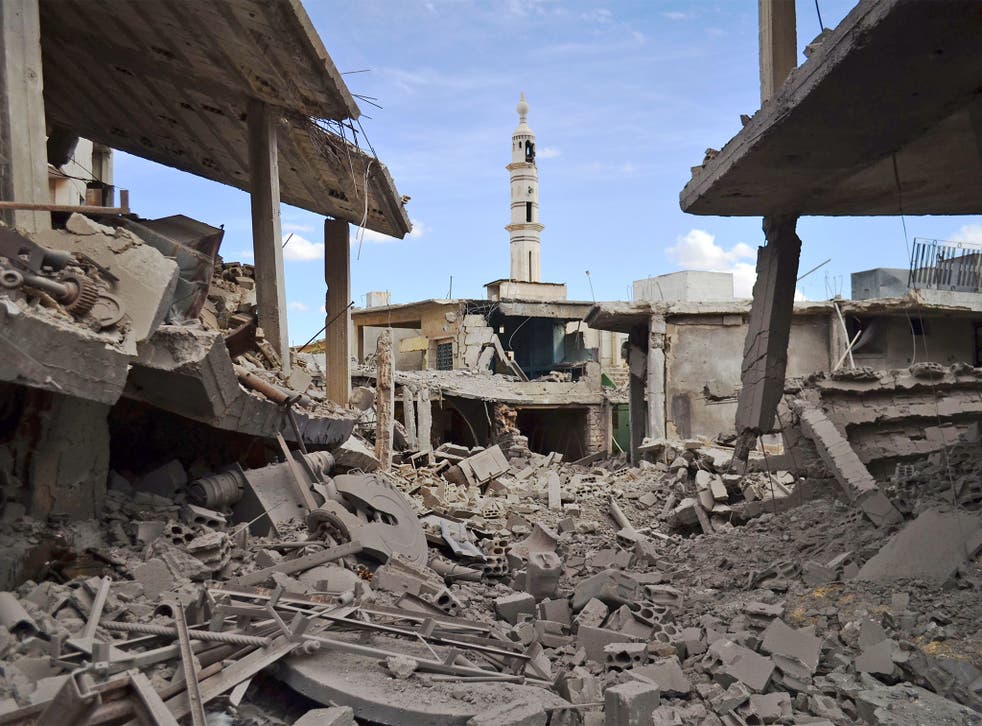 The US, Britain and members of the international coalition bombing Isis have urged Russia to stop attacking the Syrian opposition and expressed "deep concern" over its intervention.
A joint statement listed attacks by Vladimir Putin's air force in Hama, Homs and Idlib provinces that "led to civilian casualties" and did not target Isis.
"These military actions constitute a further escalation and will only fuel more extremism and radicalisation," it continued.
"We call on the Russian Federation to immediately cease its attacks on the Syrian opposition and civilians and to focus its efforts on fighting Isis."
The call from the governments of France, Germany, Qatar, Saudi Arabia, Turkey, the UK and US follows persistent claims that many of Russia's air strikes have hit Syrian rebels and civilians since the start of its campaign on Wednesday.
Mr Putin dismissed reports of civilian casualties yesterday and accused critics of engaging in "information warfare", while restating his commitment to fighting terrorism.
But his official spokesperson did seem to shift the Kremlin's position on Thursday, telling journalists that Russian forces were targeting a list of "well-known organisations" chosen in co-ordination with the Syrian regime.
Previous statements and speeches had focused specifically on Isis and the change did nothing to reassure observers concerned that Russia could hit all opponents of its controversial ally, Bashar al-Assad, including moderate rebels once backed by the US.
Following reports that Free Syrian Army members had been bombed, US Senator John McCain claimed he could "absolutely confirm" that fighters who had been armed and trained by the CIA were among those targeted.
As Russia planned more air strikes today, Mr Putin met Francois Hollande in Paris to overcome tension over military operations.
A summit with the French President was originally scheduled to concern only the Ukrainian conflict but a senior diplomat said the two leaders discussed the potential for political transition in Syria, Russia's intervention and ensuring its operations did not conflict with the US-led coalition.
The two groups are not officially "co-ordinating" their airstrikes but inform each other to avoid problems, the official said.
Mr Putin was also due to meet with the German Chancellor, Angela Merkel, to discuss the Ukraine crisis, although Syria was once again expected to be on the agenda.
Meanwhile, the Pentagon confirmed its representatives had spoken to Russian officials to avoid conflict over possible attacks on groups backed by the US.
The defence ministry on Moscow said it had carried out 18 strikes by this morning, including 10 on seven separate sites overnight.
Raqqa, the capital of the so-called Islamic State in Syria, was hit by a drone strike and militants cancelled Friday prayers over fears of further bombing, the UK-based Syrian Observatory for Human Rights reported.
Isis territory was also hit by Russian strikes in the town of al-Qaryatain, in Homs, activists said.
The Russian Defence Ministry said today that the the latest wave of attacks targeted only Isis and destroyed a command post near Daret Azzeh, in Aleppo, and wiped out bunkers and weapons stores near Maaret al-Numan in Idlib.
The jets appeared to be primarily bombing central and north-western Syria, which are particularly strategic for President Assad's regime, lying along major motorways linking government strongholds from Damascus to the coast.
Alexei Pushkov, the head of a Russian parliament foreign affairs committee, told French media that air strikes would intensify but that the operation would end as soon as possible.
"There is always a risk of being bogged down but in Moscow, we are talking about an operation of three to four months," he added.
Additional reporting by agencies
Join our new commenting forum
Join thought-provoking conversations, follow other Independent readers and see their replies