Syrian UN ambassador uses photo from Iraq to show how pro-government forces are 'liberating' city of Aleppo
Wednesday 14 December 2016 13:02
comments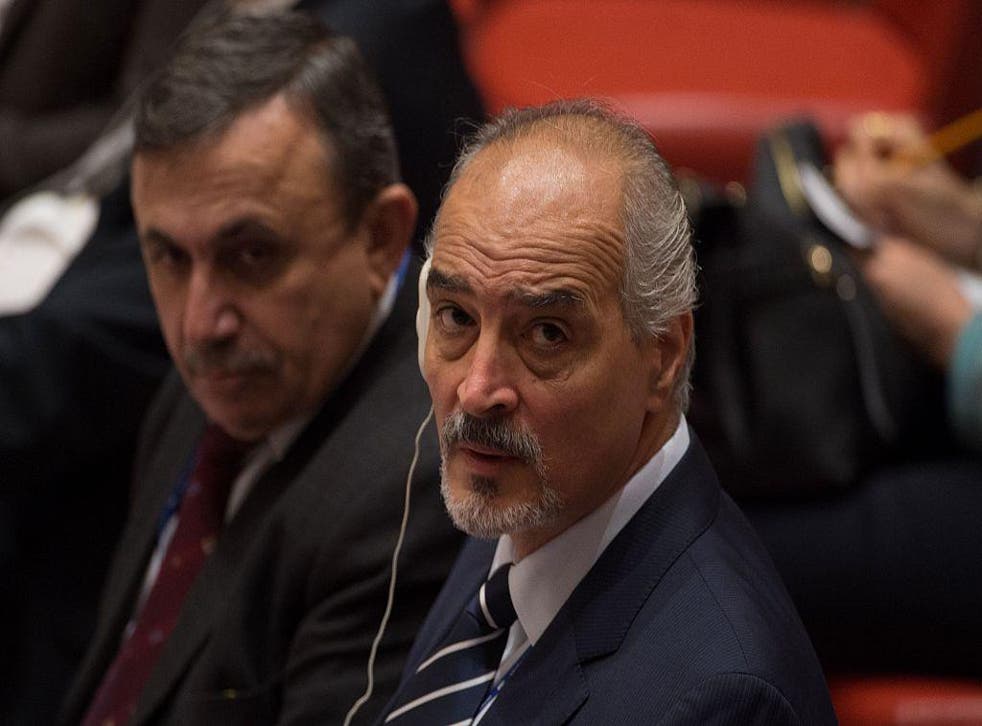 The Syrian envoy to the United Nations has condemned what he said is endemic 'fake news' reporting around the current battle for Aleppo - but undermined his argument by using a photograph from Iraq to show what he said is the current situation in the Syrian city.
During an emergency meeting of the UN Security Council in New York on Tuesday to discuss action on the escalating humanitarian crisis in Aleppo, Bashar Jaafari described the operation which has left hundreds dead as a "liberation."
"The actions we've taken in Aleppo have had the overarching goal of protecting civilians. Allow me at this stage show you some photos that I have. This is what the Syrian army is doing in Aleppo," Mr Jaafari said, holding up a picture he said was of a soldier helping an elderly woman leave the last rebel enclaves in east Aleppo.
It was quickly noticed, however, that the picture was actually of a member of the Iraqi Shia militia known as the Popular Mobilisation Forces, helping a civilian after the city of Fallujah was freed from Isis in June.
It had been widely published by Arabic-language news outlets at the time.
Russian Envoy Vitaly Churkin echoed Mr Jaafari's sentiments, saying that the "atrocities" reportedly being perpetrated in Aleppo were faked by opposition forces, whom the Syrian government regards as terrorists. Activists intent on deceiving western media covered children in dust and claimed they were bombing victims, he said.
Aleppo before the Syrian Civil War

Show all 12
Rebel-held east Aleppo, already bought to its knees by months of Russian-backed bombing, is on the brink of total collapse after a last-minute ceasefire deal broke down on Wednesday morning.
The Syrian army and allied militias is in control of all but tiny pockets of the city after huge advances on Monday and Tuesday.
Human rights monitors reported "slaughter" on the ground as pro-government forces advanced. At least 82 civilians - among them women and children - were shot in their homes by Iraqi militias, several sources have said.
Air strikes had resumed on the last rebel neighbourhoods on Wednesday, with Russian Foreign Minister Sergei Lavrov predicting the opposition will crumble within the next two to three days.
Join our new commenting forum
Join thought-provoking conversations, follow other Independent readers and see their replies