Saudi Arabia is blocking fuel for UN humanitarian planes in Yemen, say officials
'Bleak' situation in war-torn country is being exacerbated by lack of aid access caused by Riyadh-led coalition, UNDP country director says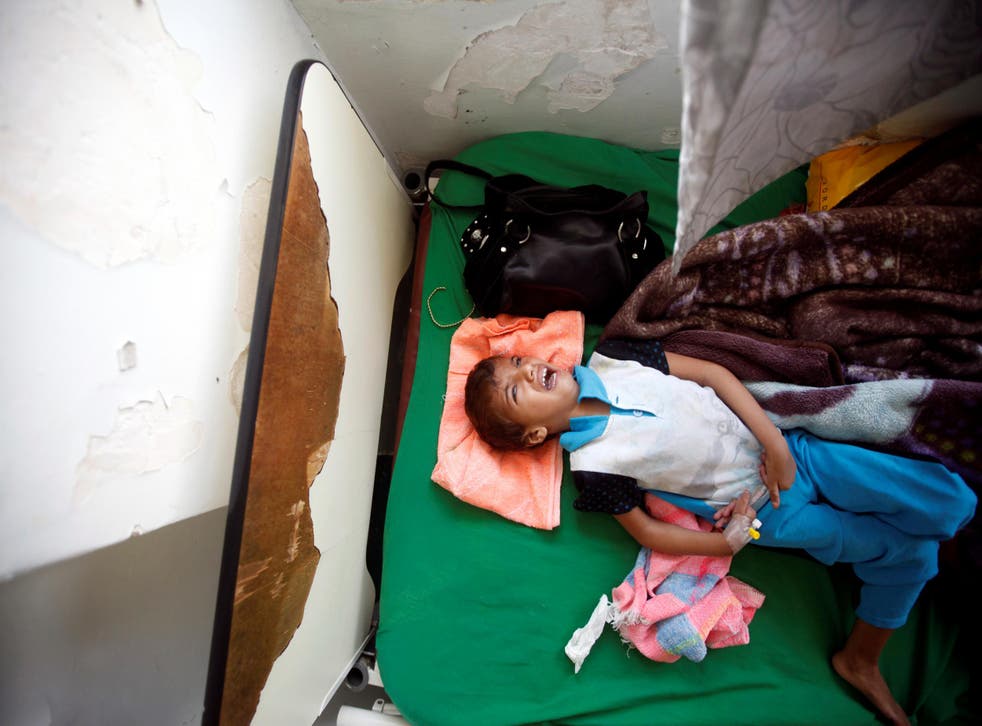 Saudi Arabia and its allies fighting in Yemen are obstructing deliveries of fuel for UN planes which are bringing some of the only aid into the starving country, a UN Development Programme (UNDP) official has said.
Jet fuel deliveries to the rebel-held capital of Sanaa had been blocked by Riyadh, Auke Lootsma, UNDP's country director, told reporters via a video link from the city on Tuesday.
There are supposed to be two UN humanitarian flights a day into Sanaa, but planes currently in the city are stranded thanks to a lack of fuel for making the return trips to Jordan and Djibouti.
Yemen crisis: More than one million children suffering from malnutrition
The fuel comes from the port city of Aden, which is under the control of the internationally recognised Saudi-backed Yemeni government.
"We have difficulties obtaining permission from the coalition and from the government of Yemen to transport this jet fuel to Sanaa to facilitate these flights," Mr Lootsma said.
Asked why the jet fuel deliveries were blocked, Mr Lootsma said: "It's a good question. I don't have an answer."
The UN's aid efforts were also being hampered by bureaucratic delays and visa refusals on the rebel side, he added.
The situation in Yemen

Show all 14
After more than two years of a war which has killed at least 10,000 people, Yemen is struggling to cope with both famine and the worst cholera outbreak in modern history.
Saudi bombing and a blockade on Yemeni ports and airspace have been widely criticised for creating the humanitarian crisis, and adding to the misery by holding up desperately needed food, medicine and other supplies from entering the country.
The situation is "bleak" with "no end in sight", Mr Lootsma said, adding that several cases of meningitis have now been registered, adding to civilians' woes.
Around 70 per cent of the 27-million strong population is now reliant on some form of humanitarian aid. A total of 14.5 million people don't have regular access to clean water and 7.3 million live on the brink of famine.
Less than half of the country's medical centres are still functional.
The situation is like a bus "racing towards the edge of a cliff," the UNDP country director added.
Instead of hitting the brakes and turning around, "the one controlling the direction of the bus keeps going and pushes the accelerator, all but certain to crash".
The UN estimates $2.1bn (£1.6bn) is needed to stop Yemen turning into a completely failed state, but donor governments only pledged half that amount at an aid conference in Geneva in April.
Western governments have also faced criticism for their role in the conflict: arms sold to Saudi Arabia are destined for use in the Yemeni war, rights groups say.
Join our new commenting forum
Join thought-provoking conversations, follow other Independent readers and see their replies