Saudi-led coalition could be committing 'international crimes' bombing civilians in Yemen, UN warns
The UN recorded more than 100 civilian deaths in a bombing on a crowded market (not pictured) on Tuesday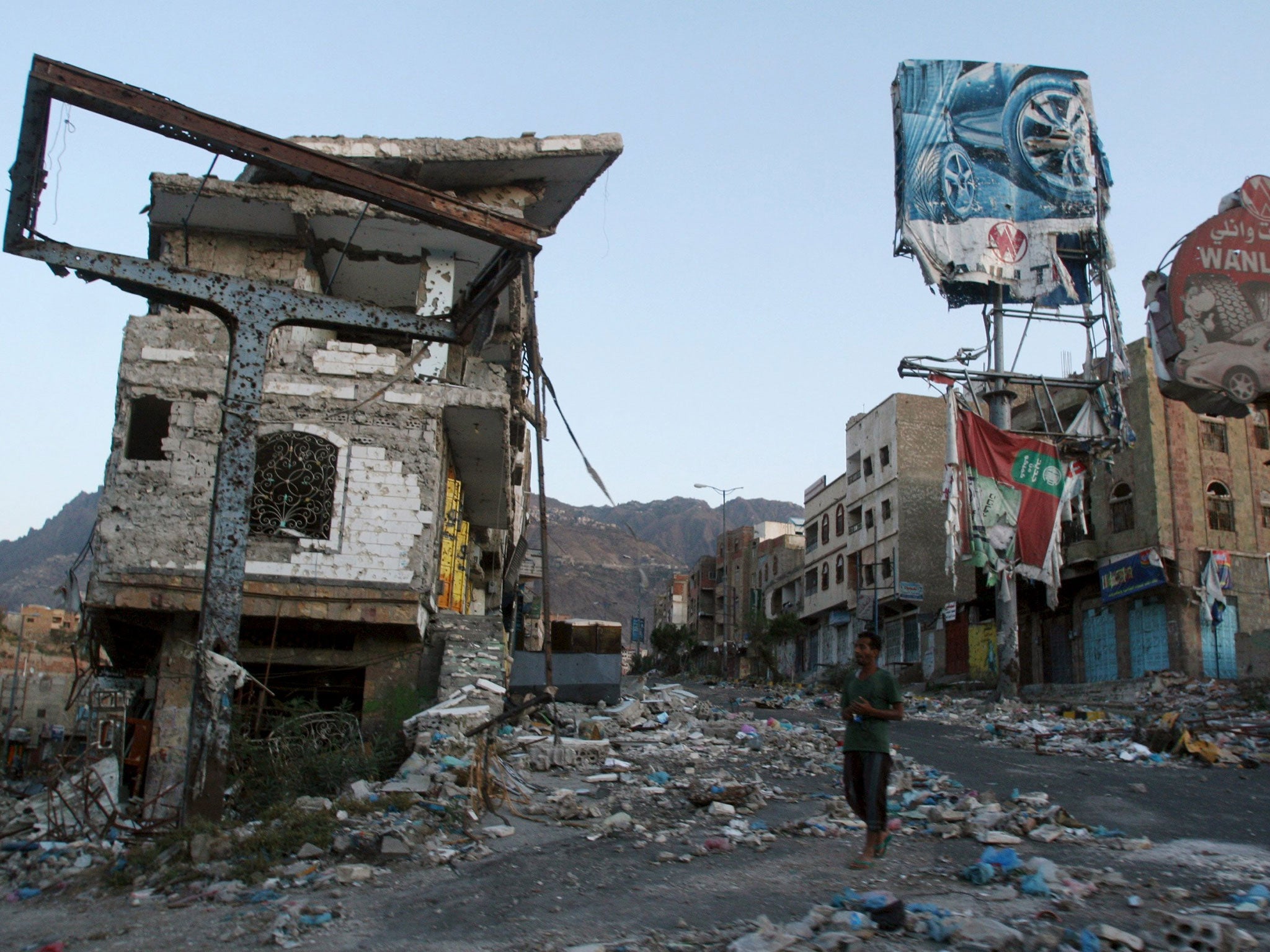 Saudi Arabia and its allies could be "commissioning international war crimes" by killing thousands of civilians in hospitals, markets, schools and even at weddings in Yemen, the United Nations has warned.
Zeid Ra'ad Al Hussein, the High Commissioner for Human Rights, said that 24 children were among 106 civilians who died in air strikes on a crowded village market on Tuesday.
"The carnage caused by two airstrikes on the Al Khamees market was one of the deadliest incidents since the start of the conflict a year ago," he added.
"The people of Yemen have suffered enough. A very poor country is having its limited infrastructure decimated, and people are struggling desperately to survive."
UN workers who visited the scene in Hajja Governorate the following day reported more than a dozen shops destroyed, with eyewitnesses saying the bombs had hit during the afternoon rush hour when the market was particularly crowded.
They could find no evidence of military installations or combat, which is controlled by rebels, apart from a small checkpoint 250 metres away manned by police and Houthi rebels.
One witness, Showei Hamoud, described the "terrifying" scene to the Associated Press. "Blood and body parts are everywhere," he said. "People collected the torn limbs in bags and blankets."
The Yemeni government said it had formed a committee to look into the bombing and whether it was the result of an air strike or of shelling by the Houthis, but no progress has been seen with similar investigations promised in the past.
Fighting continues as government forces try to retake Taiz
In another strike in Khaleq market, Sana`a, at least 39 civilians, including nine children, were killed and another 33 injured on 27 February.
The conflict has been raging since March 2015, when the Houthi-led Supreme Revolutionary Committee attempted to overthrow the Hadi government, sparking a civil war drawing in at least a dozen other countries, as well as groups affiliated with Isis and al-Qaeda.
Iran is supporting the Revolutionary Committee, while the US and a coalition of Gulf nations led by Saudi Arabia is backing the former president with a bombing campaign.
More than 6,000 people have died in the war so far, with the UN Human Rights Office recording 3,218 civilians killed and 5,778 more injured.
"Looking at the figures, it would seem that the coalition is responsible for twice as many civilian casualties as all other forces put together, virtually all as a result of airstrikes," Mr Al Hussein said.
"They have hit markets, hospitals, clinics, schools, factories, wedding parties – and hundreds of private residences in villages, towns and cities including the capital Sana'a.
"Despite plenty of international demarches, these awful incidents continue to occur with unacceptable regularity.
"It would appear to be the case that the distinction between legitimate military targets and civilian ones - which are protected under international law - is at best woefully inadequate, and at worst, we are possibly looking at the commission of international crimes by members of the Coalition."
The High Commissioner acknowledged the Houthi rebels and their allies were also responsible for killing civilians in "indiscriminate" ground attacks which could also be international crimes.
10 examples of Saudi Arabia's human rights abuses
Show all 10
A spokesperson for the Saudi-led coalition, Brigadier General Ahmed al-Asseri, claimed the Yemeni army had given Al Khamees as a target because it was a gathering point for Houthi forces, claiming rebels were "deceiving people by saying it was a market".
He said major combat operations had been scaled back and there were "good signs" the UN might soon restart peace talks between warring factions, insisting that any formal move towards a truce would have to be carried out by President Hadi's internationally recognised government and overseen by the UN.
Houthi officials travelled to Saudi Arabia this month for secret talks on the conflict that led to a pause in fighting on the border, a main battlefront of the war, and a prisoner exchange.
The high civilian death toll in the conflict has turned criticism to the US, which is backing the Saudis with diplomatic and military help, and UK for its arms sales to the Kingdom.

Additional reporting by Reuters
Join our commenting forum
Join thought-provoking conversations, follow other Independent readers and see their replies