Syria air strikes: US 'warned Russia ahead of airbase missile bombardment'
US military gave Russian forces prior warning to 'minimise risk' to personnel ahead of retaliatory strike for alleged chemical weapons attack, Pentagon says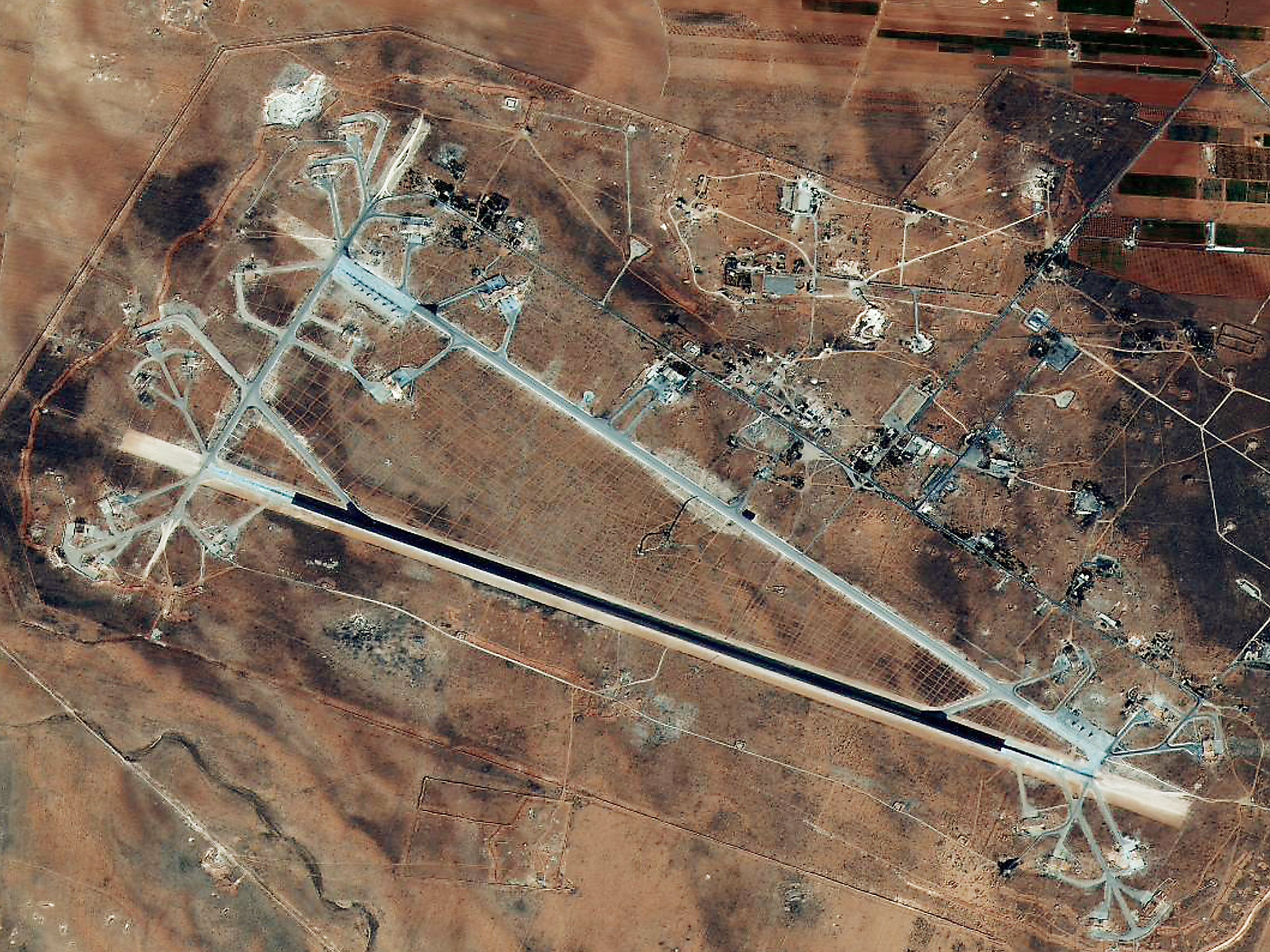 Members of the Russian armed forces at a Syrian government airbase bombed by the US were given advance warning of the impending military action, the Pentagon has confirmed.
"Russian forces were notified in advance of the strike using the established deconfliction line. US military planners took precautions to minimise risk to Russian or Syrian personnel located at the airfield," spokesperson Captain Jeff Davis said on Friday.
A barrage of 59 Tomahawk missiles fire from US navy vessels in the Mediterranean hit Al Shayrat airbase near Homs in the early hours of Friday. US President Donald Trump said the strike was ordered in retaliation for the suspected chemical weapons attack carried out by the Syrian regime on a rebel village in Idlib province which killed more than 80 people.
In pictures: US missile strike against Syria
Show all 7
No people were targeted in what the White House called a "warning shot" attack, officials said.
Syrian armed forces chief of staff General Ali Ayyoub said in a statement that six people had been killed in the strike, and a further seven injured.
Russian media broadcast pictures and video of the base after the strike which showed buildings in a state of collapse, debris across runways, and no sign of any jets.
One man living near the base in touch with a BBC producer said that the scale of the blasts was "huge," waking him up in terror. "My cousin just texted me from the airfield. He went to check on his mates. It's total devastation," the resident reportedly said.
Syria: Man loses 25 family members in suspected chemical attack
Russia has provided military assistance to President Bashar al-Assad's government since September 2015, and maintains several dozen warplanes and batteries of air-defence missiles in the country which have been instrumental in turning the tide of the six-year-long war in Mr Assad's favour.
Al Shayrat is an important base for the Syrian air force, from which many strikes against rebels in the north of the country are launched.
While a ceasefire has technically been in place since the end of December between the moderate opposition and the government, both sides have continued to launch attacks.
Russia has reacted with anger to the attack on its ally. The Foreign Ministry suspended a memorandum in place with the US to ensure flight safety in Syria's crowded airspace on Friday, saying in a statement that the attack violated international law.
While the US' allies, among them the UK, Saudi Arabia and Israel, have said they support the military action as "appropriate", many observers have stressed that the response should "send a message to the regime" rather than signal the escalation of military hostilities.
"We are not at war with the Assad regime and the United States have made it clear that they are not seeking to overthrow the Assad regime," Australian Prime Minister Malcolm Turnbull said.
Join our commenting forum
Join thought-provoking conversations, follow other Independent readers and see their replies