Syria's Bashar al-Assad says Donald Trump will be Russia's 'natural ally'
Mr Trump says the US should assist the Syrian government
Samuel Osborne
Wednesday 14 December 2016 17:27 Comments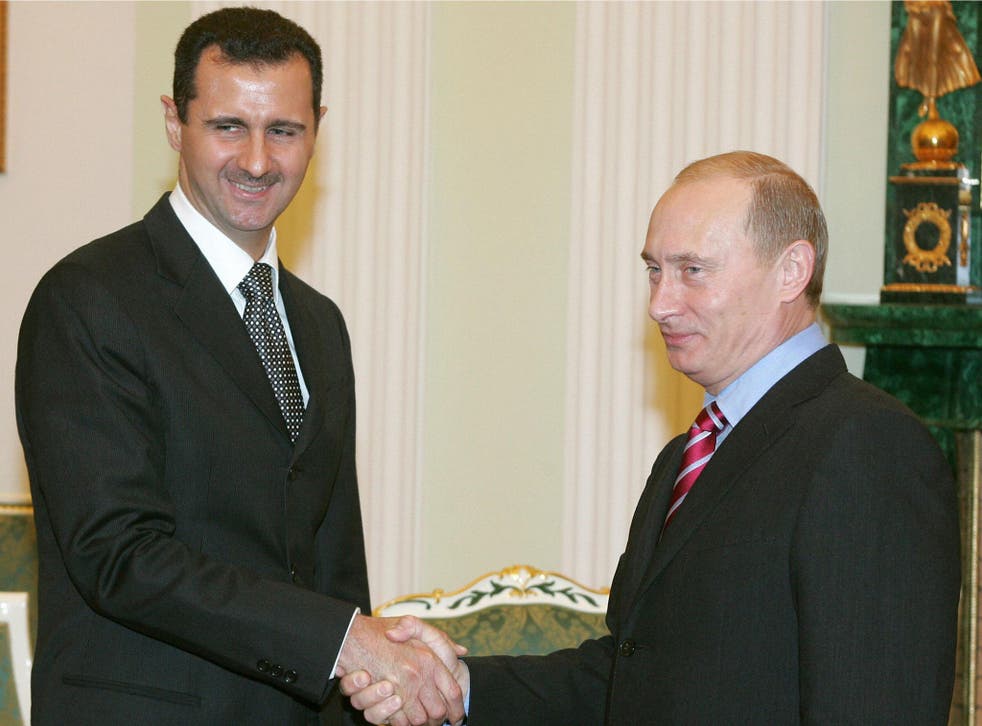 Syrian President Bashar al-Assad has said President-elect Donald Trump will be a "natural ally" to Russia.
As Syrian regime forces, backed by Iran and Russia, were on the verge of recapturing rebel held Aleppo, Russian media broadcast an interview with Mr Assad in which he doubled down on comments he made in the wake of Mr Trump's election victory.
Speaking a week after Mr Trump's election, he said the President-elect would be "natural ally" of the Syrian regime if he fulfils his pledge to "fight the terrorists".
Syria conflict: Aleppo civilians post 'goodbye' videos
"We cannot tell anything about what he's going to do, but if... he is going to fight the terrorists, of course we are going to be ally, natural ally in that regard with the Russian, with the Iranian, with many other countries," he told Portugal's RTP state television.
When asked about his remarks in an interview with Russia 24 and NTV, he said: "Trump's statements were clear during his campaign in relation to fighting terrorism, non-intervention against states in order to depose governments, as the United States has been doing for decades.
"This is good, but this depends on Trump's will to carry on with this approach, and his ability to do that."
He added: "We know that there are powerful lobbies in the United States which stood against Trump and they will exert their utmost pressure, when he is in office, to push him towards retracting what he said in this area and in other areas as well.
"Otherwise, he will have a confrontation with these lobbies in the Congress, in the Senate, in the media, and in the industrial lobbies which gain from wars, like what happened in Iraq and Yemen recently."
He told his Russian interviewers: "That's why if Trump was able to overcome all these obstacles and really act against terrorism, I believe that he will be our natural ally and your natural ally."
Aleppo before the Syrian Civil War

Show all 12
Mr Trump has previously said the US' main objective should be to assist the Syrian government in fighting against Isis.
"I've had an opposite view of many people regarding Syria. My attitude was you're fighting Syria, Syria is fighting Isis, and you have to get rid of Isis," he told The Wall Street Journal.
When Mr Trump made similar remarks during the second presidential debate, Syrian activists from Raqqa is Being Slaughtered Silently (RBSS) fact-checked Mr Trump's position and accused him of being a liar.
The Assad regime has mostly focused its efforts on combating Syrian opposition groups, some of which are supported by the US, rather than fighting Isis.
The fight against Isis is predominantly being waged by a US-led coalition, with help from Turkey, by training, advising and equipping Syrian Arab and Kurdish fighters.
Register for free to continue reading
Registration is a free and easy way to support our truly independent journalism
By registering, you will also enjoy limited access to Premium articles, exclusive newsletters, commenting, and virtual events with our leading journalists
Already have an account? sign in
Register for free to continue reading
Registration is a free and easy way to support our truly independent journalism
By registering, you will also enjoy limited access to Premium articles, exclusive newsletters, commenting, and virtual events with our leading journalists
Already have an account? sign in
Join our new commenting forum
Join thought-provoking conversations, follow other Independent readers and see their replies