Syria: Isis attacks kill more than 120 people in Assad's coastal heartlands
Attacks on this scale are rare in areas firmly under regime control
Adam Withnall
,
Caroline Mortimer Comments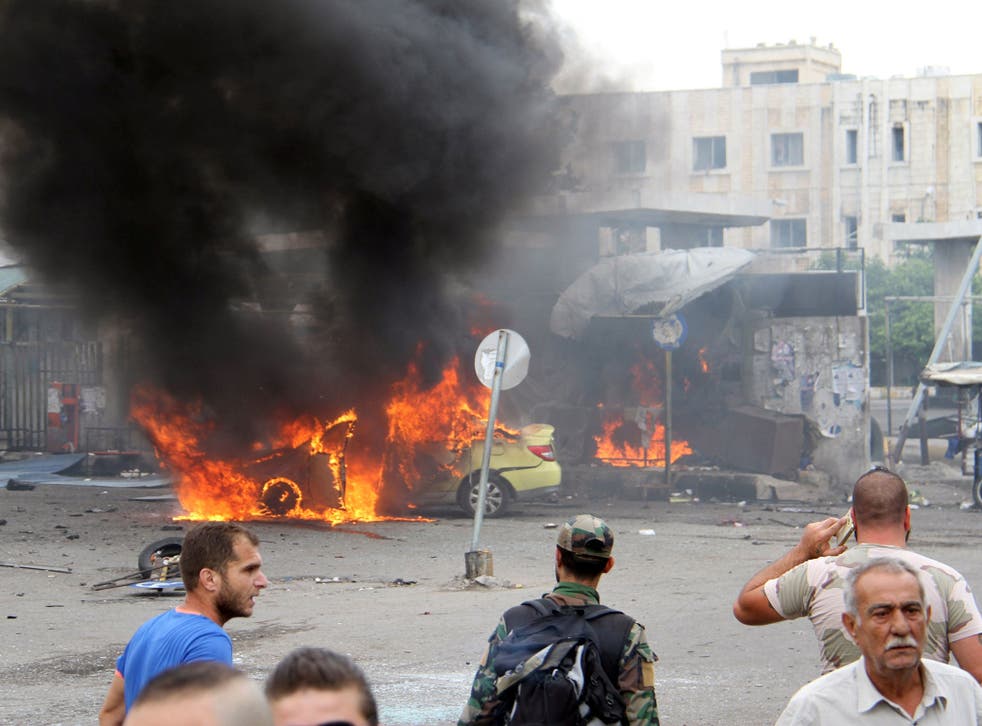 Isis has claimed a series of bomb attacks across regime strongholds in Syria, with at least 120 people killed according to local monitoring groups.
A busy bus station and a hospital were among the targets in a rare series of mass-casualty blasts targeting civilians in coastal areas.
The attacks included at least five suicide bombings and two car bombs, and hit the Mediterranean cities of Tartous and Jableh firmly within territory loyal to President Bashar al-Assad.
State media confirmed the attacks had taken place, and the Isis-linked Amaq news agency said the militant group was responsible for carrying out the bombings.
Attacks of this size are rare in parts of the country which are under regime control.
State media has confirmed the attacks but gave a lower death toll of 78.
The UK-based Syrian Observatory for Human Rights said they were the first assaults of their kind on the coastal cities.
It said 53 people were killed in Jableh and gave an earlier toll of 48 in Tartous - which is home to a Russian naval base.
Fighting across the war ravaged country has increased dramatically in recent weeks as after peace talks between non-Isis rebel groups and the Assad broke down.
Sea Cemetery pays poignant tribute to the Syrians who drowned trying to reach Europe
The regime, with the help of Russian airstrikes, has continued its assault on Aleppo where rebels struggle to hold on to the latest parts of the city under their control.
Isis are currently being pushed out of the territory they control in Syria and Iraq by a combination of US-led coalition airstrikes and have stepped up suicide attacks on other parts of Iraq and Syria in response.
In pictures: The rise of Isis

Show all 74
The Syrian army claimed to have killed over 200 Isis militants in a three-day offensive in Deir ez-Zor last week, although those figures could not be independently verified.
Earlier this month, a suicide attack claimed by the group killed 10 people in a village near Homs in the centre of the country.
Twin explosions took place in the main square in Mukharam al Fawkani near the scene of fierce fighting between the group and the army over the Shaer gas field.
Register for free to continue reading
Registration is a free and easy way to support our truly independent journalism
By registering, you will also enjoy limited access to Premium articles, exclusive newsletters, commenting, and virtual events with our leading journalists
Already have an account? sign in
Join our new commenting forum
Join thought-provoking conversations, follow other Independent readers and see their replies