Syrian opposition rejoices over US air strike on Assad regime airbase
Cruise missiles strike on Syrian government airbase met with praise and thanks by many, although some express caution in light of apparent US policy U-turn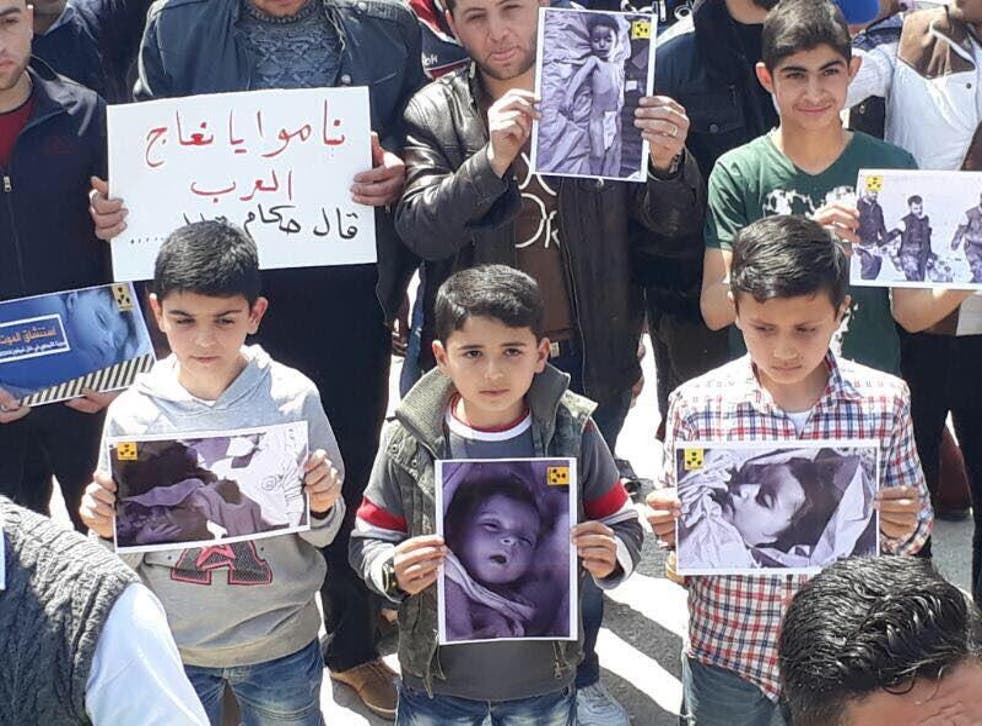 The first direct US military action against Syrian President Bashar al-Assad has been both welcomed and greeted with caution by members of Syria's opposition - particularly in Idlib, where a suspected chemical weapons attack killed more than 80 people earlier this week.
Friday's strike on al Shayrat airbase - which Homs governor Talal Barazi said killed seven people and wounded nine more - was a retaliation for the Syrian government's suspected role in sarin and chlorine gas casualties in the village of Khan Sheikhoun on Tuesday, US President Donald Trump said.
Many civilians who survived regime bombings over the last six years praised the move, including Bana al-Abed, the seven-year-old from Aleppo who gained a global following on Twitter for posting about life behind the government siege barriers.
In pictures: US missile strike against Syria

Show all 7
"I am a Syrian child who suffered under Bashar al Asad [sic] & [Russian President Vladimir] Putin. I welcome Donald Trump action against the killers of my people… Putin and Bashar al Asad bombed my school, killed my friends & robbed my childhood. It's time to punish the killers of children in Syria," she wrote on her Twitter account.
Others expressed disbelief at the news. "As a Syrian refugee, I never imagined that I'd say this: Thanks [Donald Trump] for bombing the regime who displaced me, please do more," Milad Kawas Cale, a doctor living in Sweden said on the same platform.
Across rebel-held Syria, people have been changing their avatars and profile pictures to images of Mr Trump, along with captions such as 'thank you' and 'we love you'.
One US based activist who survived a chemical attack in Moadamiya in 2013 told The Telegraph he was going to name his future son after Trump in his honour.
"This is will give people hope. It's all about hope. This is a game changer; it's a new era that shows that America will actually do something. It shows there are real red lines in Syria," he said.
Several rebel groups put out statements welcoming the action they have long called on the US to carry out against the Assad regime, although noted that the one-off "warning shot" did not go as far as the full-scale military assault they would like.
US airstrikes in Syria: How the world reacted
"Hitting one airbase is not enough, there are 26 airbases that target civilians," a key figure in the Army of Islam faction, Mohamed Alloush, said.
"The whole world should save the Syrian people from the clutches of the killer Bashar [al-Assad] and his aides."
The strike was hailed as "justice" by many in Khan Sheikhoun, the site of Tuesday's deadly chemical attack, where the town is still grieving. Several dozen people took to the streets on Friday holding placards and pictures of the dead calling for more US intervention.
While the West has said all intelligence reports point towards Syrian warplanes having dropped both sarin - a nerve agent - and chlorine gas on the village, Damascus and its allies in Moscow have maintained that the gases were leaked in an explosion after a conventional strike hit a nearby al-Qaeda affiliated ammunitions depot.
Alaa Alyousef, who survived the attack but lost 25 of his relatives, was less optimistic. The US missile strike "alleviates a small part of our sufferings," he told the AP, although he worried it wouldn't be enough to turn the tide of the war.
Punishing Mr Assad for allegedly using chemical weapons did not take into account the hundreds of thousands of people who have died thanks to conventional weaponry in the war, others pointed out - including the regime's use of phosphorous, illegal cluster munitions and bunker bombs.
"The American warplanes have already targeted hundreds of places and killed hundreds or maybe thousands including civilians like the attack on [al Jina mosque, in which 50 civilians died]. This is the first and only attack on Assad's forces," said Wissam Zarqa, a pharmacist turned activist who was forced to leave Aleppo after the government recaptured the city in December.
"I guess now I'm bitterly happy… [there is] some kind of satisfaction that the one who killed the most in Syria is finally partially punished."
Join our new commenting forum
Join thought-provoking conversations, follow other Independent readers and see their replies