He was killed brutally in Syria's war. Now his family seek justice against his alleged killers in Russia
Three human right groups lodge landmark case in Moscow over torture and murder of Syrian man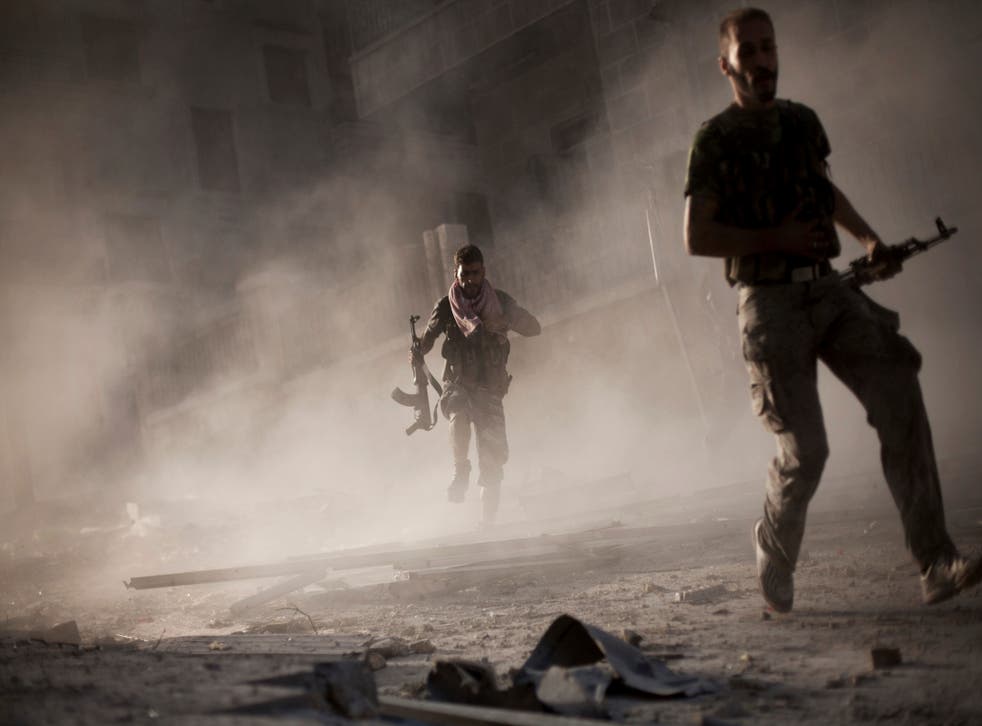 He was a working-class Syrian man about 33 years old, employed in construction jobs in Lebanon. The Deir Azzour native returned to Syria in April 2017 and was quickly detained by security forces, drafted into the armed forces and forced to deploy to the province of Homs where he was to serve in Bashar al-Assad's war effort.
In a phone call, he told his brother he would rather defect than fight. That was the last time anyone ever heard him from Mohammed al-Ismail.
Then, on 30 June 2017, a two-minute video surfaced on the internet showing a group of Russian-speaking men beating Ismail, who was squirming in the dirt as he was struck with a sledgehammer. In 2019, more footage emerged showing the same men beating, torturing, dismembering, and decapitating Ismail before hanging his lifeless body by his legs and setting him on fire.
The men were laughing.
Now, more than three years after his death, three human rights groups have organised a landmark case against Ismail's alleged tormentors in an audacious case filed in Moscow against the shadowy Russian paramilitary network called the Wagner Group.
Read more:
The plaintiff, Ismail's brother, is demanding criminal proceedings against alleged members of Wagner.
"This litigation is a first-ever attempt by the family of a Syrian victim to hold Russian suspects accountable for serious crimes committed in Syria," the three groups said in a press release.
"The complaint demands the initiation of criminal proceedings on the basis of murder committed with extreme cruelty, with a view to establishing the alleged perpetrators' responsibility for this and other crimes, including war crimes."
The case comes on the 10th anniversary of Syria's uprising against the Assad regime.
A decade ago, Assad's enforcers responded to peaceful protests inspired by Arab Spring revolutions in Egypt and Tunisia with ferocious gunfire, mass detentions and torture, prompting an armed rebellion that eventually drew in regional and global powers.
Russia came to the defence of the Assad regime in 2015 as rebel fighters threatened to overrun major cities. Wagner network operatives, mostly former Russian military personnel, allegedly served as the Kremlin's shadow forces, pursuing Russian geopolitical objectives while providing a measure of plausible deniability.
Filing the case against the Wagner network with Russian investigators, is a bold move.
The Kremlin insists Wagner does not exist, even as Russian ex-military forces have repeatedly shown up in conflicts in Syria, Libya, Ukraine, and sub-Saharan Africa.
Wagner, likely a collection of private military contractors with murky corporate registrations and obscure chains of command, is believed to be under the purview of Yevgeny Prigozhin, a close ally and confidante of Russian President Vladimir Putin.
Even handing the filing over had to be carefully choreographed for fear the applicant could be arrested. The paperwork was turned in Thursday, but the case was announced Monday in a likely attempt to protect the litigants. There is little sign the Russian judiciary will act. Russian courts have been bent into a blunt instrument used by Mr Putin against rivals and enemies.
The name and location of Ismail's brother, the complainant, is being withheld for fear he could be targeted by a Kremlin that seems determined to demonstrate that its security enforcers have a global reach.
But the case has already garnered attention in independent minded Russian news outlets. Under Russian law, nationals can be tried at home for crimes committed abroad.
"The state investigative committee has not started to investigate the circumstances of the murder even though all necessaru information was handed over to authorities more than a year ago," Russian human rights attorney Ilya Novikov told the newspaperNovaya Gazeta.
Human rights advocates say the particular gruesome nature of the killing made pursuit of the case imperative.
In some of the video clips, Ismail is clearly already dead. Yet the alleged Wagner enforcers desecrate his body. In one segment, alleged Wagner members cut Ismail's head off with a knife. In another, an operative is striking his arms with a shovel in what appears to be an attempt to separate them from his body. They hang the body from a tree by its feet, and then set it on fire.
"It's horrible," attorney Ilya Nuzov, of the International Federation for Human Rights (FIDH), said of the footage posted online.
"It appears one of the participants was making the video and commenting on what's happening. They are quite joyful. They make several exclamations to the tune of, 'This is what I'm talking about!' They're flashing the (hand) signs of Russian paramilitaries. There is laughing, joking and commenting about what to do next. They are clearly enjoying the spectacle."
In the past Assad regime defenders have excused such crimes as excesses committed in the fight against an armed terrorist menace, pointing to the presence of Isis and Al Qaeda-linked groups among the rebel fighters. But Mr Nuzov said there is no evidence that Ismail was connected to any armed rebel group, much less a designated terrorist organisation.
Along with Paris-based FIDH, the Syrian Center for Media and Freedom of Expression and Moscow-based Memorial Human Rights Center are also pushing the case. Russian authorities ignored a demand for an investigation into the killing that was filed by a Russian newspaper in 2020. Russian investigators now have up to 30 days to respond to the complaint.
The case filed in Moscow is one of several filed in courts throughout Europe related to crimes committed in Syria. All use the principle of universal jurisdiction, a legal concept in which the worst crimes against humanity can be tried outside the territory in which they were committed, A court in Germany last month convicted a Syrian intelligence officer for complicity in crimes against humanity for his role detaining and torturing dissidents in a 2011 protest in Damascus.
Those handling the case know it's a long shot and that the court may decide never to answer, but insist filing the case was more than symbolic.
"We should never forget about the victims," said Mr Nuzov. "The victim of this crime and other numerous monstrous crimes that have taken place in Syria remain without justice. This action represents a concrete step to deliver justice to the victim's family. If there's a concrete chance that someone might be indicted and brought to justice, we will attempt it. Why shouldn't we?"
Join our new commenting forum
Join thought-provoking conversations, follow other Independent readers and see their replies