Syrian refugees trapped at border as Turkish soldiers turn them away and Isis militants watch
The scenes have occured at the border town of Tal Abyad which is currently experiencing fighting between the Kurdish YPG and Isis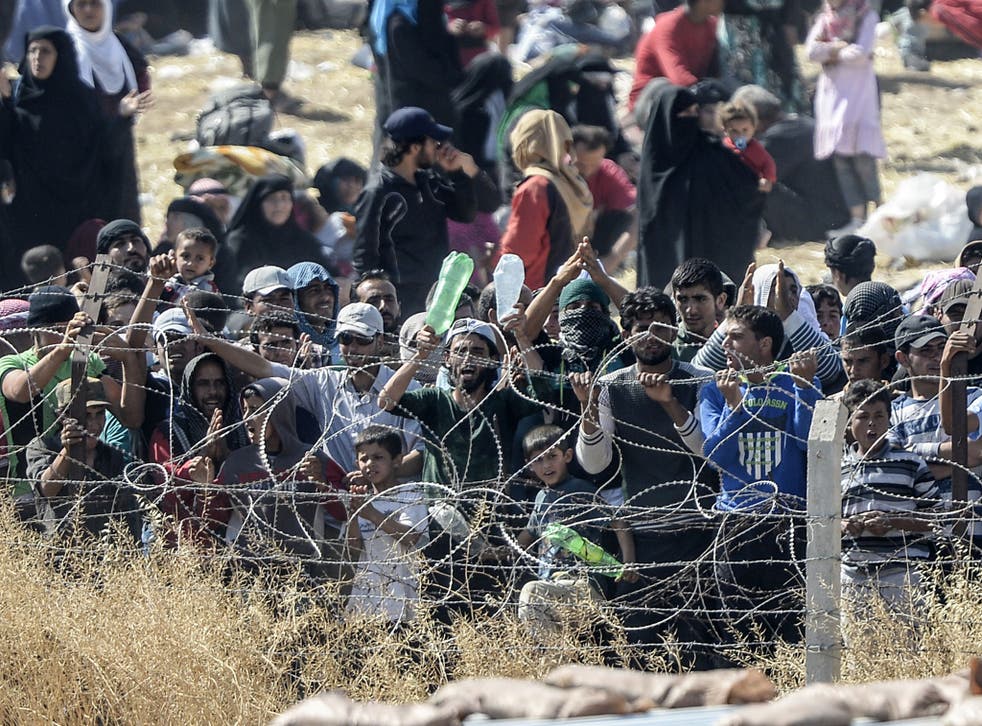 Hundreds of Syrian refugees attempting to flee fighting in the town of Tal Abyad have been caught at the border crossing with Turkey.
Turkish troops used water cannon and fired warning shots from behind barbed wire fences to push back the refugees, while militants thought to be from Isis could be seen stood well within sight of Turkey's border with Syria.
Numan Kurtulmus, the Turkish deputy prime minister, claimed that the refugees were not fleeing fighting between Kurdish fighters and Isis, but instead were attempting to escape United States-led coalition air strikes.
Mr Kurtulmus added that Turkey was providing humanitarian aid to those across the border and attending to the sick and injured. Turkey has accepted more than two million refugees since 2011.
Fall of Ramadi

Show all 17
"We are of the opinion that there isn't a humanitarian tragedy there," Mr Kurtulmus told CNN-Turk television. "Our priority is for them to remain within their border."
The development comes as Kurdish fighters closed in on the outskirts of Tal Abyad, one of the strategic border towns held by Isis, which provides a vital supply line from Turkey to Raqqa, Isis' stronghold in Syria.
Since the beginning of May, fighters for the People's Protection Units (YPG) have taken more than 200 small Kurdish and Christian towns in north eastern Syria, which had previously under the control of Isis.
Idriss Naasan, a Kurdish official, said on Sunday that "it is only a matter of time before this area is liberated," and added that Isis fighters have fled from the neighbouring town Suluk, only a few miles from Tal Abyad.
Additional Reporting: PA
Join our new commenting forum
Join thought-provoking conversations, follow other Independent readers and see their replies