Syrian regime drops leaflets telling civilians in Aleppo to 'expel terrorists' or die as advance against rebels continues
Tens of thousands of people are believed to have fled government troops and Russian bomberdment
Saturday 13 February 2016 15:40 GMT
Comments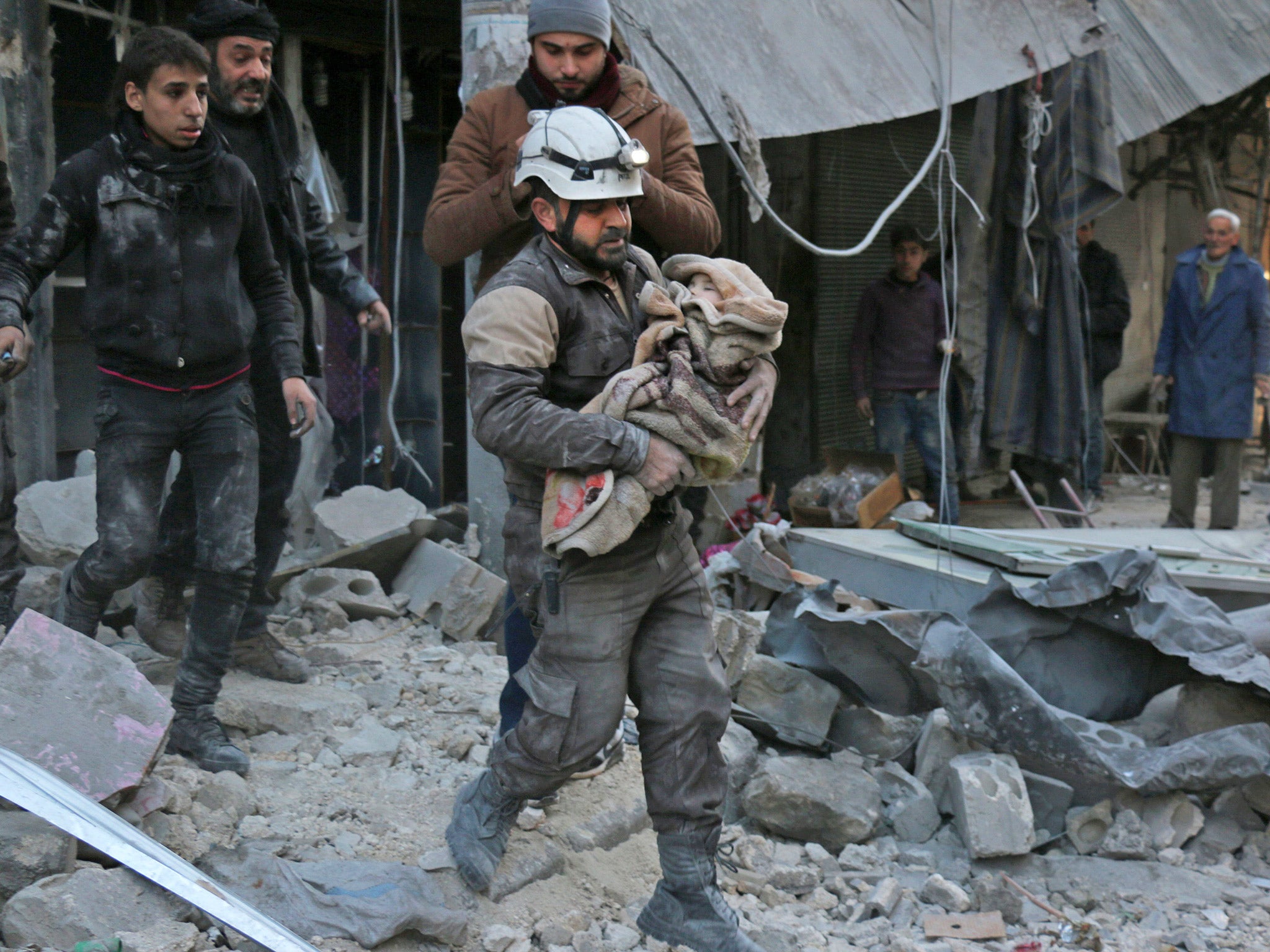 The Syrian government is dropping leaflets on civilian areas telling people to "expel terrorists" from their homes or die as it continues to retake territory from rebels backed by Russian air strikes.
Bashar al-Assad's regime appears to have stepped up its propaganda war in Aleppo and Homs ahead of a temporary ceasefire due to start within a week.
Activists shared photos of material dropped in Hreitan, a town controlled by the Free Syrian Army and Islamist rebels, as battles and bombardment continued on Friday.
It was addressed to "residents and tribes and families and sons of Aleppo", according to a translation by Erika Solomon, Middle East correspondent for the Financial Times.
"The operations of the Syrian Arab Army have begun and they will not stop until the final terrorist has been exterminated," it continued.
"Expel the terrorists from your homes and your towns and villages. The army is coming and it will crush the terrorists."
The leaflet called Assad's army "the fortress that will protect you" and called on rebels and those who "betrayed or strayed" to put down their weapons and "find love and welcome" with government forces.
Russian-backed Aleppo offensive 'kills hundreds'
"Syria is the nation of Islam and Arabism," it claimed. "Together, hand-in-hand, we will rebuild Syria more beautiful than it was before. Victory is close at hand."
The Syrian regime classes all resistance including "moderate" rebels trained by the US as terrorists and has ignored international condemnation of its bloody crackdown on dissent since the Arab Spring in 2011.
Its advance has triggered a new wave of refugees trying to reach safety over the Turkish border, with up to 20,000 people fleeing their homes earlier this month.
Other leaflets were dropped on northern countryside in Homs, which is held by the Free Syrian Army and completely encircled by regime forces, on Wednesday.
The UK-based Syrian Observatory for Human Rights translated posters saying that "40 kinds of ammunition await you", claiming they were capable of destroying bomb shelters and fortified buildings.
Fighters were urged to "drop your weapons to keep your life and your future".
Another reportedly included a "safe passage card" supposedly allowing holders to travel through regime checkpoints safely and receive food and medical assistance.
More propaganda dropped on Aleppo by government helicopters at the start of this month warned of "bloodshed" and "destruction".
Middle East Eye translated documents shared on social media on 2 February.
"The war is coming to its end," residents were told.
"It will be tragic for all of us if it ends with the death of your loved ones and the destruction of your homes.
"The leaders of the Arab Syrian Army are proposing [either] bloodshed or [a chance to] avoid this fate by expelling the foreign and intruding fighters from your area – safe passage for their exit will be arranged."
It ended by urging civilians to "save your lives and your homes", and was signed off by the leadership council of the armed forces.
Assad's forces made new gains on Saturday, capturing the village of Tamoura near Aleppo and tightening the noose around rebel-held parts of Syria's second city.
In pictures: Russian air strikes in Syria
Show all 19
State television and the Syrian Observatory for Human Rights reported the gains, while Hezbollah's Al-Manar TV said government are now nearing the towns of Hayan and Anadan, which lie on the road to Aleppo city.
Activists were reporting Russian air strikes in the area today, as John Kerry, the US Secretary of State, accused the Kremlin of targeting civilians and legitimate opposition groups.
The Russian Prime Minister said the reports were "just not true" and claimed Isis was the target of his country's intervention.
Talks in the German city of Munich on Friday saw world powers agree a temporary "cessation of hostilities" to start within a week but there was little hope for a long-term truce after Assad vowed to retake the whole of Syria by force.
Additional reporting by Reuters
Join our commenting forum
Join thought-provoking conversations, follow other Independent readers and see their replies