Families buried in concrete. Villages destroyed. This is the morning 'doomsday' came to Turkey and Syria
Entire areas have been left devastated as buildings collapse, writes Bel Trew
Monday 06 February 2023 20:38 GMT
Comments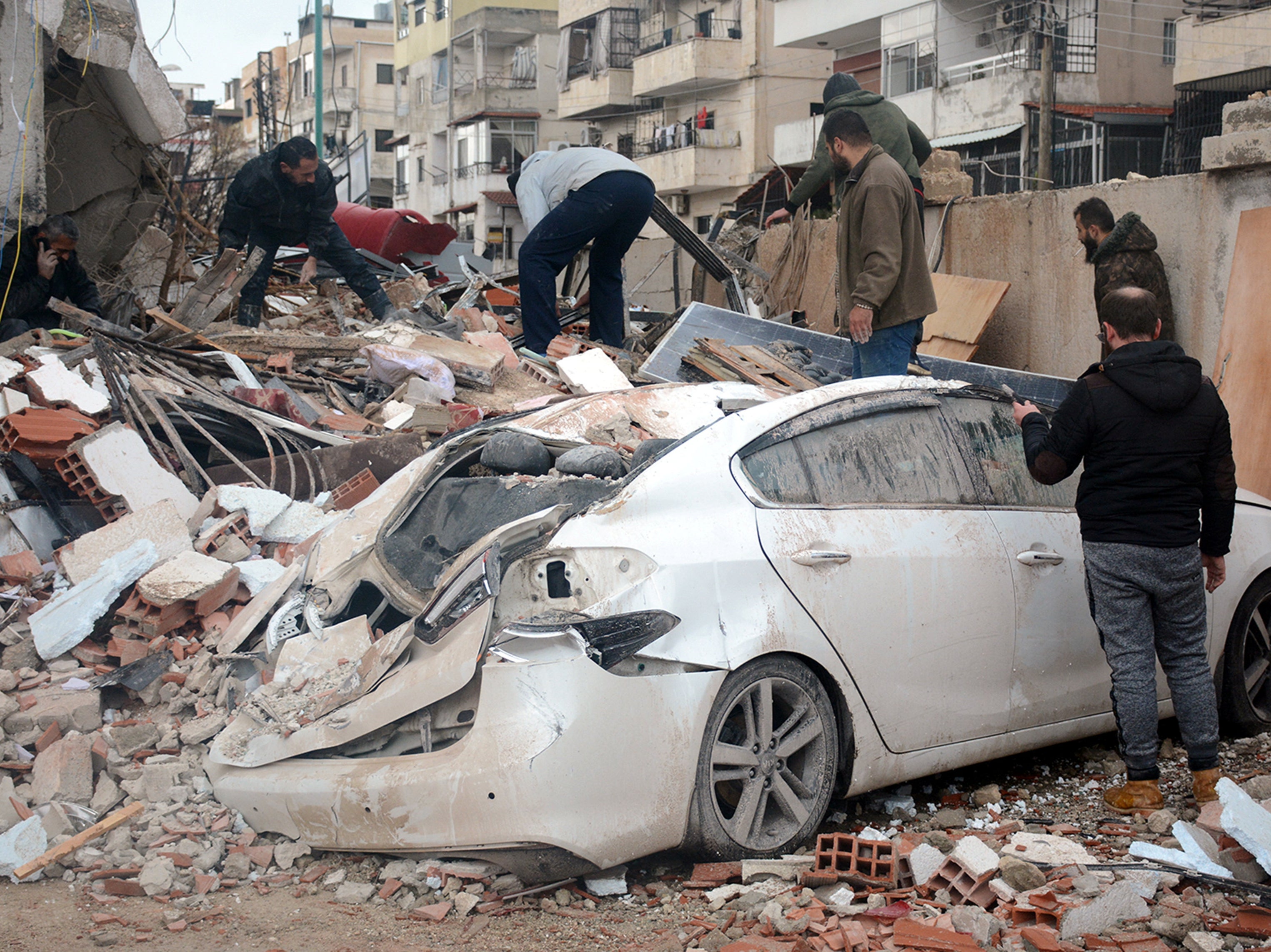 At 4.17am, Ismail Abdalla says "doomsday" came to his building in Idlib northwest Syria, violently tearing everyone awake.
The Syrian first responder grabbed his one-month-old baby. With just seconds to spare, he dived for cover as part of the roof caved in on top of his bed where they had been sleeping.
Next door was not so fortunate. The neighbouring apartment block collapsed, killing 15 members of an internally-displaced family who had already fled multiple frontlines. Around Abdalla – buildings in the opposition-held area that have been battered by more than a decade of civil war – crumbled one by one.
Follow the latest in our Turkey earthquake live blog here
"It was like someone was shaking all the apartments, it was like doomsday. The roof was waving, it was seconds of terror," says the 36-year-old father-of-three who volunteers with the Syria Civil Defence organisation, known colloquially as the White Helmets. He is now working to free the injured and dead.
"Entire families are trapped under the rubble, until now we are trying to save people. But the situation is bigger than the White Helmets. It is bigger than any non-governmental organisation, this needs a state-level response to handle it. "
"I'm talking about whole villages, whole areas of cities, destroyed."
More than 3,400 people have been killed and thousands injured after the massive 7.8-magnitude earthquake struck Turkey and northwest Syria, including around 2,300 in Turkey. The quake, which hit in the freezing darkness of a bitter winter morning, was also felt in Cyprus and Lebanon.
White Helmets search rubble for survivors of Turkey earthquake
In Syria, already devastated by more than 11 years of fighting, more than 1,200 people were killed, according to figures from the Damascus government and rescue workers in the northwestern region controlled by the opposition.
Abdalla said his teams were working fast in sub-zero conditions and snow to try to scrabble for survivors.
The White Helmets shared videos with The Independent showing volunteers in head torches desperately trying to reach civilians entombed in massive slabs of concrete, they were breaking up with chainsaws.
"We need a massive amount of help because we simply cannot handle this catastrophe on our own," Abdalla continued with a shake in his voice.
"Most of the people living here were displaced many times from war. The medical care sector here is fragile, weak and exhausted by every pandemic we have suffered and the war.
"There is nowhere to go."
In Gaziantep southern Turkey, which was close to the epicentre of the earthquake, residents described also being thrown from their beds and buildings collapsing in the snow and freezing rain.
Mazen Kewara, Middle East regional director of the Syrian American Medical Society (Sams) spoke to The Independent from his car in the city, where he was taken shelter after his building was partially damaged.
He said every one of Sams' hospitals in northern Syria is overwhelmed. Their main facility at the Bab al-Hawa crossing between northern Syria and Turkey had started turning patients away as they were beyond capacity.
"Every single emergency room is full, we are treating patients in hallways which are also all full across all of our hospitals," he told The Independent with desperation.
"Four of our facilities have been damaged and evacuated," he said.
He said at the maternity hospital they support in Idlib – which had been damaged – a pregnant woman was killed in the earthquake, although medical teams had managed to save the unborn baby.
"We had to evacuate the newborns from incubators to another hospital. We are trying to deal with this situation.
"We have never experienced this level of destruction across such a huge area ever before." He added.
He said northern Syria in particular urgently needed medical supplies, as the healthcare sector was already on its knees before the earthquake hit.
Half of the population is internally displaced from war-ravaged areas of Syria, and one-third of them are living in camps. As winter has hit, they were already dealing with a humanitarian crisis.
"We need everything from emergency health response equipment to shelters. The international community needs to send every kind of humanitarian support possible," he added.
In the Turkish city of Adana, one resident said three buildings near his home collapsed. "I don't have the strength anymore," one survivor could be heard calling out from beneath the rubble as rescue workers tried to reach him, said the resident, Muhammet Fatih Yavus.
Farther east in Diyarbakir, cranes and rescue teams rushed people on stretchers out of a mountain of pancaked concrete floors that was once an apartment building.
Turkey sits on top of major fault lines and is frequently shaken by earthquakes.
Some 18,000 were killed in powerful earthquakes that hit northwest Turkey in 1999. The US Geological Survey measured Monday's quake at magnitude 7.8. At least 20 aftershocks followed, some hours later during daylight. Another strong earthquake, measuring at least 7.5 also late struck central Turkey, authorities said.
Join our commenting forum
Join thought-provoking conversations, follow other Independent readers and see their replies