Turkish man arrested after saying he wouldn't serve President Erdogan tea
Insulting the president is a crime punishable by up to four years in prison in Turkey
Humeyra Pamuk
Tuesday 27 December 2016 10:53 Comments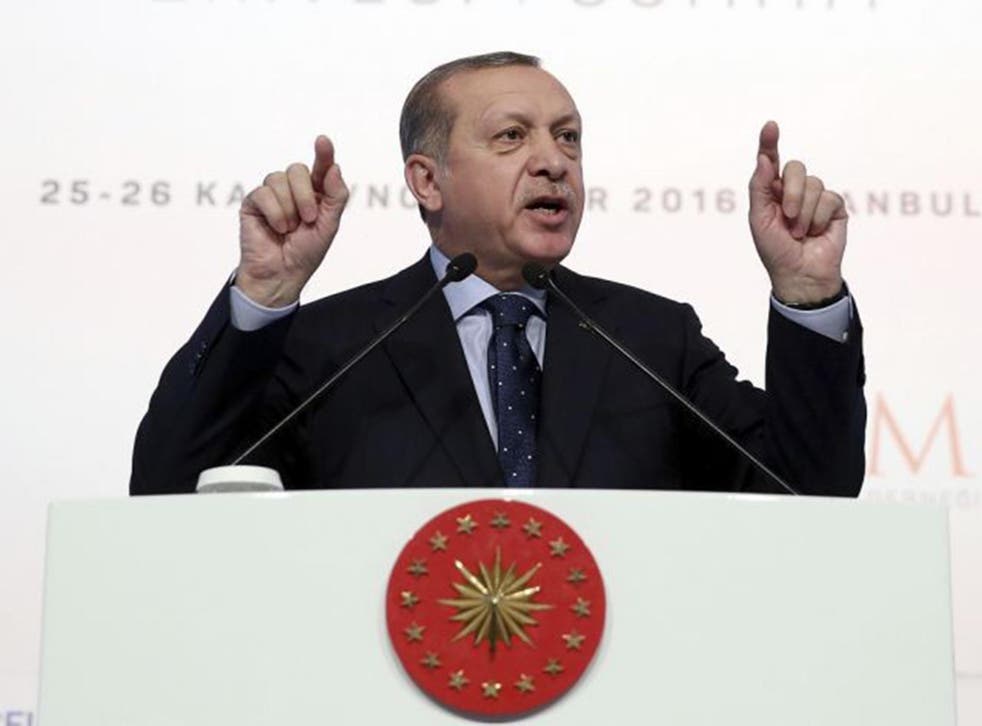 Turkish authorities have arrested the cafeteria manager of the opposition Cumhuriyet newspaper for insulting the president after he said he would not serve tea to Tayyip Erdogan, one of the manager's lawyers told Reuters on Monday.
Senol Buran, who runs the cafeteria at the Istanbul office of Cumhuriyet, was taken into custody after police raided his home late on Saturday, lawyer Ozgur Urfa said. The newspaper is among the few still critical of the government.
Insulting the president is a crime punishable by up to four years in prison in Turkey.
Lawyers for Erdogan, who has dominated Turkish politics for more than a decade, have filed more than 1,800 cases against people including cartoonists, a former Miss Turkey winner and schoolchildren on accusations of insulting him.
Following a failed coup in July, Erdogan said he would drop the outstanding suits, in a one-off gesture of national unity.
Buran is jailed pending trial and the court date, if any, has not yet been announced. The Justice Ministry would need to approve the launch of a court case.
Buran was detained after a police officer providing security for the newspaper said he heard him use a derogatory term to describe Erdogan and say he would refuse to serve the president tea if he ever visited the cafeteria, his lawyer said.
According to court documents obtained by Reuters, Buran has denied using an insulting term, while confirming that he had said he would refuse to serve the president tea. He also said he had a dispute with the police officer two years ago.
The judge at an Istanbul court on Sunday ordered Buran's arrest pending trial, citing "strong suspicion of crime committed" and saying the suspect might otherwise put pressure on witnesses, the documents showed.
The Cumhuriyet has confirmed that Buran was arrested.
Ten Cumhuriyet staff including its top editor and senior executives were jailed in November pending trial on suspicion of crimes on behalf of Kurdish militants and U.S.-based cleric Fethullah Gulen, who is accused of instigating the failed July 15 coup.
The newspaper's previous editor, Can Dundar, was jailed last year for publishing state secrets involving Turkey's support for Syrian rebels. He was later released and is now overseas.
Since the July coup, more than 110,000 people have been sacked or suspended and 40,000 jailed pending trial.
Western allies and rights groups say they fear Erdogan is using the coup attempt to crush dissent.
Turkish authorities last week froze assets of 54 journalists who have been under investigation and some already jailed over suspected links to what Ankara calls the "Gulenist Terror Organisation", according to Hurriyet newspaper.
Gulen has said the charges against him are false and has condemned the coup.
Reuters
Register for free to continue reading
Registration is a free and easy way to support our truly independent journalism
By registering, you will also enjoy limited access to Premium articles, exclusive newsletters, commenting, and virtual events with our leading journalists
Already have an account? sign in
Join our new commenting forum
Join thought-provoking conversations, follow other Independent readers and see their replies