US-Syria missile strikes: World reacts to Donald Trump's attack on airbase
UK joins majority of world's nations in welcoming strikes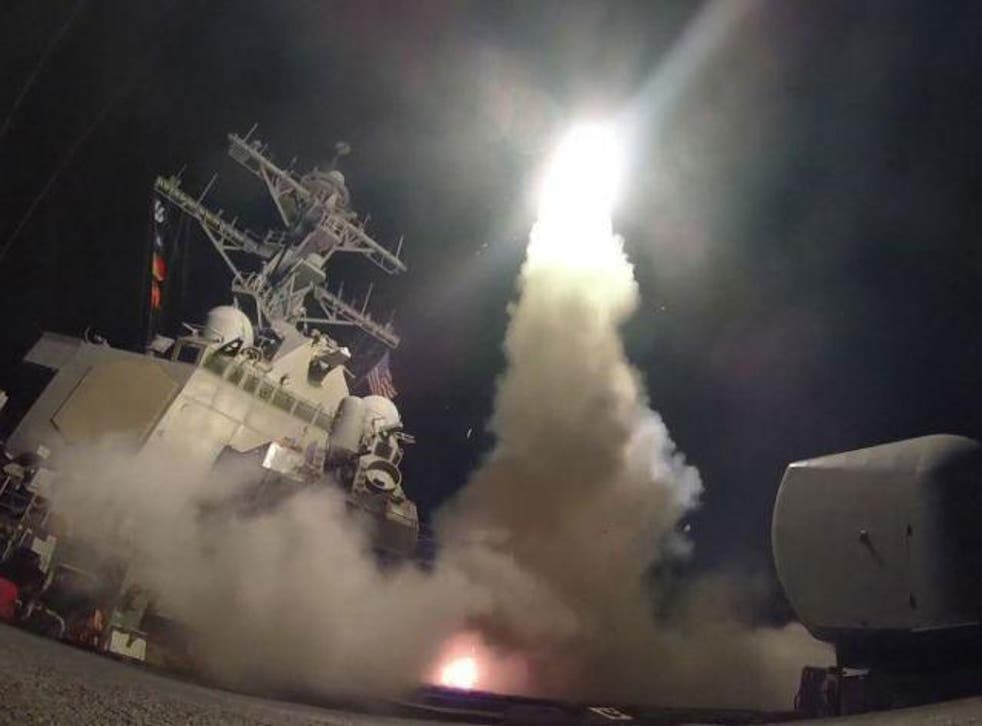 The news of US missile strikes on a Syrian airbase has been largely welcomed by the international community, though many leaders have maintained calls for a political settlement.
However, there was some condemnation from countries allied with Syrian President Bashar al-Assad, with Iran calling it "dangerous" and Russia warning that relations with America were damaged.
President Donald Trump ordered the attack on the Syrian airfield of al-Shayrat, near Homs, in response to the Syrian government's alleged use of chemical weapons earlier this week. The US military claimed the airfield was used to launch the gas attack against the town of Khan Sheikhun.
Responding to the news, a Downing Street spokesperson said the British government "fully supported" the US military action in Syria and it was an appropriate response to a "barbaric chemical weapons attack". Defence Secretary Michael Fallon said he was contacted by his US counterpart on Thursday evening to warn him of the strikes.
Trump orders missile strike on Syria after chemical weapon attack on civilians
Turkey, which has long been opposed to the Syrian ruler Bashar al-Assad and have supported opposition groups, welcomed President Trump's actions. Deputy Prime Minister Numan Kurtulmuş said the strike was positive and that the Syrian government must be "fully punished" in the international arena.
Mr Kurtulmuş added that he hoped the US operation in Syria contributed to achieving peace and the process must be accelerated. The government renewed calls for Mr Assad to be removed, forcefully if necessary.
"It is necessary to oust this regime as soon as possible from the leadership of Syria," Foreign Minister Mevlut Cavusoglu told reporters. He added: "If he doesn't want to go, if there is no transition government, and if he continues committing humanitarian crimes, the necessary steps to oust him should be taken."
America's strongest ally in the region, Israel, also welcomed the strikes and said they acted as a global deterrent.
"In both word and action, President Trump sent a strong and clear message today that the use and spread of chemical weapons will not be tolerated," Prime Minister Benjamin Netanyahu said.
"Israel ... hopes that this message of resolve in the face of the Assad regime's horrific actions will resonate not only in Damascus, but in Tehran, Pyongyang and elsewhere."
Saudi Arabia, which also opposes Mr Assad and have supported opposition groups, said it "fully supported" President Trump's "courageous decision".
"A responsible source at the foreign ministry expressed the Kingdom of Saudi Arabia's full support for the American military operations on military targets in Syria, which came as a response to the Syrian regime's use of chemical weapons against innocent civilians," a statement carried by state news agency SPA said.
But the remarks from European leaders were more measured.
German Chancellor Angela Merkel and French President Francois Hollande said in a joint statement that "President Assad alone carries responsibility for these developments" with his "repeated use of chemical weapons and his crimes against his own people."
The two leaders said their countries would continue to work with United Nations partners in "efforts to hold President Assad responsible for his criminal acts."
They called upon the international community to "join forces for a political transition in Syria" in accordance with the UN resolution.
Like the UK, key European allies of the US were informed of the attack.
China also called for a peaceful solution, with Foreign Ministry spokeswoman Hua Chunying calling on all relevant parties to stick to political settlements.
The Chinese government said it was urgent to prevent a further deterioration in Syria.
A Polish government spokesman said the United States was the guarantor of world peace, and there were times when it had to react.
The Australian government called the strikes a "proportionate and calibrated response".
Meanwhile, Russia – who have intervened in Syria on the side of the government - condemned the attacks and said they damaged relations with the US and jeopardised the fight against terrorism.
Iran, the main regional ally of Mr Assad, "strongly condemned" the "destructive and dangerous" attack on the airbase, according to the INSA state-run news agency.
Aleppo before the Syrian Civil War

Show all 12
"Iran ... condemns use of chemical weapons ... but at the same time believes it is dangerous, destructive and a violation of international laws to use it as an excuse to take unilateral actions," said Foreign Ministry spokesman Bahram Qasemi.
He added: "Iran strongly condemns any such unilateral strikes... Such measures will strengthen terrorists in Syria ... and will complicate the situation in Syria and the region."
Iranian Revolutionary Guard units have fought extensively in Syria, supporting the government's army, including in the battle for Aleppo.
Additional reporting by agencies.
Join our new commenting forum
Join thought-provoking conversations, follow other Independent readers and see their replies